About the session
There is a longstanding feeling that moving to industry will mean a move away from blue sky thinking to only caring about the next quarter's results. But is this really true? This session will try to shed some light onto this myth through showing how IBM has used grand challenges to overcome some of the largest obstacles in science and build the world's largest and oldest corporate research lab. We will use real examples to help you create a toolkit for building a successful and fulfilling research career in industry through the three pillars of value, timing and context.
Who is it for?
Early Career Researchers (including Postdocs)
Mid-Career Researchers
Managers of Researchers
Others eg: funding agencies and policy influencers.
Objectives
By the end of this session, participants will be able to:
More fully understand opportunities in industrial research
Understand how to drive impact through a challenge-led research strategy
Take the core principles and apply them to their own research plans.
Get to know your facilitator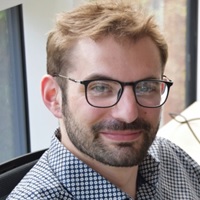 Dr Edward Pyzer Knapp, Global Research Lead, IBM
Dr Edward O. Pyzer-Knapp is IBM Research's global lead for AI Enriched Modelling and Simulation, with a particular focus on the development and exploitation of these techniques for accelerated materials discovery. He has a broad, cross-disciplinary research interests spanning IBM's three pillars of bits (classical computing), neurons (AI) and qubits (quantum computing), with examples of current projects including the use of multi-fidelity Bayesian optimization technologies to provide >10x speedup to high-throughput virtual screening workflows, and the development of quantum-classical integration pipelines for accelerated materials discovery. He has authored >50 papers and conference proceedings, as well as three book chapters, and a textbook on deep learning for the physical sciences, which will be published this year. He is also the Visiting Professor of Industrially Applied AI at the University of Liverpool, and serves as Editor in Chief of the journal Applied AI Letters, which has a focus of real-world applications of AI, including in the physical science domain.
Session video
Further resources
All NPDC21 listed resources are freely available. Please ensure you acknowledge the author(s) and/or source when using them.
Back to: Researcher Hub