Clay-based ceramics can have a much smaller carbon footprint than modern materials like glass, concrete and steel that dominate modern building techniques. One of the biggest challenges facing industrial scale building techniques is reducing energy consumption. Ceramics can play a key role in reducing energy expenditure, especially when replacing metal materials: a simple ceramic tile has an embodied energy of 2.5 megajoules per kilo, compared to 227 for aluminium.
Research with practical applications
Dr Rosa Urbano Gutiérrez is a senior lecturer in architecture at the University of Liverpool. She is the cofounder of ECAlab (Environmental Ceramics for Architecture Laboratory) based at the Liverpool School of Architecture. The lab explores innovative ways that ceramics can be used as sustainable technologies, while examining how to utilise industrial-scale manufacture alongside traditional ceramic craftsmanship skills.
Through a series of art exhibitions and outreach events such as PlatFORM at TATE Liverpool and Cerámica at RIBA North, the ECAlab team have shown that modern ceramics is more than the familiar square tile: 3D printing technologies can be employed in the production of moulds and formers to create unfamiliar, even surreal landscapes. Light reflective coatings can also be used to manage light and heat diffusion through assemblages of mass-produced structures, further enhancing internal spaces while reducing energy consumption.
Working in partnership
"We've developed a design methodology that uses advanced technology, such as parametric, kinetic and algorithmic design, digital fabrication and environmental modelling," says Urbano Gutiérrez.
For instance, the Performative Ceramic Screens project used geometrical analysis and contemporary digital design to make prototypes of ceramic light-diffusing ceilings to illuminate art galleries and protect valuable works by blocking direct light and UV radiation and distributing light uniformly in the room. This international collaboration included two partners from Spain (ASCER and ICEX) with ceramic components made in collaboration with local and international ceramicists, including Liverpool Hope University and Glyndwr University.
Interface Soundscapes, an art installation created by ECALab in collaboration with Dr Eduardo Coutinho from the Department of Music and was exhibited at Tate Liverpool.
Other collaborative and creative teams that Dr Urbano Gutiérrez has assembled are also experimenting with composite ceramics, such as porcelain mixed with fibreglass, with partners including laboratories in Madrid (Instituto de Óptica) and Castellón (Instituto Técnico Cerámico) for testing and the artist Edit Szabó in Budapest pushing the new material to its limits. A video showcasing ECAlab's creative and innovative work was shortlisted for the tve Global Sustainability Film Awards in 2018.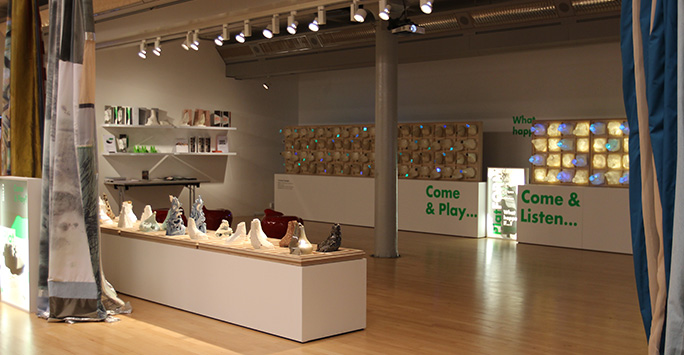 Urbano Gutiérrez' work is funded through Liverpool's School of the Arts Research Development Funding Initiative, as well as various external sponsors. The role that ceramics could play in decarbonising the British economy's energy efficiency are championed by the British Ceramic Confederation, and highlighted in the UK Government's Industrial Decarbonisation and Energy Efficiency Roadmap Action Plan, published in October 2017.
"Sustainable and beautiful"
Liverpool has a strong heritage in ceramics and Liverpool ceramics have been a focus at the city's LadyLever Art Gallery, and items made by the Birkenhead Della Robbia brand are featured in the Metropolitan Museum of Art, in New York.
There are other reasons to reconsider using ceramics: they are eye-catchingly beautiful. From period tiling in old pubs to Victorian swimming pools, they are part of our shared cultural history and identity

Dr Rosa Urbano Gutiérrez
Back to: Research