Extablished in 1834, Liverpool has been at the forefront of medical education and research for over 180 years.
We welcome both internal and external candidates for intercalation. This means that both existing Liverpool medical students, as well as those from other universities, are able to benefit from the breadth and quality of intercalated degree courses we offer.
The Liverpool advantage
As a Russell Group University, research underpins much of our work. Associated with nine Nobel Laureates, the University is recognised for its high-quality teaching and research; our research collaborations extend worldwide and address many of the grand challenges facing mankind today. Learn more about intercalating a Masters of Research into your degree.
Clinical Medicine research at Liverpool is ranked 7th in the UK for critical mass of world-leading and internationally excellent research.
Unparalleled access to local centres of excellence
We have strong teaching and research links with the the Linda McCartney Centre, St. Paul's Eye Unit, and many more.
Further local centres of medical excellence also include Alder Hey children's hospital, Liverpool Heart and Chest Hospital and The Walton Centre, the UK's only specialist hospital trust dedicated to neurological services.
A thrilling world city
The University is driving the city's knowledge economy through close collaboration with fellow universities, industry and the NHS, helping the Liverpool City Region compete in the global business world. Hear from current student Natasha Varshney, on why she chose Liverpool for the MBChB programme and her research masters.
The University of Liverpool in a flash:
Research-connected curricula
Teaching delivered by leading experts
22,000+ students on campus
Global exchange opportunities
£800 million investment in our teaching, research and residential estate
400+ Undergraduate and Postgraduate courses
UK Leader in widening participation
Hundreds of annual scholarships for young people
7,700+ international students on campus
Network of 219,000 alumni in 171 countries
Visit the University of Liverpool About Us webpages for more on our institution, and our city.
Take a closer look
Read: Liverpool best place to be a young graduate in Britain
Liverpool is the best place in Britain to be a young graduate, according to research conducted by Savills estate agency for The Sunday Times. Affordable housing costs, alongside good employment opportunities and a youthful population, make it the perfect city for the recent graduates.
Listen: The University podcast - 3D printing muscle and bone
Take a leap into the not-so-distant future of 3D printing. A place where limbs are not so much 3d printed as grown. And the components are not plastic and metal but flesh and blood. hear from Dr Kate Black on the pioneering advancements occurring at Liverpool.
Explore: The best venues in Liverpool for music lovers
Hear from music industry insiders on the hidden gems around our great city.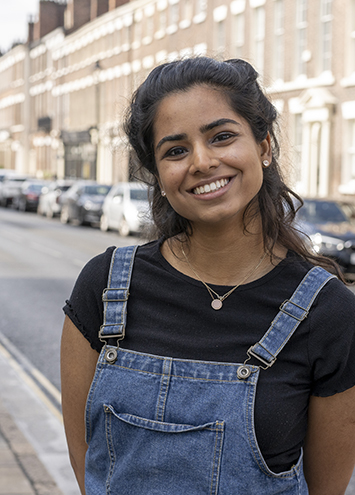 Liverpool is such an amazing place – it is a city with so many different ideas, new ways of thinking, new ways of doing things. I find really refreshing and it broadens your mind so much.

Natasha Varshney, Fourth Year Student Doctor at Liverpool, intercalating to earn her Masters
Back to: School of Medicine