Maths EDI Poster Competition
The Department of Mathematical Sciences organises a yearly poster competition on topics related to Equality, Diversity and Inclusion (EDI) in Mathematical Sciences. This is an opportunity to showcase the topics that you feel passionate about and want to champion!
Outcome
The winner of the Maths EDI Poster Competition 2023 is Ms Julia Münch, who is a first-year PhD student in the Department of Mathematical Sciences. Her poster titled Women in Mathematics received the first prize. You can download Julia's poster from here:
Julia Münch - Women in Mathematics
She received the prize from Prof. Gita Sedghi (School EDI Lead) on the occasion of the International Women in Maths Day 2023 which took place on May 12.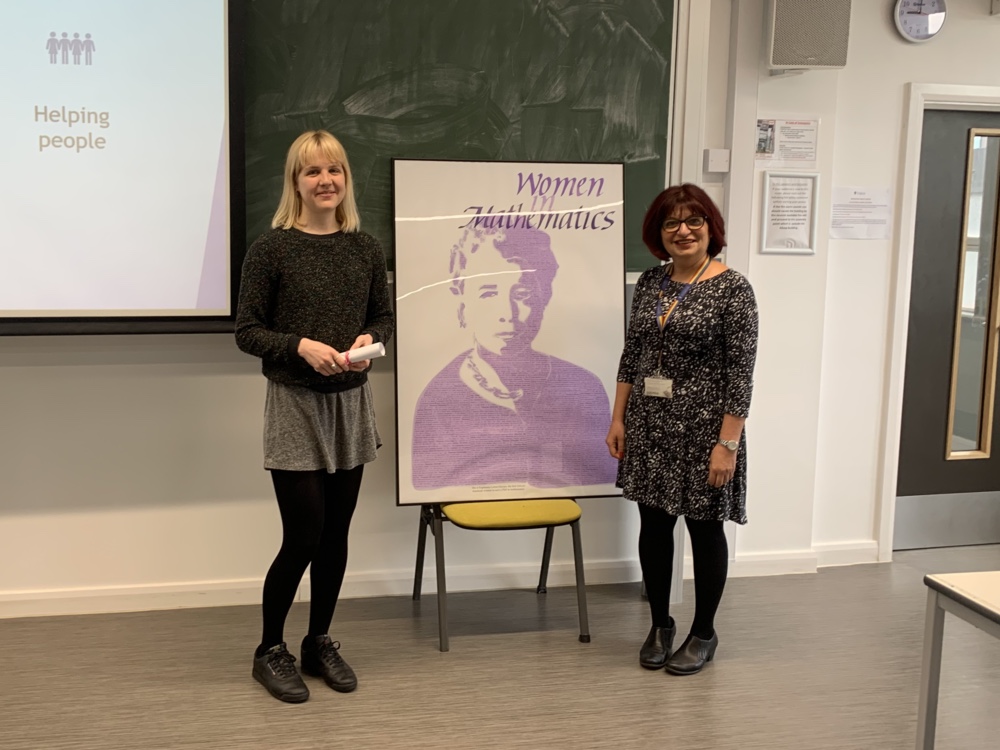 Competition Rules
The rules for the Maths EDI Poster Competition are:
The period to submit posters is from 3 to 28 April 2023 (4 weeks).
Posters may be submitted individually or in groups (of up to 5 students). All students in the Department of Mathematical Sciences can participate in the competition (this includes both undergraduate and postgraduate students). Each student may only submit one poster to this competition.
The poster needs to be related to an Equality, Diversity and Inclusion (EDI) topic that is relevant to Mathematical Sciences (see some examples below). Informal enquires about possible topics for the posters to any of the EDI Champions are welcome.
With the consent of the authors, all participating posters will be uploaded to the Department EDI website specifying their titles and authors. We reserve the right not to upload a poster to the website if we think that the content of the poster is not appropriate.
The prize for the winning poster is a voucher of £100, and there are three additional prizes of £50 each. If the winning posters have more than one author, the prize will be divided equally among the authors. The winning poster will be printed and displayed in the Department for at least one year.
Posters must be your own work, you are not allowed to use images or text that are subject to copyright. The format of the poster can be PDF, PNG or JPG with a resolution that is good enough to be printed in A1 size (e.g. 594 x 841 mm at 300 pixels per inch approximately).
To submit a poster, please fill in the following form. If you have any problems filling the form, please get in touch with us by email.
The winners of the competition will be chosen by a panel of EDI Champions and other members of the University and will be announced in May.
You can find the data privacy notice here: Maths EDI Poster Competition 2023 - Data Privacy Notice
If you have any questions about any of these rules, please write to edimaths@liverpool.ac.uk.
Examples of EDI Posters
The following are examples of posters on EDI topics: