Course overview
The MSc in Palaeoanthropology provides an up-to-date foundation in the study of human evolution for people interested in human origins.
Introduction
The programme provides a detailed introduction to, and review of, the issues of human evolution.  An emphasis on research-connected teaching and active learning provides you with good preparation for a research degree. The programme also assists you to master a certain area of palaeoanthropology to build a career in this or a related domain.
You'll complete your programme with a dissertation of 15,000-20,000 words on an aspect of human evolution.
We aim to be flexible, supportive, encouraging and challenging in our approach to students. For example, if you're new to a topic you're very welcome to attend lectures offered in year three modules of the undergraduate programme in Evolutionary Anthropology.
Who is this course for?
The programme is suitable for graduates with a degree in Archaeology, Anthropology, Earth or Life Sciences who want to expand their knowledge of human evolution and human origins.
What you'll learn
You will be able to tailor your studies to reflect your interests, by choosing from a diverse array of subjects such as:-
Early technologies
Symbols and art
Human osteology
Evolutionary theory
Palaeolithic archaeology
Research methods.
Course content
Discover what you'll learn, what you'll study, and how you'll be taught and assessed.
Studying this course part-time
International students may be able to study this course on a part-time basis but this is dependent on visa regulations. Please visit the Government website for more information about student visas.
If you're able to study part-time, you'll study the same modules as the full-time master's degree over a longer period, usually 24 months. You can make studying work for you by arranging your personal schedule around lectures and seminars which take place during the day. After you complete all the taught modules, you will complete your final dissertation or project and will celebrate your achievements at graduation the following term.
Studying part-time means you can study alongside work or any other life commitments. You will study the same modules as the full-time master's degree over a longer period, usually 24 months. You can make studying work for you by arranging your personal schedule around lectures and seminars which take place during the day. After you complete all the taught modules, you will complete your final dissertation or project and will celebrate your achievements at graduation the following term.
Semester one
On the full-time Palaeoanthropology MSc you take 30 credits of required modules and 30 credits of optional modules in Semester one.
Palaeoanthropology MSc is a multidisciplinary degree, and we are happy for you to build a bespoke course for yourself. We are particularly proud of our courses in Biology, Psychology, and Anatomy.
Compulsory modules
FRAMEWORKS OF HUMAN EVOLUTION (ALGY663)

Credits: 30 / Semester: semester 1

ALGY663 introduces contemporary frameworks for the study of human evolution. We will survey elements of the palaeoanthropological record together with the relevant palaeolithic archaeology, focusing on key sites and debates, and will discuss current hypotheses regarding the major factors responsible for shaping the trajectory of our lineage.
Optional modules
RESEARCH THEMES IN THE NEOLITHIC OF THE NEAR EAST (ALGY656)

Credits: 15 / Semester: semester 1

This module will examine the conceptual frameworks and research methods used in investigating the development of the world's first agricultural, pastoralist and sedentary communities, all changes fundamental to the development of complex and modern society. We will explore the behaviours of these 'Neolithic' communities across the Near East and Europe in a thematic fashion, possible themes selected by students might include ritual and symbolism, mortuary practice, the development of the household, the development of religion, human-animal relationships, landscapes and landscape management, identities, the first monuments and institutions.
WOOD IN ARCHAEOLOGY AND PALAEOECOLOGY: WOOD AND CHARCOAL ANALYSIS (ALGY668)

Credits: 15 / Semester: semester 1

This module provides students with a detailed overview of the theoretical principles and practical applications of archaeobotany and plant macrofossil analysis, focusing on the study of wood, seed and fruit plant remains retrieved from archaeological and palaeoecological sites. Students will have the opportunity to learn hands-on how plant remains are analysed (including botanical identification, recording and data analysis methods), what sort of information can be gained for reconstructing past economies, vegetation ecologies, landscapes and people-environment interactions, and how such analyses are integrated with archaeological and palaeoecological fieldwork projects, and other classes of archaeological and palaeoecological data. The module is delivered through a series of lectures, laboratory-based practical sessions, seminars and tutorials. Assessment is through one essay (students have a choice from a range of topics), one lab-based project report, and a portfolio of work undertaken during laboratory practical sessions.
PYROTECHNOLOGY: THEORY, EVIDENCE AND EXPERIMENT (ALGY740)

Credits: 15 / Semester: semester 1

An examination of the evidence for the role of fire in human history, from its acquisition as a source of heat and light to i ts exploitation in the transformation of the natural world. This module has opportunities for the development of both theoretical knowledge and practical experience of ancient pyrotechnology, through research in the library, analysis in the laboratory and experimental archaeology in the field.
EARLY TECHNOLOGIES (ALGY763)

Credits: 15 / Semester: semester 1

This module introduces the main technologies of the Palaeolithic including the working of stone, wood, bone, clay and the making of fire. The approach is a blend of the theoretical (frameworks of analysis) and the chronological (looking at the archaeological record) with the practical (making and analysing stone tools). If you intend to include lithic artefact analysis in your research then this module provides a sound foundation. More generally, it offers insight into the approaches used to studying cognitive evolution through technology.
ADVANCED STATISTICS FOR BIOLOGICAL RESEARCH (LIFE707)

Credits: 15 / Semester: semester 1

Successful research in the biological sciences inevitably depends on the power that statistical inference provides for hypothesis testing. Understanding which test to use and when is the key to success. This module aims to further this understanding of, and competence in, the use of statistical techniques in the design of experiments in biological research, and in the analysis and interpretation of data.

The module is available to students who are on-campus (LIFE707) or, alternatively, who are studying on a University of Liverpool programme while off-campus (LIFE607), for example in a yearly placement in industry or while studying at an overseas University.

The learning and teaching materials are delivered as an online set of resources (available through Canvas). The module aims to provide a guide to the statistics that students will need to complete an advanced research project (M-level or PhD), and the ability to develop a research-level statistical approach to the analysis of biological data. The module will also introduce students to the powerful open access statistical software package, R.
EVOLUTION AND BEHAVIOUR (LIFE709)

Credits: 15 / Semester: semester 1

This module serves as a focal point for students on the M.Biol.Sci, M.Sc. & M.Res whose interests include evolution, ecology and behavioural biology

The module will make use of varied teaching methods including structured discussions on selected texts as student-led seminars.

The content will focus on areas of evolutionary and behavioural biology that are currently important in the senses (i) that they are progressing rapidly and (ii) that they address fundamental questions of general importance. In addition we will also highlight the key papers and ideas in recent evolutionary biology, showing how research fields develop after pivotal work is published.

The module will have two coursework assessments which are designed to show depth of understanding and an evaluative approach to theory and data in evolutionary biology. There will be some group work, related to one of the assessments.
STATISTICS FOR BIOLOGICAL RESEARCH (LIFE763)

Credits: 15 / Semester: semester 1

Successful research in the biological sciences inevitably depends on the power that statistical inference provides for hypothesis testing. Knowing which test to use and when is the key to success.

This module aims to train biology students in statistical techniques for the analysis and interpretation of data. Students will gain research-level, critical understanding of the necessary theory, and will put this into practice by using statistical software and programming to analyse biological data. The module aims to provide a guide to the statistics that students will need to complete their MSc / MRes. research project. Specifically, it is designed for postgraduate students who have not completed an undergraduate statistics module, such as the University of Liverpool's LIFE223 (QS section). The module is taught via directed reading, lectures, and tutorial workshops, and is assessed via SAQ examination, coursework and an individual poster.
Programme details and modules listed are illustrative only and subject to change.
Semester two
On the full-time Palaeoanthropology MSc you take 60 credits of optional modules in Semester two.
Palaeoanthropology MSc is a multidisciplinary degree, and we are happy for you to build a bespoke course for yourself. We are particularly proud of our courses in Biology, Psychology, and Anatomy.
Optional modules
HUMAN OSTEOLOGY (ALGY762)

Credits: 15 / Semester: semester 2

In this module students are introduced, through practical classes, to the identification and study of human skeletal remains from archaeological / palaeontological contexts. The module covers the identification of adult and juvenile human bones, ageing and sexing, palaeopathological conditions and taphonomy. These aspects are taught through the assignment of one adult and one juvenile skeleton to each student, which they then study through the different classes. At the end of the module students provide a written report on their material. Students will also become familiar with how human / hominin remains have proven crucial to the understanding of one area of archaeology / palaeontology of their choice.
DESIGNING AND COMMUNICATING RESEARCH (ALGY731)

Credits: 15 / Semester: semester 2

ALGY731 is a tutorial-based module that provides you with the opportunity to work with member of archaeology staff from the department examining key issues on a topic of personal interest. You will work with your chosen supervisor to identify a research topic, engage with and critically evaluate key literature and primary data, and evaluate the feasibility of potential dissertation topics. You will also have the opportunity to develop real public engagement activities on the basis of your research.
ARTEFACTS AND ANALYSIS (ALGY737)

Credits: 15 / Semester: semester 2

An introduction to the scientific examination of archaeological artefacts, this course provides students with a critical understanding of scientific research in the field of archaeological materials. It provides opportunities for the discussion of relevant theoretical and ethical issues in the study of artefacts and enables you to develop practical skill and experience in artefact analysis and reporting.
RESEARCHING URBAN COMMUNITIES IN THE NEAR EAST, 5000-500 B.C (ALGY646)

Credits: 15 / Semester: semester 2

This module examines urbanism in the ancient Near East from the perspective of urban form and structure; focusing in particular on street networks, neighbourhoods and public spaces. Emphasis is placed on the development of the critical and analytical skills necessary to conduct original research on these topics using primary archaeological reports.
ECONOMIES AND EXCHANGE IN THE ANCIENT NEAR EAST (ALGY688)

Credits: 15 / Semester: semester 2

This module introduces the students to key issues, methods and evidence essential to the conducting archaeological and historical research on production and trade in the Ancient Near East, from the Fifth to the First Millennium BC, with a focus on the earliest history of Mesopotamia.
DECIPHERING SYMBOLS: APPROACHES TO AN UNDERSTANDING OF THE EARLIEST SYMBOLIC BEHAVIOUR (ALGY761)

Credits: 15 / Semester: semester 2

In the last 15 years, specialists have largely agreed that the defining characteristic of the behavioural abilities of modern humans is the ability to use symbolism defined as the use of one thing – such as a word, an object, a colour, or an image – to make reference to another. The recognition and identification of symbols and the interpretation of symbolic behaviour through the archaeological record, however, is considerably harder to prove than say, especially in the context of the first possible evidence. There are significant problems in knowing what early symbols and symbolic behaviour might look like, the contexts in which it might operate and the advantages, if any, of its use as individuals living within cultures that are full of symbols and symbolic activity, and have been this way for tens of thousands of years. This module addresses three key aspects of symbolic activity in the context of human evolution. The first aspect relates to the identification of a symbolic and materially embodied behaviour as a distinctive and new element of anatomically modern humans and the inferred advantages that this capacity conveyed over hominins that did not possess it. The second looks at the evidence for the first material culture that is unambiguously identified as symbolic and the context of its interpretation. The third looks at evidence for more complex information recorded or presented symbolically, and the manner in which we can 'read' and unambiguously interpret these artefacts. As part of this process we shall also explore the various different ways in which symbolism, art, design, and communication have been given shape through academic language through the
anthropological, art historical and psychological literature.
BRONZE AGE AND IRON AGE BRITAIN (ALGY786)

Credits: 15 / Semester: semester 2

This module covers the Bronze Age and Iron Age in Britain from 2300 BC until AD 43. We will focus on the development of later prehistoric studies in Britain, and the themes of settlement, traditions of artefact deposition, land use, burial traditions, and the understanding of later prehistoric social organisation. The aims of the module are to provide an advanced understanding of later prehistoric studies and an opportunity to practice critical method in approaching this material.
Introduction to Quaternary Micropalaeontology (ENVS542)

Credits: 15 / Semester: semester 2

This module intends to give a holistic insight of a number of marine and terrestrial microfossils that are conventionally used for reconstructing past environmental conditions for the Quaternary period, including recent past. Microfossils are biological indicators that can help to either qualitatively and/or quantitatively estimate environmental conditions such as atmospheric temperature and precipitation (pollen), sea-surface conditions (foraminifera, diatoms, radiolaria, dinoflagellate cysts), salinity (ostracods, diatom), pH (diatoms), sea-ice cover (diatoms, dinoflagellate cysts), etc. These conditions are of paramount importance for modelling past climate conditions and the data derived from microfossil assemblages enable to better calibrate models, which in turn, are essential to forecast future climate. In addition, microfossil assemblages help to understand the natural evolution of our environment as well as measuring the amplitude of human activities over time.​​
BECOMING HUMAN (LIFE364)

Credits: 15 / Semester: semester 2

This module takes an interdisciplinary approach to examine human evolution. Beginning with the human genome and how it has evolved, the module moves through the biological scales to examine how the genome has shaped developmental evolution in the human lineage, and finally the adaptations that this developmental evolution produced in the Homo lineage since it split with chimpanzees.

The module will utilise a variety of learning strategies to facilitate student-led and active learning. The teaching sessions will include significant workshop components and problem solving elements. In some cases these will stand independently as traditional lectures/seminars, and in some cases flipped classroom workshop approaches will be used, with material delivered in advance online. In the workshop sessions, students will then engage in activities including debates, small group discussions, and presentations. Supporting materials such as recorded lectures, links to online resources and literature will be provided on VITAL. Students will be guided to key articles (reviews, primary literature) and textbooks which will support learning. Opportunities for individual feedback on learning will be provided.

The module will be assessed through a combination of coursework and a final examination.
ADVANCED TOPICS IN ANIMAL BEHAVIOUR (LIFE743)

Credits: 15 / Semester: semester 2

This module addresses contemporary topics in animal behaviour within an evolutionary framework. It combines current experimental and field research and links behaviour to other areas including ecology, neurobiology, comparative cognition and human evolution.

There will be an emphaiss on using the primary and secondary literature (including refereed reviews) to underpin the conceptual basis of the material, and we will take an evaluative approach to the material.

The module is delivered through traditional lectures, tutorials and a combination of guided and self-directed reading. The module is assessed by formal examination and continuous assessment.
Programme details and modules listed are illustrative only and subject to change.
Summer period
The Dissertation (ALGY600) is taken during the summer period.
Compulsory modules
ACE MA AND MSC DISSERTATION (ALGY600)

Credits: 60 / Semester: summer

ALGY600 provides the framework for MA students, in the Department of Archaeology, Classics and Egyptology, to undertake independent guided research on a scholarly topic of relevance in the discipline of their choice. This substantial piece of work is developed and written up over the course of the M-level study in conjunction with the 'taught' component of the programme.
Programme details and modules listed are illustrative only and subject to change.
How you'll learn
Teaching takes place on campus, augmented with online support materials.
Classes comprise of staff-led presentations, student-led seminars, practical labs, and one-on-one dissertation supervision. Formative group work is a built-in part of the design of some modules. Class sizes vary by module but are generally between six and 16.
As a full-time student you would be expected to undertake 600 hours of work total per semester (including contact time, library research, private study and writing assignments). Part-time hours are approximately half this amount. Contact hours per semester vary depending on modules chosen, but as a full-time student you will average 8 hours of direct teaching per week, augmented by additional departmental seminars, webinars, and practical opportunities.
How you're assessed
You are assessed through coursework in a variety of formats: these include essays, book reviews, presentations, and practical project reports. Your assessments will allow you to explore your interests in detail, and to examine prominent research themes and debates within the field of human evolution.
The dissertation is studied over the course of the whole course, supervised by a staff member from the Human Origins Research Group, and is submitted at the end of the course in mid-September.
Liverpool Hallmarks
We have a distinctive approach to education, the Liverpool Curriculum Framework, which focuses on research-connected teaching, active learning, and authentic assessment to ensure our students graduate as digitally fluent and confident global citizens.
Your experience
Virtual tour
Supporting your learning
From arrival to alumni, we're with you all the way:
Why Archaeology, Classics and Egyptology at University of Liverpool?
Fantastic on-campus facilities such as the Garstang Museum with its outstanding archaeological collections and GIS suite for archaeological drawing
Our extensive laboratories used for conservation, lithics, geomagnetism, stable isotope, trace elements, finds processing and sample preparation
An enviable library which has been built up since the Ancient World and Archaeology has been studied at Liverpool since the 1880s
Opportunities to learn ancient languages such as Greek, Latin, Akkadian, Sumerian, Egyptian and Coptic
Archaeological projects based internationally, in Egypt, Greece, Bulgaria, Jordan, Turkey, Italy, Zambia, Kenya, Ethiopia and South Africa, as well as in the British Isles
What students say...
The department has many highly regarded academics from a diverse range of backgrounds. I knew that the array of modern facilities at the University would provide an enjoyable and instructive learning environment where I could learn from the best. The various summer placement opportunities also encouraged me towards the university.
Chat with our students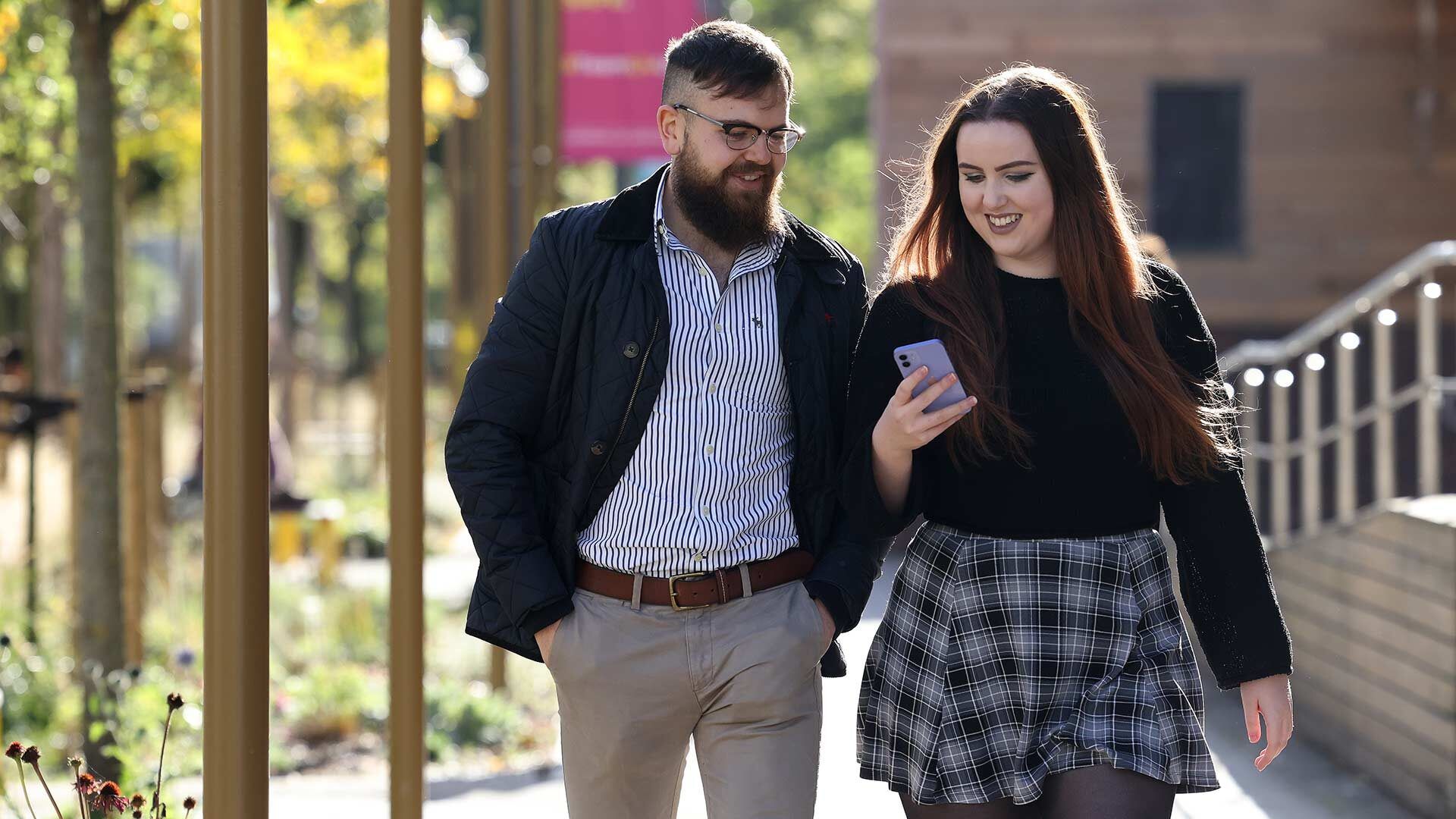 Chat with our students
Want to find out more about student life?
Chat with our student ambassadors and ask any questions you have.
Careers and employability
The MSc in Palaeoanthropology is designed to equip students with a wide range of transferable skills, with an emphasis on the development of both research and practical analytical abilities. Potential employers (both nationally and internationally) appreciate the breadth of views, analytical skills, and intellectual rigour that you will gain by studying peoples and periods so different from our own.
Many of our students go on to further study at doctoral level, and previous graduates of the MSc in Palaeoanthropology have moved on to employment in archaeology and related areas, including field archaeology, the museums sector, and the wider heritage industry.
Your future
Beyond the immediate fields of archaeology and anthropology, graduates have pursued careers in:
Teaching
Journalism
Finance
Marketing
University administration
Performing arts
Civil service.
Meet our alumni
Hear what graduates say about their career progression and life after university.
Read more about Jack Young
Jack Young, BSc (Hons) Evolutionary Anthropology 2019
Jack graduated BSc Hons Evolutionary Anthropology in 2019 and is graduating MRes Palaeoanthropology degree from the University of Liverpool in 2020. He has received an offer to undertake a unique 19-month programme of language study, work placement and homestay in Japan with Daiwa Anglo-Japanese Foundation.
Fees and funding
Your tuition fees, funding your studies, and other costs to consider.
Tuition fees
UK fees

(applies to Channel Islands, Isle of Man and Republic of Ireland)

Full-time place, per year
£10,150
Part-time place, per year
£5,075
International fees
Full-time place, per year
£21,150
Part-time place, per year
£10,575
Fees stated are for the 2023-24 academic year.
Tuition fees cover the cost of your teaching and assessment, operating facilities such as libraries, IT equipment, and access to academic and personal support.
If you're a UK national, or have settled status in the UK, you may be eligible to apply for a Postgraduate Loan worth up to £12,167 to help with course fees and living costs. Learn more about tuition fees, funding and Postgraduate Loans.
Additional costs
We understand that budgeting for your time at university is important, and we want to make sure you understand any course-related costs that are not covered by your tuition fee. This could include buying a laptop, books, or stationery.
Find out more about the additional study costs that may apply to this course.
Scholarships and bursaries
We offer a range of scholarships and bursaries to help cover tuition fees and help with living expenses while at university.
Entry requirements
The qualifications and exam results you'll need to apply for this course.
| Your qualification | Requirements |
| --- | --- |
| Postgraduate entry requirements | A 2:1 or equivalent undergraduate degree in Archaeology, Anthropology or related fields such as (but not limited to) Earth or Life Sciences, History and Geography. |
| International qualifications | If you hold a bachelor's degree or equivalent, but don't meet our entry requirements, you could be eligible for a Pre-Master's course. This is offered on campus at the University of Liverpool International College, in partnership with Kaplan International Pathways. It's a specialist preparation course for postgraduate study, and when you pass the Pre-Master's at the required level with good attendance, you're guaranteed entry to a University of Liverpool master's degree. |
English language requirements
You'll need to demonstrate competence in the use of English language. International applicants who do not meet the minimum required standard of English language can complete one of our Pre-Sessional English courses to achieve the required level.
English language qualification
Requirements
GCSE
C
IELTS
C
View our IELTS academic requirements key.
International Baccalaureate

Standard Level (Grade 5)

INDIA Standard XII
70% or above from Central and Metro State Boards
WAEC
C4-6
Hong Kong use of English AS level
C
Cambridge Proficiency
C
More about life in Liverpool
Discover more about the city and University.
Why study at Liverpool?
Liverpool bursts with diversity and creativity which makes it ideal for you to undertake your postgraduate studies and access various opportunities for you and your family.
Accommodation
To fully immerse yourself in the university experience living in halls will keep you close to campus where you can always meet new people. Find your home away from home.
Fees and Finance
Discover what expenses are covered by the cost of your tuition fees and other finance-related information you may need regarding your studies at Liverpool.
Contact us
Have a question about this course or studying with us? Our dedicated enquiries team can help.
If you have any questions about the content of this course or your suitability please email the programme director.