Developing Students' Digital Fluency in the Humanities and Social Sciences
Posted on: 8 May 2019 by Laura Blundell in Conference & Event Reports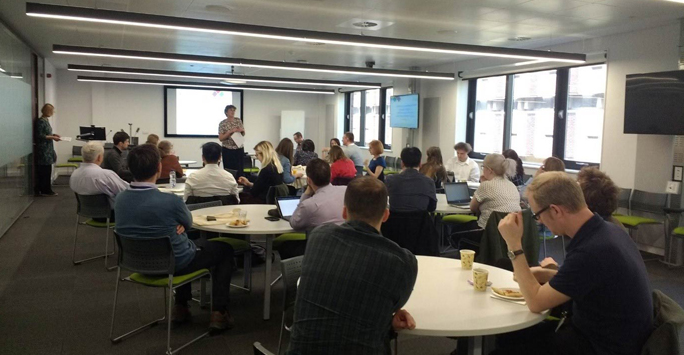 On the 17th April 2019 the Faculty of Humanities and Social Sciences hosted an event to discuss digital fluency and what that means across different disciplinary contexts.
What is the event?
This event showcased a range of case studies that demonstrated differing approaches for embedding digital fluency in the curricula. The speakers discussed digital fluency within their programmes, why it is important and some of the challenges faced when developing this key graduate attribute.
An overview of the days:
The afternoon was introduced by Tünde Varga-Atkins (Centre for Innovation in Education). Digital fluency is one of the key attributes highlighted in the Curriculum 2021 framework. Therefore, we want to create opportunities for our students to develop these skills within their programmes. However, Tünde demonstrated that these opportunities can look very different across disciplines. The consistent themes that result from developing digitally fluent graduates emerged as employability, transferrable skills, advancing knowledge, representation and inclusivity. Tünde summarised these themes beautifully, and concluded that, ultimately developing digitally fluent graduates is the best preparation we can offer for getting graduates ready for a world that we don't yet know. Digital fluency equips our students with the skills they need to continue to learn.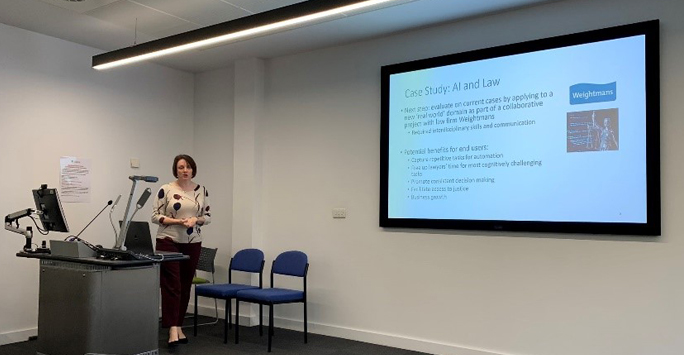 The first case study was a really interesting insight into Artificial Intelligence (AI) and how it is impacting Legal Education, from Professor Katie Atkinson (School of Electrical Engineering, Electronics and Computer Science). One of the strong themes that emerged from Katie's presentation was the link between digital fluency and employability, in particular a surge in demand for AI expertise across disciplines. The digital revolution means that now more than ever it is easier for people to seek justice, and rapid advancement in AI brings potential not only for automation of repetitive tasks and consistent decision making, but also justification for these automated decisions. It was clear with this particular case study that partnership with external stakeholders as well as across disciplines was key in order to equip graduates with the digital skills that employers are coming to expect, and this is further highlighted in the concern of up-skilling of the current workforce. There is a need for graduates to have a familiarity with the latest technology being used in their field.
One of the essential elements of digital fluency is being able to think critically and make balanced judgements about the information we find and use, and of course it's essential to have the right tools to be able to do so. It was great to see a live demonstration of one such tool by Tom from Gale Publishing Company. Gale Primary Sources is a digital collections platform with a wealth of sources. Although students have access to this powerful tool, what was apparent and also highlighted in the demonstration is the importance of developing students search skills, so that they can get the most out the digital platforms available to them. Tom was very open to staff approaching him for more support in using the tool.
Next up was Alex Buchanan (History), who discussed the approaches and challenges of delivering a digitally informed curriculum to meet sectoral needs. The programme in this particular case study is a Masters in archives and record management. Alex discussed how the programme had used both the QAA subject benchmarks (knowledge and skills) and the national archives digital skills survey to shape the types of opportunities students had to build on their digital skills. There had been two differing approaches tried and tested, the first being "embedding the digital everywhere." This meant all modules had a strand of digital woven through, this included explicitly covering digital implications of various topics, digital delivery and digital practice. The solution also included authentic assessment in the form of using the same digital tools required by the workplace. The downside however was that the students seemed to overlook the digital content within the modules and this resulted in little confidence that they had actually acquired the necessary skills. The second the solution was to add a specifically digital option which came in the form of a module centred on digital records. Students benefit from individual tutorials in using Preservica, a visit to a digitisation suite, international contributions to the module via Skype and a Podcast assignment. The real positives from this digital module is that it keeps growing, it is felt that the content is now core and no longer optional and that this module has resulted in a wide range of competence and confidence within the student body.
The final presentation of the afternoon saw John Brindle (ULMS) discussing findings from a recent JISC digital skills student survey. John used polling technology Poll Everywhere to gather participant responses in the room and compare them against the results previously gathered from students. Questions included themes such as informing students about the digital skills required before beginning the course, providing regular opportunities for students to review and update digital skills, and preparing students for a digital workplace. The responses from both staff and students really highlighted some of the challenges seen by both sides, primarily awareness building around digital skills, the upskilling of both staff and students and of course the time to implement digitally fluid approaches.
What did you get out of the conference?
The case studies that were presented sparked some excellent discussions from attendees from across the University, and there were some emerging themes that seemed to resonate as part of digital fluency. The benefits of digital fluent graduates in terms of employability and transferrable skills is a huge contributing factor, however this does also raise some areas where more work is required. Engagement from external stakeholders requires strong relationship building in order to ascertain what the digital expectations are from our graduates. Another theme that was discussed was interdisciplinary working around digital fluency, this was particularly prevalent in the AI and Legal Education case study however, combined with the recognition of great potential there was also feeling that a shared vocabulary around digital fluency would be beneficial to arrive at suitable technical solutions across the institution. Of course there are always challenges when developing a digitally enhanced curriculum and these included, understanding students current digital skill/confidence level, access to proprietary software and constraints of existing University supported solutions.
Final thoughts:
This was an excellent showcase of how various programmes are working hard to develop students' digital fluency, the challenges faced and the impact this work is having on graduate future prospects.
Further Resources
Curriculum 2021 Digital Fluency includes further information and links to case studies from across the institution.
LinkedIn Learning, formerly known as Lynda.com, is a leading online learning platform that helps anyone to learn business, software, technology and creative skills to achieve personal and professional goals. University staff and students have access to the LinkedIn Learning video library of engaging courses taught by recognised industry experts.
---