Celebrating Members of our Research Staff Association (RSA)
The University of Liverpool Research Staff Association is a research community-owned and led initiative. In this space, we are pleased to introduce some of our RSA members and celebrate their individual endeavours. Click on each image to find out more about the individual.
Dr Stella Morgana - Department of Politics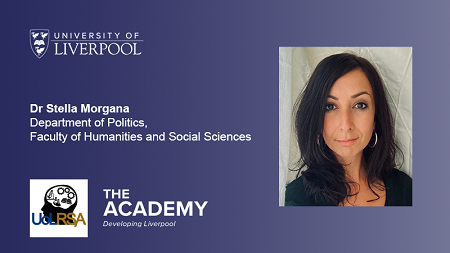 As a Deputy Co-Chair, and now Co-Chair for the Research Staff Association, I joined the Steering Committee to help promote research culture as a collective practice at the University of Liverpool. Being part of the research community at UoL means contributing every single day with my work to shape positive values and nurture brilliant research. Thanks to the RSA, I am seizing the opportunity to be part of a supportive and inspiring group that is strongly committed to encourage researchers to thrive while embracing their interests, attitudes, and talents.
Dr Lakshay Jain - Department of Mechanical, Materials and Aerospace Engineering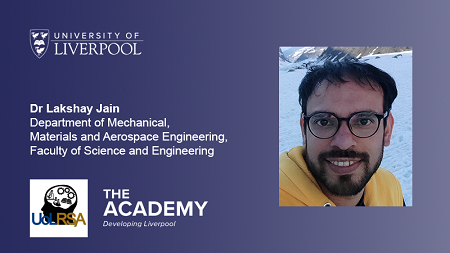 The RSA Buddy Scheme was my first opportunity as a new postdoc at UoL to meet new people and build connections outside my immediate team. Since then, every event organised by the RSA and/or the Academy that I have been a part of has been a very rewarding experience - be it the fantastic and positive atmosphere, the chance to meet other amazing individuals from across the university, or the wonderful session itself. Joining the RSA recently as a Deputy Co-Chair has allowed me to be an active part of the wider university community and contribute towards further nurturing an enabling environment for all researchers. As the newest member of the team, I absolutely love the friendly, welcoming and inclusive culture at the RSA with everyone being extremely supportive. Being a part of the RSA committee gives me a unique opportunity for personal development beyond being a researcher while honing my leadership, management and organisational skills, and the ability to work in large, diverse teams. I feel the RSA is great platform for networking with peers from the broader research community and I'd highly encourage all postdocs and ECRs to get involved!
Dr Janette Greenhalgh - Institute of Population Health Sciences

Since taking the role of deputy co-chair of the RSA in 2021, I have enjoyed many opportunities to engage in professional development activities external to my paid role. I have worked alongside RSA colleagues to deliver two conferences, the highly successful biannual National Postdoc Conference hosted at the University of Liverpool in September 2021, and the 2022 annual RS conference. We are currently setting up the upcoming 2023 RS conference. Another highlight for me has been proposing and setting up the RSA Lunch and Learn session on Research Integrity. Most recently, I was delighted to arrange the first RSA team volunteering event in July 2023. The team raised £156 for the Paper Cup project in Liverpool and I hope the event has also raised the profile of volunteering amongst research colleagues. Above all, it is a privilege to be working alongside so many talented and inspiring RSA colleagues from across the University, who I would not otherwise have met.
Dr Iaroslav Michurin - Department of Chemistry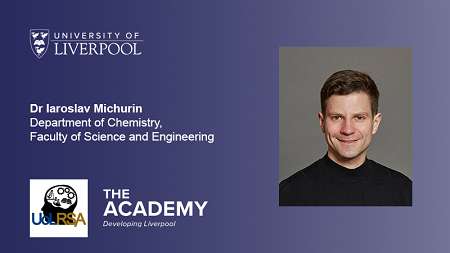 Being a deputy co-chair of the RSA is an excellent and rewarding experience. I joined the RSA to bring about positive change to the research staff at the University. Chairs of the RSA meet regularly with the SLT to shape the University's policy and maximize its beneficial impact on research and researchers.
Also, I joined the RSA to coordinate the central support for researcher development. Here, we advertise many L&D opportunities available in the University and beyond. We also brainstorm ideas for future workshops and welcome new research staff on monthly coffee mornings.
Finally, I joined the RSA to meet the bright and talented minds of the local and national research community and learn the best practices. The RSA promotes the annual National Post-Doc Appreciation Week and Making an Impact which are vital for postdoctoral development and facilitate borderless community for researchers.
Dr Dakshat Trivedi - Department of Biochemistry & Systems Biology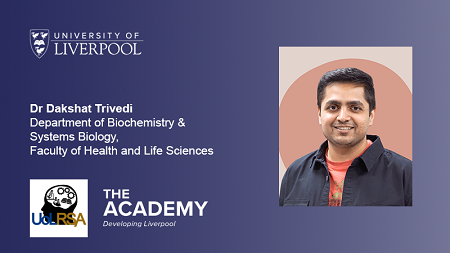 I joined RSA as the deputy co-chair to contribute to their research community initiatives but ended up gaining more than I expected. It has been an enriching experience. The camaraderie, knowledge exchange, and personal growth that I have witnessed and experienced first-hand have strengthened my commitment to both the association's goals and the larger pursuit of advancing research.
Interacting regularly with the RSA team has exposed me to diverse perspectives and innovative ideas that go beyond conventional boundaries and boost researchers' growth and development. From advocating for equitable work environments to offering mentorship opportunities, RSA's initiatives underscore the importance of nurturing a supportive ecosystem that helps researchers thrive. RSA's beauty is in its impact. I am honoured to represent RSA at the Staff Wellbeing Steering Group, which drives universities' strategies and efforts towards the wellbeing of all staff members.
The UoL RSA is a unique opportunity that provides a platform for postdocs to engage, evolve, and empower themselves while adding a wealth of transferable skills and experience to their CV. I eagerly look forward to continuing my journey within the association and contributing to its mission of fostering growth, development, and collaboration.
Dr

Revathy

Krishnamurthi

- Department of Clincial infection, Microbiology and Immunology

I am one of the Deputy cochair in RSA team since January 2021. Being part of RSA has given me lot of opportunities to explore my skills other than research. I am learning leadership skills, management skills, and other transferrable skills as a co-chair. Being a part of organising a conference, involving in its planning, and raising our opinion, which is valued makes me feel an inclusive part of the big team. It gives lot of joy to know the information first hand from the right resources. We learn what it is to work as a coherent team across disciplines from the whole University. We are trained to be voice of our peers. We respect diversity. I consider being a part of RSA gave me more than what I could expect. Overall, we grow together while nurturing others.
Dr Bengt Tegner - Department of Chemistry

Being part of the RSA, first as a deputy co-chair and then as a co-chair has helped me develop my skills in communication, organizing, and networking. As an early career researcher in computational chemistry, most of my day-to-day research can be quite a solitary experience, so being part of the RSA committee has given me the opportunity to work collaboratively with peers from different disciplines, and to organise events and develop initiatives that serve the needs of postdocs from across all faculties of the university. To be part of a community of researchers has been extremely rewarding, and it has given me a greater understanding of the challenges facing postdocs in non-STEM disciplines. It has also given me access to the wider research landscape within the university.
Dr Tahereh Nematiaram - Department of Chemistry

It has been rewarding to be a deputy co-chair of RSA and to work closely with bright academics, from across the university, and the senior leadership team trying to further improve the research culture at Liverpool. Being part of this initiative has helped me to enhance and develop a set of transferable skills (leadership, management, and conference organization – just to name a few) which will be of essential importance in my role as a new PI. I'd encourage all postdocs seeking professional development to get involved!
Dr Cordelia Dunai - Institute of Infection, Vet & Ecological Sciences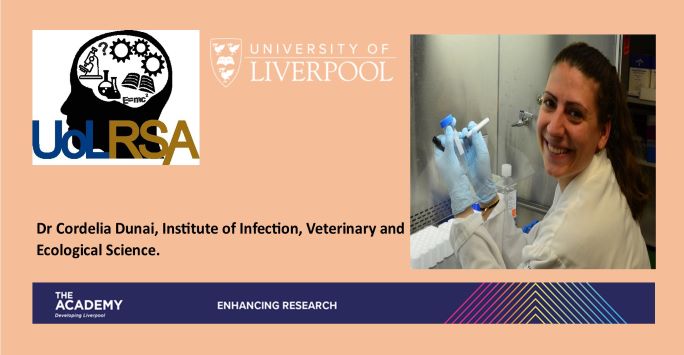 I joined the RSA as deputy co-chair to be more connected to people and events at the university and I became co-chair at the beginning of 2023. I primarily work at Aintree Clinical Sciences Centre and the RSA has been a wonderful opportunity to meet more colleagues and learn about all the amazing opportunities at the university. The RSA has a friendly and supportive team and I really enjoy all the activities we organise.
Sophie Jones - Department of History
Joining the RSA – first as a Deputy Co-Chair, and now as a Co-Chair – has enabled me to feel supported, and part of my broader University community. This was especially important to my professional and mental wellbeing during extended periods of remote working. Working in a Department in which there are only a small number of postdocs, it has been wonderful to meet and work with different research staff based across the University. Through the RSA, I have been given the opportunity to organise and host conferences and events, helping me to develop discrete skills (including networking, time management and organisation) as well as my own confidence. I have been honoured to provide representation on behalf of the researcher community to senior leadership on a number of committees and steering groups. Members of the RSA are drawn from different Faculties, each with their own unique environments and requirements – however, it has been incredibly rewarding to learn, and to celebrate, just how much we have in common with each other.
Dr Rishav Agrawal - School of Engineering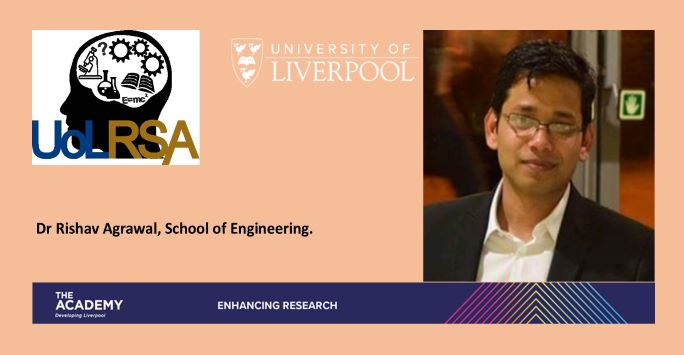 Starting the role of Deputy Co-chair role at RSA recently, I have already started to feel being part of the wide research community at the University of Liverpool. It has been very rewarding to meet and interact with peers from across the University. The culture at RSA is very positive and inclusive. As a new starter, everyone at RSA has been very supportive to me. They have also been very helpful in providing with me various relevant information. I would recommend all the research staff to get involved with RSA.
Selina Johnson – Institute of Life course and Medical Sciences

Joining the RSA as a deputy co-chair has given me the opportunity to connect and feel part of the universities wider research community.
Working with the other RSA members has been a great and supportive experience and helped me understand the support infrastructure, events, and resources available to researchers.
As part of the role, I have helped to chair, organise, and promote events and resources available to university researchers. This experience has allowed me to work with some extremely passionate, engaging, and inspiring researchers from across the university and widen my network.
Being part of the RSA has really helped me feel part of building and strengthening a supportive research culture.
Dr Alex James - Department of Chemistry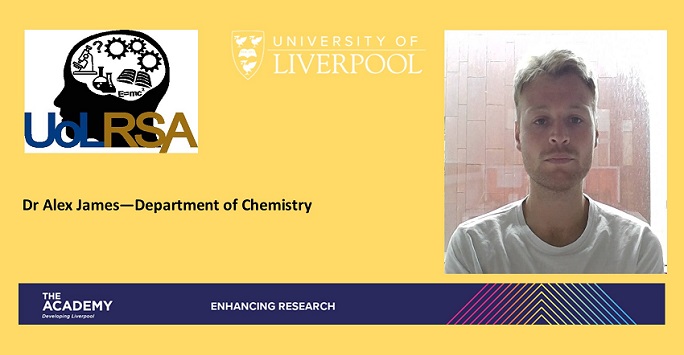 Being part of the RSA, first as a deputy co-chair and now as a co-chair has allowed me to develop many different skills. Working as a diverse team all having very different backgrounds has helped me understand how to work in a team effectively, something that is not always experienced being a researcher in a lab doing your own work.
Constant communication with the team as well as simple and effective dissemination of key facts from meeting is a vital skill which being part of the RSA has really helped me to develop. Arranging meetings and working to deadlines has helped me become much more organised and this has also been translated across to my research too. Finally, given that the RSA is made up of researchers from different faculties, stages of their career and countries it has really allowed me to understand more about the plights of people working in very different areas to myself.
Colleagues in humanities have quite different career paths to those in STEM and likewise their day-to-day research is quite different to mine despite us all falling under the category of research staff. This experience has allowed me to be more understanding of people working in different areas and reinforces the point that though our daily research is vastly different no one is more or less important than the other and we all face daily battles and successes just that these happen to look quite different depending on what you do.
Dr Claire Wilson - Institute of Systems, Molecular & Integrative Biology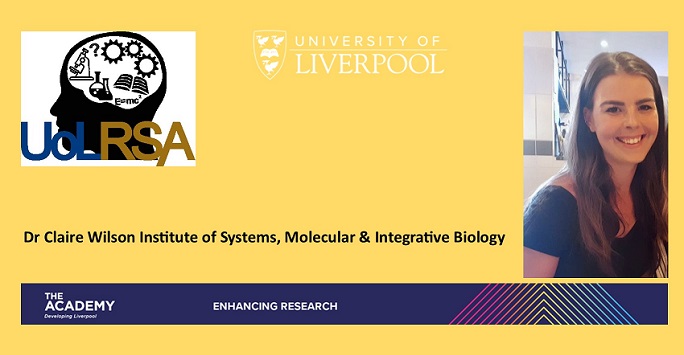 The RSA provides a voice for researchers, to help get out views heard. As a co-chair of the RSA, I have been provided the opportunity to engage with people across the university from peers to the senior leadership team, trying to improve the research culture here at Liverpool. Taking up the position as co-chair of the RSA within my first year at Liverpool allowed me to expand my network quickly, gain key contacts and get to know Research staff from across the University.
Dr Katherine (Katy) Roscoe - Department of Sociology, Social Policy and Criminology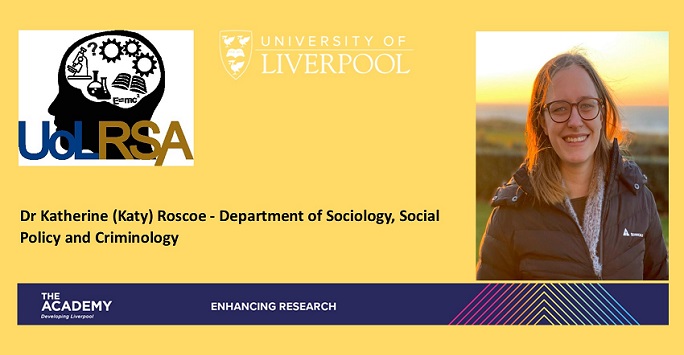 Being a co-chair of the RSA has helped me develop my skills in organisation, team-work and communication. As an ECR in the humanities and social science my research project is a solo endeavour but being part of the RSA committee has given me the opportunity to work collaboratively to organise events and develop initiatives that serve the needs of postdocs from across all faculties of the University and nationally. To be part of strengthening our ties as a community of researchers has been very rewarding.
Dr Gabriella Melis - Public Health, Policy and Systems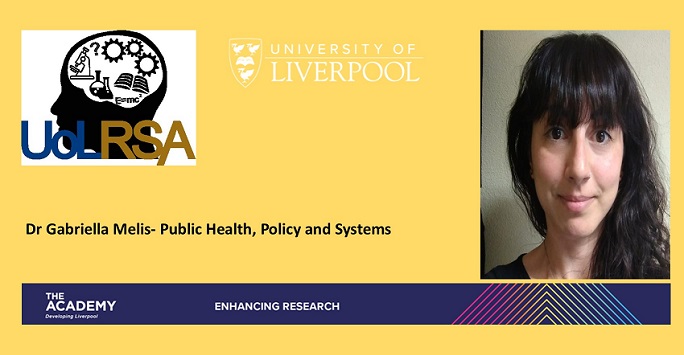 Being part of the University of Liverpool RSA has been a very valuable experience which has helped me to develop both as a researcher and as a person, thanks to the many learning experiences I have been exposed to since joining as a Liaison member first and as a Deputy Co-Chair later. I have also gained further experience in the organisation of events, as I have contributed to the setting up of the National Postdoc Conference 2021, and to its Wellbeing sections. The events organised by the RSA for Postdocs' development are of high standard, the people involved are engaged and supportive, and overall being part of it is an experience that I would suggest to every Postdoc.
---
Dr Blanca Perez Sepulveda, Institute of Integrative Biology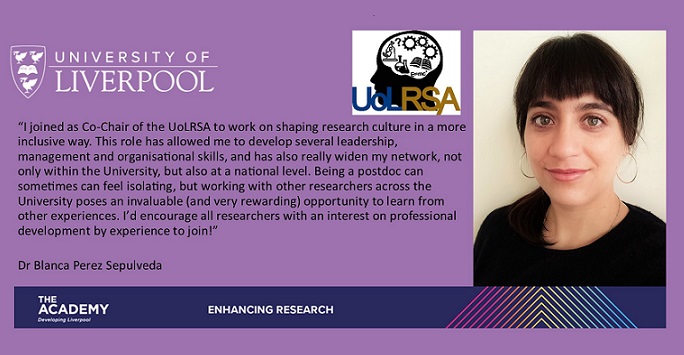 Dr Filipe Braga Nogueira, Department of Chemistry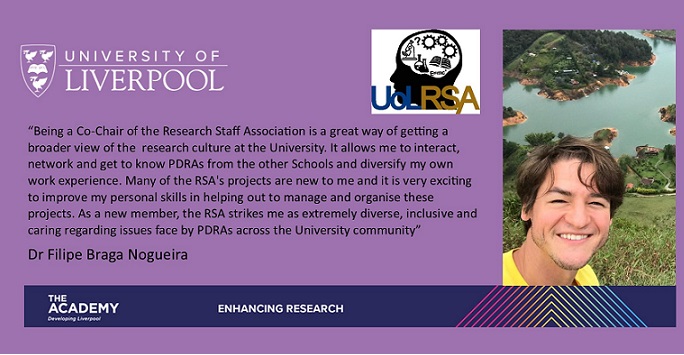 Dr Fran Sherratt, Institute of Population Health Sciences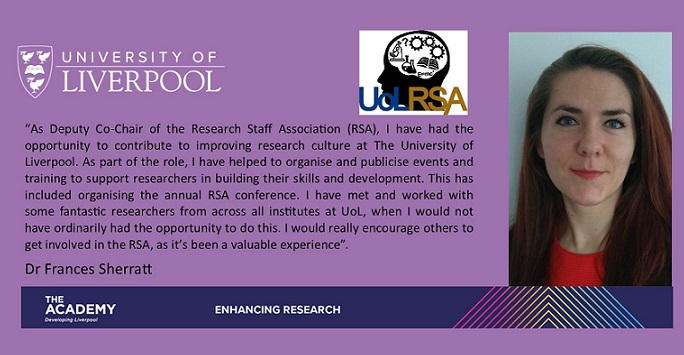 Dr Katalin Ujhelyi Gomez, Department of Psychological Sciences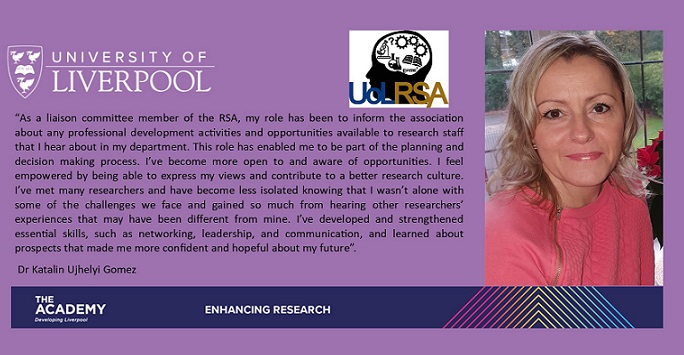 Dr Krishanthi Subramaniam, Institute of Infection and Global Health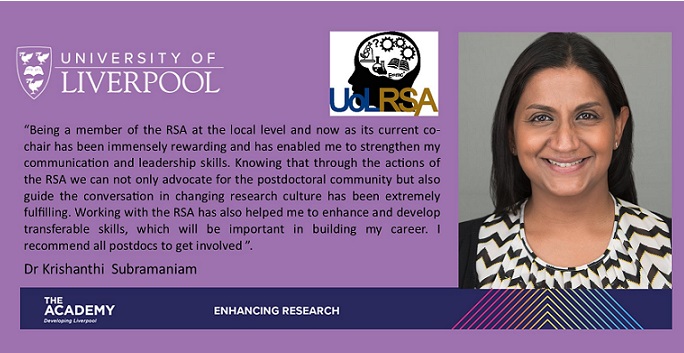 Dr Malaka De Silva, Institute of Integrative Biology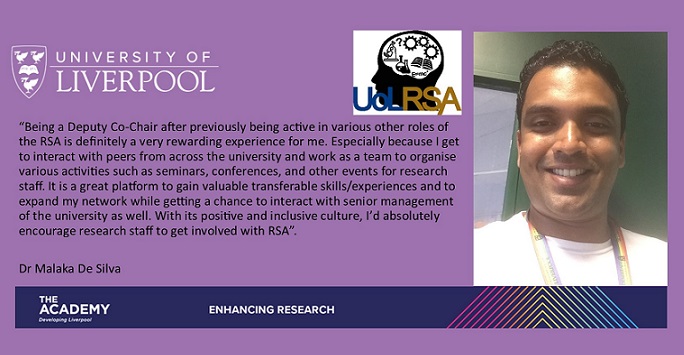 Dr Michael Robinson, Department of History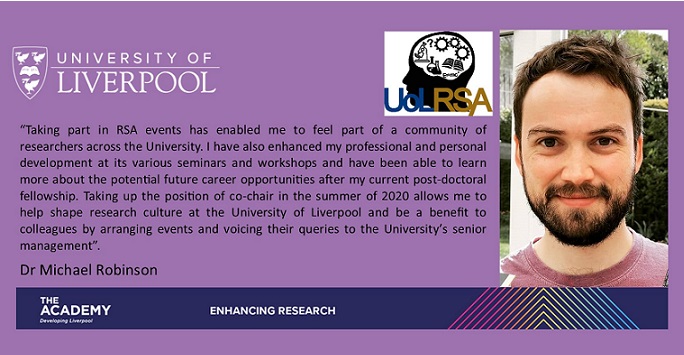 Susan Dobson, Institute of Population Health Sciences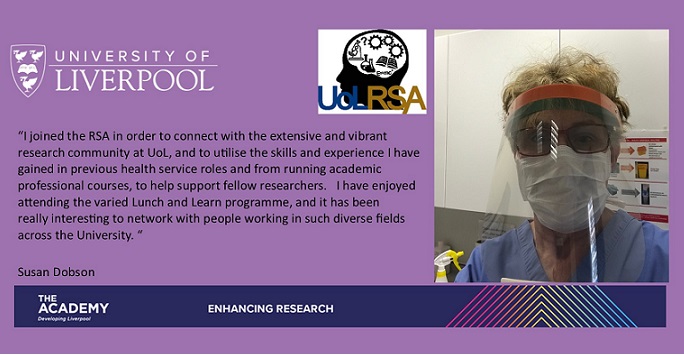 Download accessible descriptions of the above images - added September 2020.
---

Dr Alison Savage, Department of Chemistry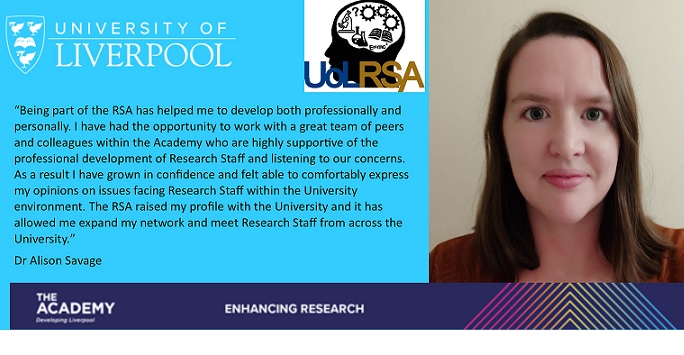 Ashkan Eliasy, School of Engineering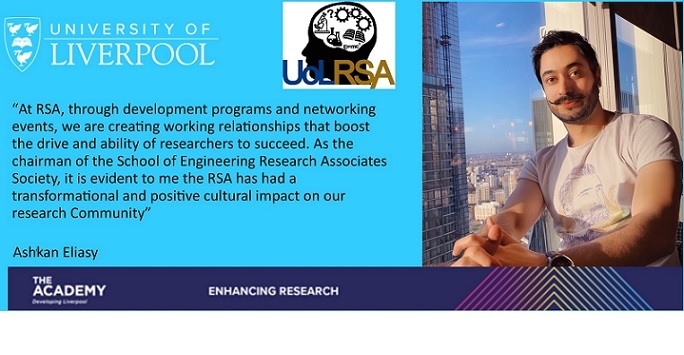 Dr Helen Cauldbeck, Department of Chemistry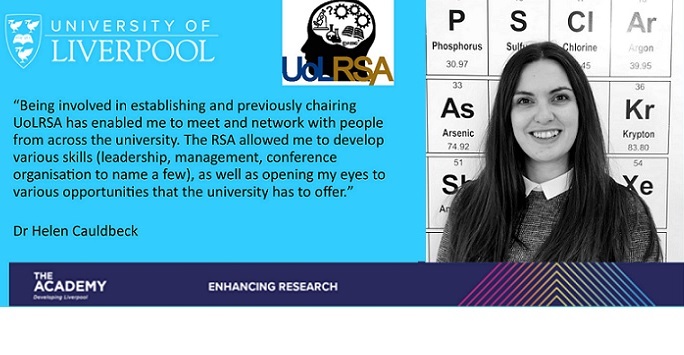 Dr Jenna Kenyani, Institute of Translational Medicine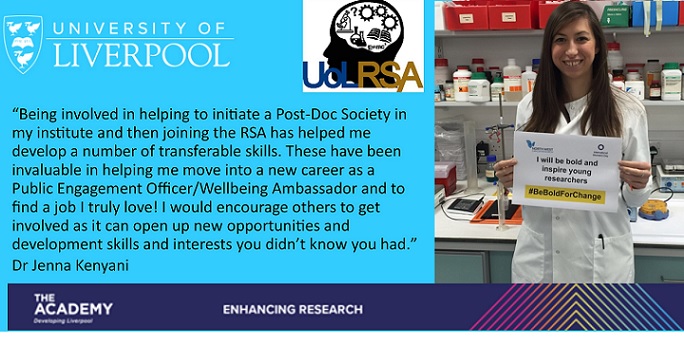 Mary Jane Monaghan, Department of Electrical Engineering and Electronics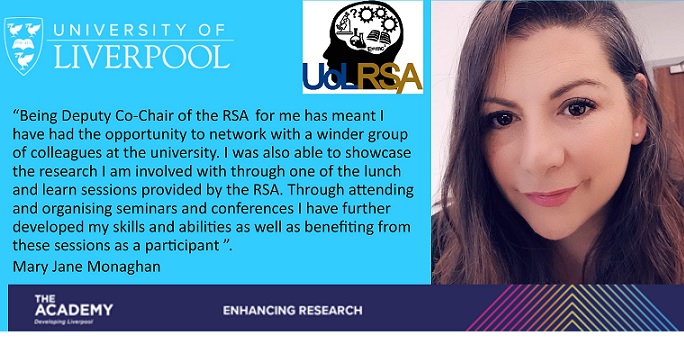 Dr
Nicola
Beesley, Institute of Infection and Global Health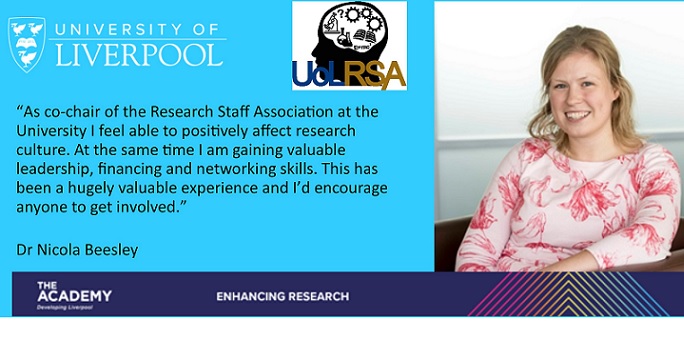 Dr Priyanka Raina, Institute of Ageing and Chronic Disease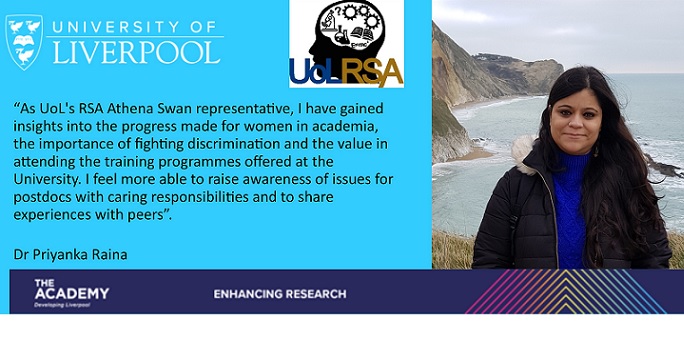 Dr Sarah Arrowsmith, Institute of Translational Medicine