Celebrating University of Liverpool N8 New Pioneers
From 6-19 January 2020, the N8 Research Partnership entered the new decade with a celebration of the rising research stars of the N8 universities - the 'New Pioneers' of research in the North.
Colleagues from across our University nominated some of our early careers researchers who have worked on unique and ground-breaking research, or are creating real-world impact, with innovative thinking or new discoveries.
These (below) are now being featured by N8 as 'Ones to Watch'.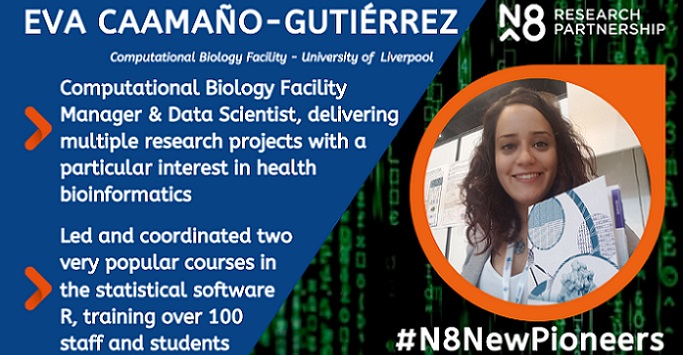 Dr Eva Caamaño-Gutiérrez - Computational Biology Facility
Dr Eva Caamaño-Gutiérrez is the Computational Biology Facility Manager and Data Scientist, coordinating and delivering a number of research projects with a particular interest in health bioinformatics. In the last year, addressing a need identified across N8 partners, Dr Caamaño-Gutiérrez has led and coordinated the deployment of two very popular courses in the statistical software R, training over a hundred staff and students.
Among other work, Eva has also provided research insights with medical doctors, bench scientists, mathematicians, industry representatives and funding bodies; supporting numerous research projects in key areas within the University of Liverpool's Faculty of Health and Life Sciences, as well as organising scientific meetings to promote data science in life sciences to different audiences, from early career researchers to the wider University community.
Dr Bruce Pinnington – Management School
Dr Bruce Pinnington is a Lecturer at the Management School, having completed his PhD there in 2017.
Bruce has been successful in attracting funding to build a collaborative international research network of scholars, policy makers, business leaders and NGOs, developing pioneering research around modern slavery and social value in supply chains – providing new insight into transparency, power, and collaborative working. He has also developed formal collaborations with the UK Government's Home Office and Crown Commercial Service, with research findings now influencing legislation and national policy.
Dr Micaela Matta – Department of Chemistry
Dr Micaela Matta was awarded a Newton International Fellowship and a Marie Skłodowska-Curie Fellowship to work on molecular simulations of melanin-based materials for bioelectronics. She is currently performing the first computational study on the charge transport in melanin materials, which will pave the way towards their application in biocompatible interfaces for nanomedicine and biosensing.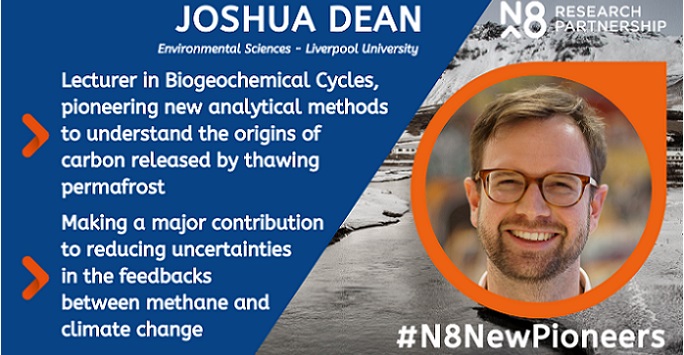 Dr Joshua Dean – School of Environmental Sciences
Dr Joshua Dean is a Lecturer in Biogeochemical Cycles, while also starting to lay the foundations of his own lab in Liverpool by obtaining £50,000 worth of equipment from the Faculty of Science and Engineering.
Joshua is combining fieldwork in extreme environments with pioneering new analytical methods using natural abundance radiocarbon (14C) to understand the origins of carbon released by thawing permafrost. This work is making a major contribution to reducing uncertainties in the feedbacks between methane and climate change. He is also pioneering the application of these methods in other novel areas, including to understand energy and nutrient flows through aquatic ecosystems, and to understand how urban waterways may be a major but previously-unrecognised centre of carbon processing.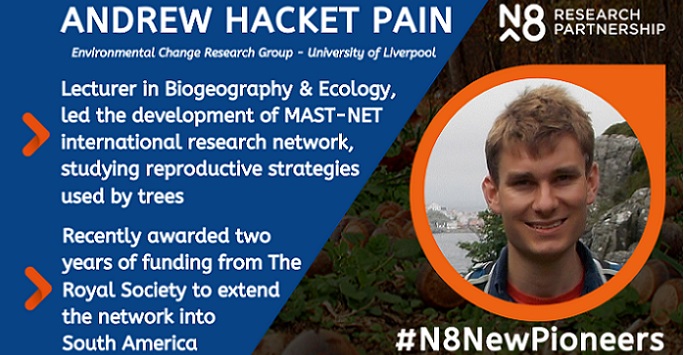 Dr Andrew Hacket Pain – School of Environmental Sciences
Dr Andrew Hacket-Pain is a Lecturer in Biogeography and Ecology, and has led the development of an international network of leading researchers, leading to the NERC-funded project "MAST-NET". In its first year, the project has produced an agenda-setting paper in Ecology Letters, the first phylogenetic analysis of the evolution of reproductive strategies across the plant tree-of-life and exciting work on the interaction of fire disturbance and pulsed seed production in boreal forests. Through the MAST-NET project, Andrew has led a major phase of network building in a highly international research area, and he has recently been awarded two years of funding from The Royal Society to extend the network in to South America.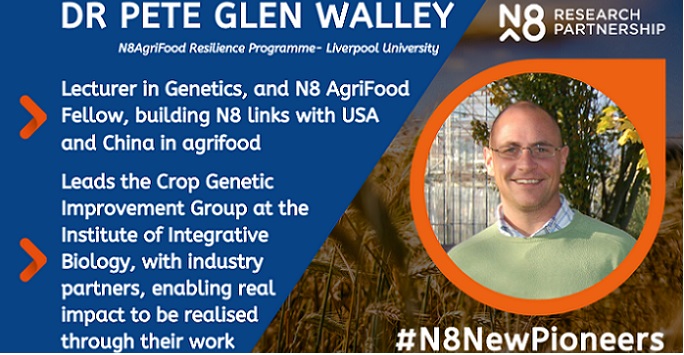 Dr Pete Glen Walley – Institute of Integrative Biology
Dr Pete Glen Walley is a Genetics Lecturer and an N8 AgriFood Fellow. He leads the Crop Genetic Improvement Group at the Institute of Integrative Biology where he and his team work on sustainable crop production with various industry partners such as New Heritage Barley Ltd, The John Innes Centre and CN Seeds Ltd, enabling real impact to be realised through their work. Peter is also the most active Knowledge Exchange Fellow of the N8AgriFood programme, internationally, since its start in 2016. He has represented the N8 at all its missions abroad, helping to develop international partnerships for N8 AgriFood with missions to China, USA, Argentina, Spain, Brazil.