Networking and building ECR communities online
Posted on: 10 November 2021 in Researchers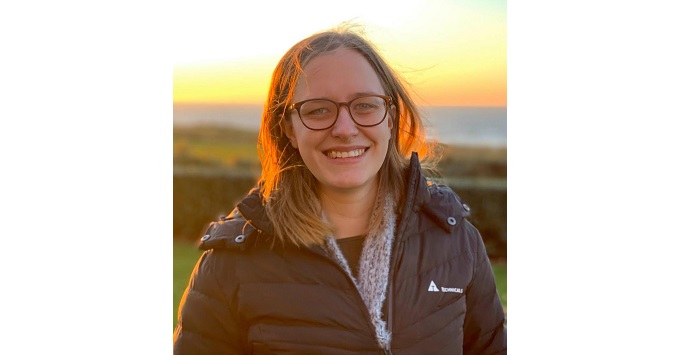 Dr Katherine Roscoe, Leverhulme Early Career Fellow, School of Law and Social Justice
Dr Katherine Roscoe is a Leverhulme Early Career Fellow in Department of Sociology, Social Policy and Criminology. She is also one of the Co-Chairs for the Research Staff Association (RSA) in which role she's been involved in facilitating networking and community-building for ECRs within and outside of the University of Liverpool.
Making professional connections with our peers is crucial to tackle isolation and its impact on our mental wellbeing. This issue is particularly potent for researchers who have little or no teaching, work independently, and/or work mostly or entirely from home as part of the University's new hybrid working policy. For many, socialising at work and community-building with peers is still taking place mostly online. Liverpool has showcased how these digital platforms can become sites of meaningful community-creation in our faculty, across the University and further afield.
Every third Thursday of the month, the RSA hosts a monthly virtual coffee at 3pm on Zoom. This is a fantastic way to chat with colleagues from across different faculties, you wouldn't otherwise meet, and hear examples of best practice or different experience within their respective fields. It is also a way to welcome new colleagues to the University. It's much easier to jump "online" for a quick thirty-minute chat, than travelling across campus or commuting in, and the social contact makes a big difference to Katherine's day and week.
Katherine is also involved in her faculty Humanities and Social Sciences ECR network, which aims to help ECRs hone their research and academic skills by learning from more experienced peers at UoL. A digital repository of useful resources, and friendly faces, can make all the difference in retaining ECRs in the institution on new grants and advancing their personal and professional goals.
Making "Stronger Connections" between researchers was also a cornerstone of the National Postdoc Conference 2021, which was hosted by the Academy and the RSA in September. Both the Conference itself and 8 weeks of pre-conference networking events in the lead up took place entirely virtually. Interactivity and accessibility were at the heart of planning the online networking sessions, which were hosted at a range of times and dates to accommodate different working schedules. Participants were offered the chance to mingle and chat in small groups in customised virtual networking rooms on Kumospace, and take part in interactive games and craft-alongs.
Participants were also offered asynchronous networking opportunities: delegates could share their information and contact details on our NPDC21 Connections Board on Padlet, or ask questions about the posters in the Conference poster competition on Twitter. Considering no one met face to face, fantastic participant feedback was received.
Far from being "second best", online networking can be made more accessible and inclusive, opening up community-building to wider audiences internationally and across all parts of the UK. For Katherine and the RSA and NPDC21 committee she's part of, organising online networking events has been a lesson in avoiding a "one size fits all approach".
Katherine found that the key is to organise a diverse range activities hosted on digital platforms that best facilitate the particular needs of that activity or audience. In the new age of hybrid-working, and in line with institutional and individual commitment to environmental sustainability, the fantastic possibilities of online event organisation should continue to be explored and celebrated!
Key takeaways
The Research Staff Association (RSA) aims to provide a platform for communication and networking amongst research staff both within the schools, institutes, and across faculties and the wider University Community. You can meet other researchers at our monthly RSA Virtual Coffee, every third Thursday of the month hosted on Zoom (check your Outlook calendar for joining details).
If you'd like to learn more about community-building for postdocs, the recording of Dr Joan Chang (Postdoc Futures) and Dr Blanca Perez-Sepulveda (UKRSA) NPDC21 session "Tackling Isolation: community-building for postdocs" can be viewed here, or read their five top tips in the NPDC21 pocket book.