Unanticipated opportunities demonstrates the research impact of ECR fellowship
Posted on: 29 September 2021 in Researchers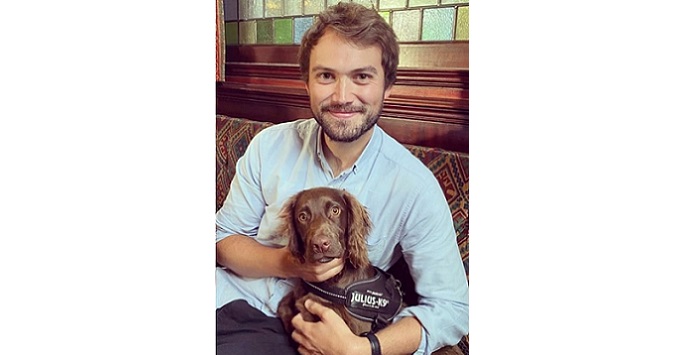 Dr Michael Robinson, Leverhulme Trust-funded Early Career Researcher, History Department
Dr Michael Robinson was barely six months into his thirty-six-month Early Career Fellowship researching disabled veterans when Covid-19 struck and the resulting nationwide and international lockdowns occurred. As a result, his ability to research in British libraries and archives was severely affected with research in international archives proving impossible until 2022. Yet, in addition to severely limiting his intended research programme, Covid-19 also provided Michael with unexpected opportunities.
With opportunities to conduct primary research severely limited, the nationwide lockdown enabled Michael to instead write on the parallels between his historical research and the response of welfare systems in the aftermath of Covid-19 and its resulting economic lockdowns. Michael's project's timeframe, which incorporates two World Wars and the Great Depression, enabled a historical understanding of how policymakers, politicians and welfare systems respond to unexpected global events and the resulting economic and political uncertainty. This relationship provided the unanticipated opportunity to publish an article entitled "Adapting the machine': Lessons from history on the impact of seismic global events on welfare policy' with History & Policy which had not been part of his research or publication itinerary before Covid-19. History & Policy publishes freely accessible peer reviewed historical research bringing together historians, policymakers and journalists to interact and learn from one another.
This unforeseen opportunity has motivated Michael to continue pursuing applied history, namely using a study of the past to help meet present challenges especially in the policymaking arena, for the remainder of his fellowship and throughout his career as a researcher. Building upon his History & Policy article, and with British and international archives reopening to researchers, Michael aims to write up additional articles and a monograph to be submitted to publishers who specialise in Social Policy and History.
Key Takeaways
Unexpected events like Covid-19 can provide unanticipated opportunities to utilise your research for a pressing contemporary issue
Keeping your supervisory team updated on any changes to your research and publication itinerary and seeking their feedback on these changes is crucial to a harmonious research environment.