North West Spain Field Visit
Our dynamic Earth results in a classic cycle of oceans opening, closing through subduction, and the formation of mountain belts. This field class takes advantage of superb field geology exposed in the Cantabrian Mountains and beach and coastal exposures along a 350km-long transect in the far northwest of Spain. This module will build on the field skills of students to piece together the large-scale picture of a continental collision, from sediment accumulation on continental margins and in subduction zones, through the collisional phase, to late stage melting and mineralization of the continental crust. Students learn how to bridge the gap between small-scale field observations and large-scale tectonics, and understand how this links to the accumulation of economically important resources. Concepts, processes, and controversies relating to this tectonic cycle will be introduced and analysed.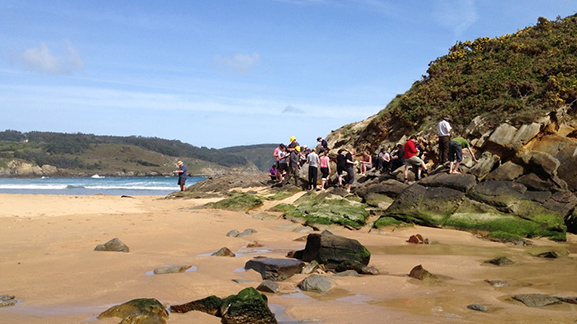 The North West Spain field class forms part of the ENVS374/574 Basin to Mountains module, which is available to students on the BSc and MESci degree programmes in Geology (F600, F601) and Geology with Physical Geography (FZF8, FZ68).