Treasure Island Pedagogies: Episode 8 - the one with the Tunnocks tea cakes
Posted on: 14 May 2021 by Dr Tunde Varga-Atkins in General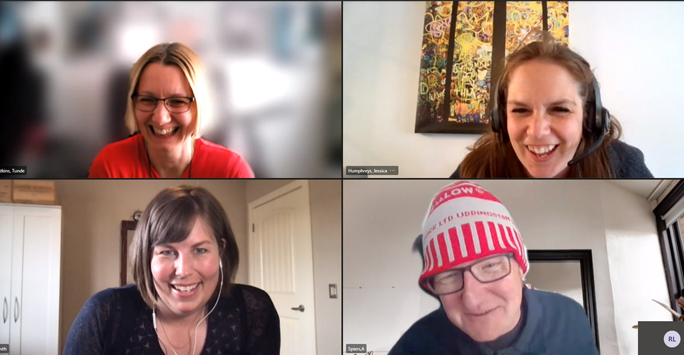 In Episode 8, so much covered by our guests: open education, involving students as partners in our initiatives, the revival of audio to have meaningful and human connections with students and more.
Speakers: Alex Spiers, Dr Erika Smith and Jessica Humphreys
Date: 29 April 2021
This episode was recorded with educational developers and learning technologists. In homage to BBC Radio 4's 'Desert Island Discs', our guests identify their students' lightbulb moment (when their students 'were getting it'), a teaching prop or pedagogy to take to their Treasure Islands together with a luxury item off duty.
Treasure Island Pedagogies: Episode 8 podcast
(Treasure Island Pedagogies Episode 8 - Podcast Transcript)
This episode features:
Alex Spiers
London School of Economics, UK
Lightbulb moment: trying out audio feedback with academic staff who, despite having been constantly giving formative feedback, were getting low NSS scores from students. Went for a low-tech solution of fortnightly audio feedback recorded and emailed to students. It was fantastic to see the results, which also sparked my interest in using media in education.
Teaching prop or pedagogy: everyone knows that (pre-pandemic) if you come to one of my teaching sessions, you'll receive a Tunnock's Tea Cake on entry. It sets the scene for a convivial session, forgetting everything else to have an open discussion.
Luxury item: as a man of a certain age, I would bring my record collection. No digital streaming service, just the records with their art and physical beauty. Each one is a story itself.
Dr Erika Smith
Mount Royal University, Calgary, Canada
Lightbulb moment: I've found great value in making the move from surface to deep learning approaches visible and explicit. I often do this with concept mapping approaches by working with students to connect ideas and concepts with sticky notes, paper, and pens in the face-to-face classroom. Since the pandemic, I've facilitated learning activities using Google Jamboard and other mapping software to foster deep connections online.

Teaching prop or pedagogy: I am a big fan of communities of practice as I've seen the impact these communities can have in my educational development work. When I co-facilitated a faculty community of practice on open education and pedagogy, I was really inspired by exchanges across disciplines and connections with students.

Luxury item: as a Canadian who lives near the Rocky Mountains, I love to ski to enjoy the fresh air and get away from my screen. I am hoping to find some magical hybrid skis for water, cross-country, and downhill skiing to bring to the island.
Jessica Humphreys
University of Warwick, UK
Lightbulb moment: I am all about the application of knowledge, and getting students (staff participants in my case) to make connections in their learning which can come from facilitating interdisciplinary discussions. I am also keen for participants to have agency in their learning: something that they can apply all their learning to. I have found it really useful to frame all this from a design thinking perspective.
Teaching prop or pedagogy: I'd like to take any tool that promotes collaboration. Especially recently, I have found Padlet, Miro useful to get people to collaborate; to allow those both on and off the island to develop ideas together.
Luxury item: I would like to take a radio, to keep in touch with what's going on, listen to music, audio plays and the human voice. I couldn't do without it.
Any sparks? Bartering?
We all agreed that we miss seeing people, going to real life (and live) events and having human connections off-screen. Talking of Tunnocks Tea Cakes, we decided that meeting in 3D for chocolate and beer would be a perfect recipe for community building. We also enthused about open education, involving students as partners in our initiatives. We noted the revival of audio not as just for enabling us to have meaningful and human connections with our students, but also as a medium that has been the on hand (or on ear) that can liberate us from 24/7 screen-time. We enthused about the potential of 'Twitter spaces' which might enable these podcast discussions virtually. And in the true spirit of open-education and community building, we want to lay hands on the historical treasure trove of all the previous Treasure Island teaching props and pedagogies from all previous guests to be able to utilise them on our Island and all to come together cooking food together for everyone on the island. There is something about breaking bread together.
Links / resources
Facilitated by Tünde Varga-Atkins, Audio/Producer by Rob Lindsay, Web design: Dennis Wong, @LivUniCIE
---