Cohort Belonging and Inclusion
Posted on: 18 April 2023 by David Watson in General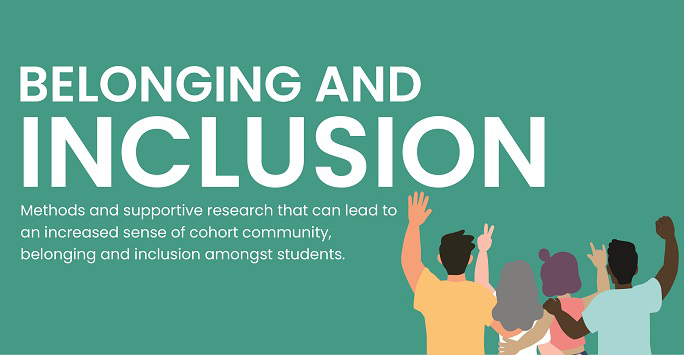 A feeling or sense of belonging and inclusion within a cohort can significantly contribute to a student's experience of university life. Additionally, research provides evidence that clarifies how belonging and inclusion can impact on students' academic performance, their mental-health and wellbeing, and even effect their social interactions with peers.
Such is the importance of student belonging and inclusion, it is no surprise that this is deeply embedded into the National Student Survey (NSS) and it should be a central theme in curriculum and programme design, particularly during key phases when new students are beginning their University experience.
In addition to existing inclusivity resources, the Centre for Innovation in Education (CIE) has now launched a new on-demand course Cohort Belonging and Inclusion.
Taking no more than 1 hour to complete, this course integrates recent research on building belonging in Higher Education, with recommendations for developing an integrated approach in alignment to the National Student Survey (NSS).
Key components of the course include:
A summary of research outlining the four foundations to belonging at university.
An overview of common barriers to belonging and methods and techniques to overcome such obstacles.
A variety of student activities and frameworks which can support you in increasing student belonging and inclusion in a module, programme, or teaching environment.
Considerations for international students and institutional initiatives that provide opportunities for student engagement with like-minded peers.
Available via Canvas, this on-demand course is available to all staff on a self-enrol and self-paced basis, with opportunity to share good practice with your peers and engage in a self-reflective activity to identify areas of potential enhancement. Using summaries of The four foundations of belonging at university and Building Belonging in Higher Education Recommendations for developing an integrated institutional approach (by Anna Jackson, Gail Capper and Sunday Blake), this course aims to support you in overcoming the challenges that can be faced when building a sense of belonging and inclusion for your students.
---