Video and Lecture Capture for Learning Event
Posted on: 21 January 2020 by Scott Farrow in Conference & Event Reports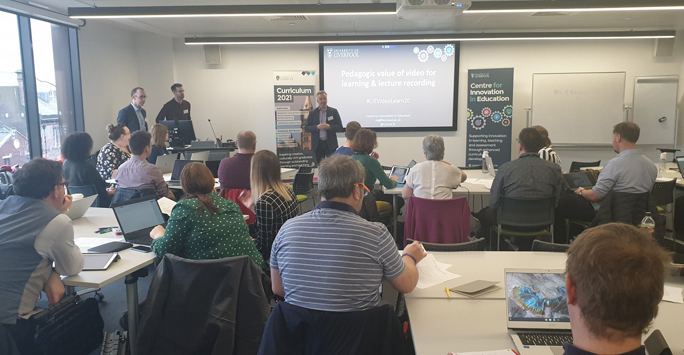 As most were easing into the new year and tackling the Christmas inbox overload, at CIE we were preparing to welcome colleagues from across the UK to an event which would look to discuss the pedagogic value of lecture recording and video for learning, as well as begin to address some of the concerns staff may have around these areas.
Themes of the day included 'Pedagogical uses of lecture capture', 'Video for learning' and 'Video for assessment'. After an initial introduction from Simon Thomson (Director, CIE) discussing how we can convince lecturers that using lecture capture won't put them out of a job and that it might actually improve their teaching, John Couperthwaite (Echo360) then asked the room to think of and vote on alternative terms for the sometimes negatively associated 'lecture capture', we jumped straight in to the packed agenda.
Does student use of lecture captures really help their learning?
Dr Louise Robson, Uni. Of Sheffield
https://t.co/5FyeYJpz60 thanks to @louisescicomm from Sheffield University offering tips to students on how to engage with lecture capture #CIEVideoLearn20 @LivUniCIE - don't binge watch!

— Beth Snowden (@Beth_A_Snowden) January 9, 2020
Beyond lecture capture
Lauren Regan, Uni. Of Surrey
Good idea from Lauren Regan - Uni of Surrey #CIEVideoLearn20 - departments were encouraged to speak to staff and to students about their approach to captured content so students know what to expect. At WGU part of module handbook template refers to use of VLE but should cover LC?

— Alicia Owen #HE (@OwenMarie) January 9, 2020
Lecture Capture: The Big Bang Theory!
Ross Parker, Durham University
'If you lecture with passion, you can't wait to start and you run to the line!' Love it! @RossParkerRP #CIEVideoLearn20 pic.twitter.com/UEzRCm0R9d

— Sarah Wright (@Sarah__wright1) January 9, 2020
Lecture capture: some unintended consequences?
Professor Susanne Voelkel, Uni. Of Liverpool
Great research by @VoelkelSusanne on students' overreliance on recorded lecture videos for revision instead of reading & critical thinking - perhaps a rethink for assessment & pedagogy? #CIEVideoLearn20

— Dr Tünde Varga-Atkins (@tundeva) January 9, 2020
Lecture Capture: a technological vs pedagogical innovation… Insights from Staff and Student Perceptions
Dr Steven Rogers and Karl Gimblett Keele, University
Brilliant insights from @karlgimblett and @SLRogersGeol #CIEVideoLearn20 with a well deserved mention for @emilynordmann again! pic.twitter.com/VGT1Fshbx3

— Sarah Wright (@Sarah__wright1) January 9, 2020
Lecture Highlights: Repurposing Lecture Capture to Provide Learning Resources for Chemistry Students
Dr Laura Hancock, Dr Graeme Jones and Dr Daniela Plana, Keele University
Fantastic example from @keelechem colleagues Dr Laura Hancock & Dr Graeme Jones exploring the use of pre-recorded videos and scratch cards to implement a flipped model & PBL in traditional lecture sessions cc @KeeleInnovation #CIEVideoLearn20 pic.twitter.com/ySIYYrBUec

— Simon Thomson (@digisim) January 9, 2020
Home is behind, the world ahead." Using video to build and extend communities of practice
Laura Blundell and Rachelle O'Brien, Uni. Of Liverpool
Wanted to share our orginal recording that we took to SoTEL in case anyone is interested https://t.co/GPzwAP139w @rachelleeobrien #CIEVideoLearn20 Thank you again for the opportunity to share our experience of using video to build communities of practice.

— Laura Blundell (@laurablundell) January 9, 2020
Creating a new approach to posters by incorporating video presentations, addressing the Why?, What? and How?
Dr Alexis Nolan-Webster, Uni. Of Liverpool
What students gain from experience of creating video linked to poster presentation @AlexisNolanWeb1 #CIEVideoLearn20 - the chance to virtually introduce and showcase their work, encouragement to be creative; gain employability skills - develop creative ideas and share with others

— Alicia Owen #HE (@OwenMarie) January 9, 2020
Creative Media at The University of Sheffield: Students as video producers
Jonathon Hooton, Uni. Of Sheffield
@Hooton_J talking about the fantastic video resource available to support students at the university of Sheffield with video based assignments #CIEVideoLearn20

— Simon Thomson (@digisim) January 9, 2020
Moving from broadcast to dialogue: An interactive screening of 'The Crossing' by Shreepali Patel
Jonathan Worth, Think Hubub
Visit the Crossing website to view the interactive screening, the subject of Jonathans talk.
Superb talk by @Jonathan_Worth, talking about collaborative video projects for learning. Register the video resource from the url below #CIEVideoLearn20 https://t.co/BiKMBGpDcr

— John Couperthwaite (@johncoup) January 9, 2020
The impact of students reviewing their own performance through video capture
Dr Jim Turner, Liverpool John Moores University
Great thoughts by @j1mturner on self-review of video by students and staff for professional development #cievideolearn20

— John Couperthwaite (@johncoup) January 9, 2020
A brief history of using video for assessment at the University of Derby
Charlotte Ellis & Matt Howcroft, Uni. Of Derby
I rarely leave an event really wanting something physical but the Create Pods at Derby are amazing! We need some @leedsbeckett, set-up, kit-ed out and perfect for making audio recordings, screen capture or practicing presentations. #CIEVideoLearn20

— Rebecca Sellers (@becksell2001) January 9, 2020
Between the themes, breakout activities included crowdsourcing ideas for two staff guides, which CIE will produce and share back to the community under an open CC licence. The first, a Spotlight guide to Pedagogical use of Lecture Capture' and the second 'A Spotlight guide to video for learning and assessment'. Look out for these guides on our Guides & Resources pages and while they're being written, check out some of the other spotlight guides in the series.
Poster and video presentations were also included for viewing and discussion throughout the breaks, including:
A video-based intervention for teaching statistics to higher education students based on peer-assisted learning
Angel Tan & Themis Karaminis, Edge Hill University
Suggestions for the alternative term for 'lecture capture' included: 'replay', 'teaching catch-up', 'digital video recording' but the winning vote was 'learning capture' – what do you think?
Thanks to all who attended the event and started some of the important conversations around these subjects. We look forward to keeping this community of practice open and further sharing our idea, research and findings.
You can catch up with the conversation on Twitter, searching #CIEVideoLearn20
---