Reflection on Digital Universities UK - 2023 conference
Posted on: 27 April 2023 by Rob Lindsay in Conference & Event Reports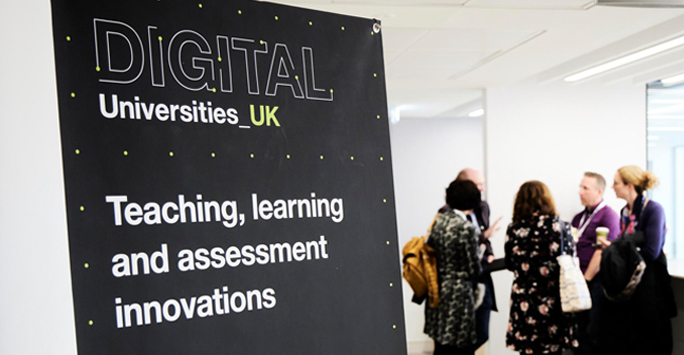 It was during 'Metaverse and collaboration: Art of the Possible' at Digital Universities UK conference last week that I found the chance for some solitary reflection. Guide and curator Layla Bloom (University of Leeds) had concluded an insightful tour of the Leeds special collections, facilitated within a quirky digital gallery space, and in which I was still exploring.
The session represented much that is good in the metaverse. It was engaging, interactive and immersive. Content was rich and accessible, and the digital artefacts were moveable. What's not to enjoy? The session had overcome tech issues, repeated headset adjustments and failed log-ins, all too common with this technology. Yet we had come away from the digital gallery enthused.
This experience, at times enjoyably chaotic, invoked a sense of fun and belonging in a way that few other sessions matched during my visit to Leeds. However, it was also first-hand experience of the continually slow progression of a technology that hasn't found its footing in higher education. That the metaverse is accelerating digital higher education, at least for the masses, seems unlikely. Scalability remains an issue. VR is still inaccessible in many areas of cost, development and integration, and classroom application is few and far between.
A distant cry then from the AI force majeure that was inevitably present in much of the rest of proceedings. Overreaching, developments in this area drew formal and informal conversations of assessment, ethics and application. It was fantastic to hear directly from Wei Li, (Intel vice-president and general manager of artificial intelligence and analytics) who drove home the message that AI is everywhere. Where it isn't, it will be. And it was promising to see a key slide referencing responsible AI systems as incorporating fairness, transparency, privacy, security and sustainability.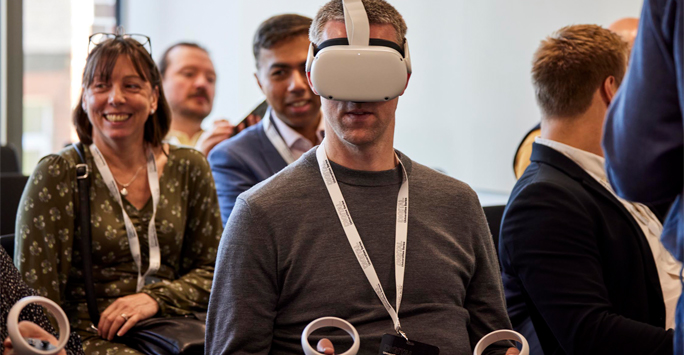 Digital Universities was a well-run event and the agenda catered to a diverse group of attendees from education, industry, and business. With presentations, panels, roundtables, and workshops around themes including digital transformation, strategy, innovation, analytics, and online learning, I came away as motivated as one does from an engaging, inviting open forum of experts. Unlimited coffee and the odd pastry never hinder that, of course.
Further highlights included Lynn Evans' (Strategic director, University of Liverpool Online) participation in not one but two thought-provoking, back -to-back sessions around online learning. First up was an insightful conversation outlining how to effectively measure and support quality online degrees. This is very much at the forefront of relevance with the University's excellent news of the Management School's online MBA ranked in the top 10 by the Financial Times. Seeking questions were posed and competently answered concerning comparative wholly-online and on-campus/blended offerings, a division in the digital and "real-world" identities of universities, and how to ensure a consistent student experience no matter the point of contact.
Following this was a panel discussion exploring the sector's capacity and readiness for growing demand in online education. A key takeaway here; purpose, motivation and strategy are intrinsic to the success of online provision. This was articulated inspiringly by the engaging panellist Rajay Naik, (CEO, Skilled Education).
Elsewhere, Andrew Borland (Commercialisation manager, Virtual Engineering Centre, University of Liverpool) presented the VEC's excellent work at the forefront of industrial digital transformation and knowledge. There was an outline of their comprehensive strategic framework covering areas including teaching and employment, research and civic mission. Seeing the potential for data and research collaboration within a massive, beautiful imaging of the Liverpool city region was a glimpse into the future of technological brilliance. A later panel discussion included insights from Scott Farrow, former colleague at CIE and Head of Digital Learning at Edge Hill University, who shared valuable perspectives on how to ensure an open, inclusive, and equitable programme design process that accommodates diverse student representation.
All in all, that's not to say this event was without scope for improvement and certainly so from an inclusive perspective. For starters, campus signage to the event was poor. Arrival information on the app talked of where to park with no hint of public transport information or routes for walking. I and others semi-reluctantly endured laps of a sunny University of Leeds campus before finding our destination. A start time on the first full day of 8:50am was ridiculous, especially so for anyone travelling from further afield than Chapel Allerton. To catch former CIE director Simon Thomson (Director of flexible learning, University of Manchester) discuss how to enhance digital learning experiences, you'd need to have been in a seat by 8:15am. Not likely with one well-known train operator's seeming pleasure at cancelling random trains at will.
Navigating frequently between the impressive Esther Simpson building and breakout space of the Refectory felt unnecessary, and for some debilitating. And the position of some of the audience behind speakers for panel sessions in room 1.01 led to a 'talking-back-of-the-head' view, with little chance to see facial expression or non-verbal cues. But these are solvable issues and did little to dampen what was a positive, collaborative environment.
As the immersive arts session drew to a close, one audience member asked what the gallery was built in.
"1970", a confident Layla replied.
"Sorry, I meant, like, Unity?"
A warm moment as the physical met digital. We're not all stuck in the metaverse just yet.


---