Media Production Show
Posted on: 14 June 2019 by Rob Lindsay in Conference & Event Reports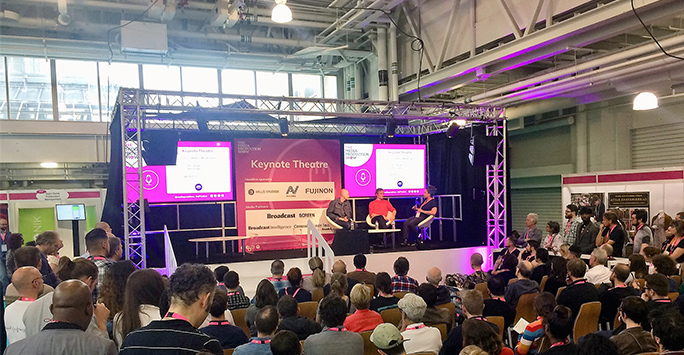 On Tuesday 11th and Wednesday 12th June 2019 Rob Lindsay attended the fourth annual Media Production Show at Kensington Olympia, London. Here is his report.
What is the event?
This free, two-day show is a showcasing event, in both product demonstration and professional expertise. The latter will be most beneficial to the Centre for Innovation in Education (CIE), though the former provided excellent technological inspiration – plus a potential Digital Resources Team (DRT) Christmas list.
Whilst the event focusses mainly on the commercial and entertainment side of creative industries, I approached with an educational mind-set. In doing so, I considered how the topics discussed relate to our work as a department and specifically to the creative output of the DRT.
An overview of the days:
Exhibitors
Across two days, commercial exhibitors presented products and services spanning pre-production, post and content distribution. This aspect of the show offered great insight into the latest industry-leading equipment, technology and resources.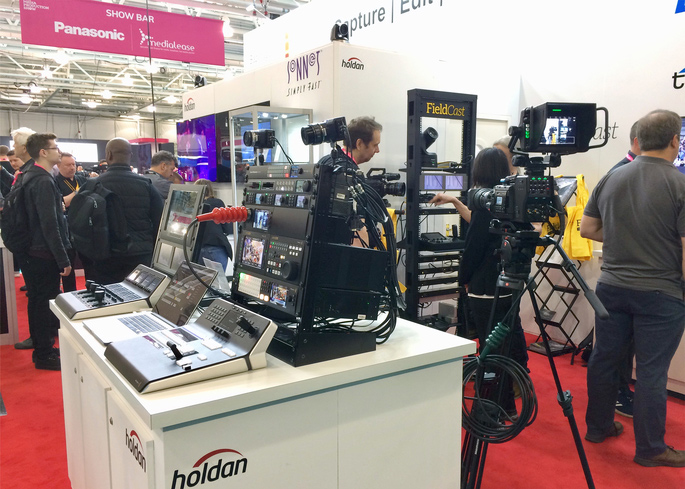 A selection of exhibitors at the show
From multi-directional microphones, drones, full lighting rigs and stunning 8K cameras to fake snow (used in Game of Thrones), broadcast equipment and digital media storage systems. Any piece of equipment one might consider in the creation of digital content was available to pick up and experiment with at this exhibition.
Whilst the majority of products were some way from the Digital Resource Team's (DRT) budgetary scope, hands-on experience with every tool available in media production will prove invaluable in prioritising future purchases. It was also great to get a sense of what is out there, and what current technological limits there are in creating digital content.

Representation from the team at Canon
The representation of prominent media and technology companies also gave many opportunities to talk to specialists and product teams. In doing so, one could gain a real understanding of what drives such rapidly advancing technology and what innovations are on the horizon.
Seminars
More important than the technophile sandbox was the show's impressive and extensive programme of seminars. These are what drew me to this exhibition.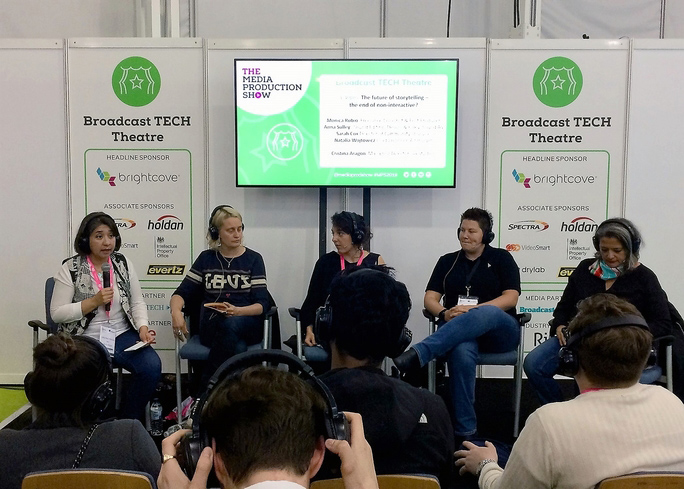 The end of non-interactive storytelling
Featuring heavyweight industry names sharing best practice, the range of topics on discussion was fantastic. A selection of workshops and seminars I attended:
Digital Storytelling for the present and future
How we make....branded video content
Designing tomorrow's media
Editors Masterclass
The future of storytelling – the end of non-interactive?
Relating everything I saw to our sector, the scope for new and innovative ways to deliver educational content was plentiful. Topics I explored included spatial sound, 360 video and interactive content right through to livestreaming and online media platforms.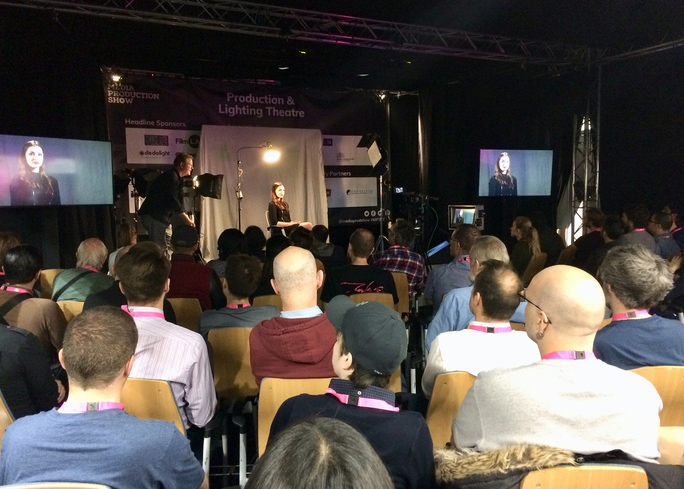 A production and lighting masterclass
With so many new mediums of media on display, it was important not to overlook existing ways of creating digital educational content and resources. An important takeaway message was not to innovate with technology simply for the sake of it. Instead, it seems key to strike a balance between new methods and proven approaches, understand the audience and make use of available resources to deliver quality content accessible by all. With this balance in mind, there has never been more opportunity to create and deliver immersive, engaging digital educational content.
What did you get out of the conference?
To conclude on what I consider a very worthwhile two days, good points that deserve mentioning:
The quality of content, insight and expertise delivered in the seminars was fantastic.
The format and structure of the show worked really well. Having talks and seminars in and amongst the exhibitors brought about a real immersion in the event.
The diversity of the creative industries was evident throughout the event programme and was excellent to see.
Exploring new technology and the direction it is going presents the chance to future-proof the DRT's resource decisions by prioritising equipment relevant to our output.
Seeing the process that experts go through when creating content, and relating that to the DRT approach, brought an appreciation for the universal nature of creative work.
Where I believe there was room for improvement:
There was a lack of discussion on the topic of accessibility, so much so that it was almost non-existent. This is something organisers should address next year.
There was under-representation of the education sector across the event, for whom the principles of quality media creation and delivery equally apply.
As it was a free event, the coveted conference/exhibition lunch was sadly not forthcoming.
Final thoughts:
Finally, in amongst industry experts in media and broadcast, it was reassuring to see so many technical hick-ups: media devices stopped working, slides didn't load, headsets failed to connect, screens went AWOL. Whilst this was media presentation and delivery at some scale (and generally, delivered very well) if the media experts encounter similar difficulties we have all faced then perhaps we're all human after all.
Further information:
Contact the Digital Resources Team: cie-drt@liverpool.ac.uk
Centre for Innovation in Education
---