Liverpool Learning Summit 2022
Posted on: 10 December 2021 by Rebecca Atkinson, John Brindle, Ceri Coulby & Kate Evans in Conference & Event Reports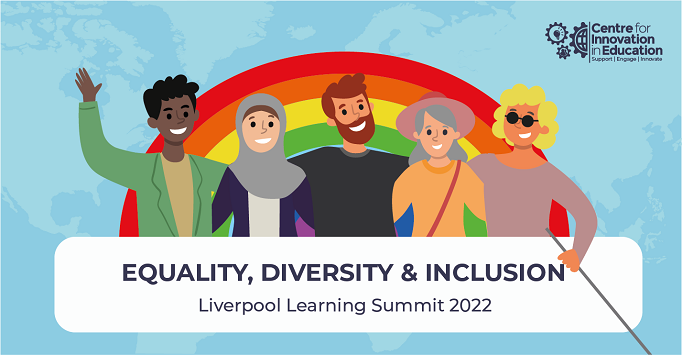 This year the Liverpool Learning Summit is on the topic of Equality, Diversity and Inclusion. In this blog post we will outline some of the various talks and workshops that we hope you will participate in.
We have a wide-ranging and diverse programme that you can see in full here: Liverpool Learning Summit 2022 - Presentations
So, who are the organising committee this year and what are we most looking forward to?
Rebecca Atkinson – Events Coordinator
The event I am most looking forward to is 'Why is Supported Access for WP Students Important? The Scholars Programme' on Thursday 27 January at 1:00pm. As a former student of the Scholars Scheme from 2011 to 2013, I have experienced first-hand the vital importance to the existence of this programme, and the great work of those involved, including Lydia Redican. Without being on the scheme I would not have been able to attend the University of Liverpool, so I am excited to learn about how the Scholars Scheme has evolved and developed and hear from current Scholar's students who might share my own experiences as a former widening participation student.
Having worked on the Summit for two years I believe the opportunity for attendees to hear from guest speakers from other institutions and local organisations is vital in developing the relationship between UoL, our staff and students, and the Liverpool City region.
John Brindle – Educational Developer
As a relatively new member of the team, I feel fortunate to be involved in such a great event. I'm a passionate advocate for Equality, Diversity, and Inclusion and I'm very much of the belief that we should listen to those impacted by lack of EDI anywhere. If I'm honest, it's difficult for me to pick from the great line-up but, if I was forced to, I would recommend the Active Therapy Foundation. They have an inspiring story and philosophy around disability inclusion that is applicable to any context, their approach to young people and adults with disabilities really makes you question your preconceptions. You can see them on Friday 28 January at 10:00 am.
I am also keen to highlight the Liverpool World Centre, I am excited to hear about their approaches to storytelling and how that can help to promote inclusion. The work they have done is, again, inspiring and will provide a fantastic tool for attendees to take away and put into practice whatever their context. Their workshop starts the summit at 11:00am on Monday 24 January.
Ceri Coulby- Senior Educational Developer
As an educator I find it hard to stomach the fact that individuals' characteristics can determine from an early age their access to educational opportunity and engagement, as well as their future prospects and health. Widening Participation initiatives in Higher Education are a wonderful tool through which to enable and support young people who experience disadvantage, but I see part of my role is to learn as much as I can about these students' experiences and try to ensure they feel they are represented and included in our pedagogy. For this reason I am particularly looking forward to Professor Nicola Gale's talk on the work she and her colleagues have been doing at the University of Birmingham to develop LBGTQ+ inclusive curricula. You can come and hear what Nicola has to say at 2:00pm on Wednesday 26 January.
I am also looking forward to hearing from the neurodiversity community of practice on Monday 24 January at 2:00pm to find out how they are working as a community to support neuro diverse students. Looking at the programme I know I will be learning something new from any session I attend, so I genuinely cannot wait for the Summit in January!
Kate Evans – Educational Developer
I'm passionate about equality of opportunity in education, and am delighted that the line-up we have for the summit in January offers an opportunity to learn from such a variety of inclusive initiatives, both local and from further afield. I'm looking forward to picking up new thoughts, ideas, and understanding to take away.
Given that 'nothing about us without us' is a key principle for the disabled community (my community), I'm particularly looking forward to hearing from Dr Emma Heron and Helen J Parkin about their amazing work at Sheffield Hallam University (and beyond) on their Listening Rooms initiative, which offers a completely new approach to hearing from/working with students. Their session is on Tuesday 25 January at 10:00am. I'm also very interested to hear from some first-generation (WP) UoL students, who will be sharing their lived experience of the Liverpool Scholars Programme with us on Thursday 27 January at 1:00pm.
Finally, I'm delighted that the Anthony Walker Foundation will be delivering a session on Microaggressions on Tuesday 25 January at 1:00pm, as it provides a genuine opportunity to reflect on the potential impact our actions may have on others.
---