Outbreak at Bluedot Festival
Posted on: 25 January 2023 in Researchers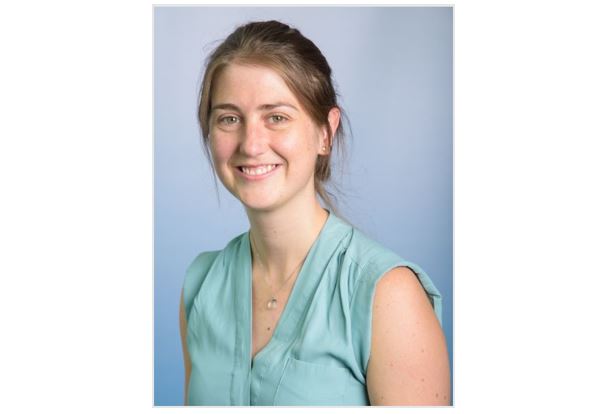 Dr Shona Moore (previously Postdoctoral Research Associate in Viral Immunity now Senior Programme Manager for Liverpool Brain Infections Research Group)
Shona is passionate about sharing her ideas and research with the public and is an advocate for public engagement activities and promoting effective communication around research with the wider society.
"By being transparent about research; the risks, the benefits and the impact on people's daily lives, opinions and attitudes within the community can be positively influenced"
Shona has been a STEM ambassador since she started her PhD and has a wide portfolio of public engagement activities which include: Pint of Science, Meet the Scientists, Big Bang Fair and other Outreach events with schools.
Five months before SARS-CoV-2 was first detected in Wuhan, China in December 2019 Shona worked as an Immunologist within the Global Centre for Vaccine Research and led a public engagement activity at Bluedot (a music, science and culture festival) entitled "Outbreak at Bluedot".
The activity, funded by the British Society of Immunology and the Health Protection Research Unit in Emerging and Zoonotic Infections, involved releasing a fictitious infectious disease to demonstrate how easily infectious diseases can spread. It also aimed to educate people about the role of vaccines in preventing diseases and their transmission as well as how scientists work to research and create new vaccines.
The team 'released' an outbreak from a different location within the festival site each day in the form of stickers. Members of the public received a primary infection sticker and a pack of stickers containing stickers for secondary and tertiary infection, and instructions to pass the pack on. The stickers contained instructions to visit the 'Infection Control' stand to receive a treatment. When participants visited the stand, they were asked to record their infection location and sticker colour on a large map, which in turn mapped the spread of infection. Participants were then invited to work through some hands-on activities on how to develop a vaccine.
Shona hopes that some of the members of public that she spoke to at the festival may have felt better informed during the early days of the pandemic as they had experienced first-hand the 'Outbreak' and the vaccine development activities.
"Somebody told me that it was a strange coincidence that we did this activity just before the COVID-19 pandemic. Timing may not have been predicted, but it was no coincidence. Scientists have been planning for this for years, decades"
From this activity Shona presented a poster at the British Society for Immunology Congress in 2019 and won the public engagement poster prize and enjoyed discussing the activity with delegates at the Congress and sparking ideas in other researchers.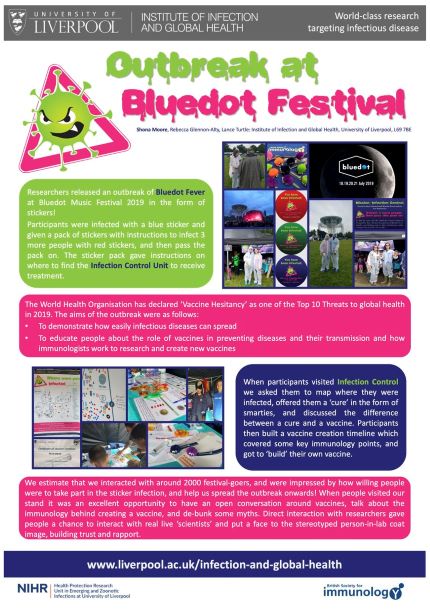 This image provides further information about "Outbreak at Bluedot Festival" as part a poster for the National Postdoc Conference 2021.
Shona is keen for all researchers to appreciate that the ability to communicate research is an extremely important skill, and one that is more and more recognised as an essential part of being a researcher. Further information about public engagement for University of Liverpool staff and students can be found at https://www.liverpool.ac.uk/intranet/health-and-life-sciences/research/public-engagement/
There are many resources available on the Researcher hub to support researchers around engaging with the public and society (require staff login);
Engaging with the media, the how, why and who
Key takeaways
Effective communication is an important skill for researchers.
Engaging with the public can be rewarding and increase the impact of your research.