Stephen's research is focused on many areas including but not limited to:
Whole life carbon impact
Net Zero Carbon (NZC)
Energy performance
COVID-19 impact
National Museums Liverpool
Stephen says:
In particular I am currently working in partnership with National Museums Liverpool (NML) who own and operate the International Slavery Museum, the Merseyside Maritime Museum, The Lady Lever Art Gallery, The Walker Art Gallery, Sudley House, the World Museum and the Museum of Liverpool.
NML attract over 3 million visitors per year and in 2019 they declared a climate and ecological emergency with real ambition to reduce their impact as best they can.
I've been working with the directors and management team at NML to help achieve that aim and the first step has been to more accurately take account of their current cost, energy and carbon profile. This first stage is now nearing completion and NML have a much clearer view of these indicators for each of their assets. The next stage in their plan is for them to consider how best to reduce energy use, save money and carbon through the creation of an action plan. My work in assisting NML has been crucial and is the start of a longer term relationship in this areas with the University of Liverpool.
"Stephen's work has been of real benefit in assisting us in profiling cost, energy and carbon. Without his input we would have struggled to get over the first stage in our plan to reduce our impact on the environment" – Laura Pye, NML Director
The Everyman Theatre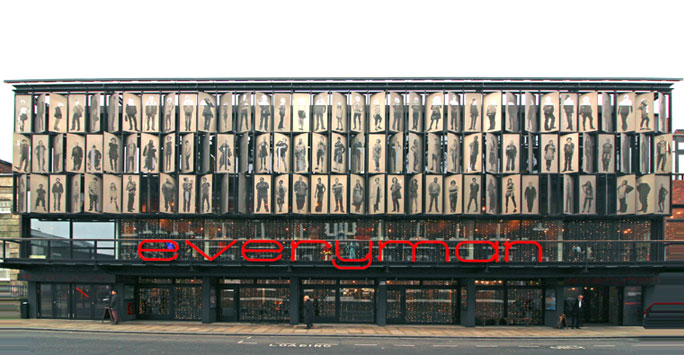 The Everyman Theatre in Liverpool. Photo credit: Rodhullandemu
I am also currently working in partnership with Mark Da Vanzo (Chief Executive) of the Everyman and Playhouse theatres in Liverpool assessing the whole life carbon impact of the Everyman Theatre.
In 2014 this theatre was awarded the RIBA Sterling Prize, National Award and North West Award for Best New Building of the year. Designed by Haworth Tompkins, with Charcoal Blue acting as theatre consultants and Gilbert Ash as main contractors, the new Everyman includes a technically advanced and adaptable 400 seat theatre. It is primarily constructed from concrete, steel and a metal 'brise soleil' façade featuring 105 full length cut out figures on photographs of Liverpudlians.
My work on the theatre has been to consider the whole life carbon impact. This includes the "embodied" impact of creating the theatre and the "operational" impact of using the theatre.
Every time we construct a building, we need to extract raw materials, process them, transport, assemble and recycle/reuse them. For every unit of energy (gas and electricity) we use in our buildings, we indirectly release carbon emissions into the atmosphere via the national grid.
So which stage has the highest impact? Having assessed the Everyman over a 60 year period (from 2010 to 2070), my research has shown that the embodied carbon impact is approximately 45% of the total impact. A significant figure that is of cause for concern for all buildings, not only theatres. My work with Mark on the Everyman has been crucial and is the start of a longer term relationship with the University of Liverpool. In due course we plan to go public with the results and create an action plan to achieve Net Zero Carbon (NZC) status through a process of carbon offsetting and reduction strategies.
"Stephen's work has been of tremendous benefit to us. We are at the start of a journey to publicly declare our carbon impact and assess methods to achieve Net Zero Carbon (NZC) status for both our "embodied" and "operational" carbon. Without his input we would have not been able to assess our building at this level of detail and most importantly create a plan to reduce our impact on the environment " – Mark Da Vanzo, Chief Executive