Researcher in Focus: Dr Stella Morgana
Posted on: 23 March 2023 by Stella Morgana in 2023 Posts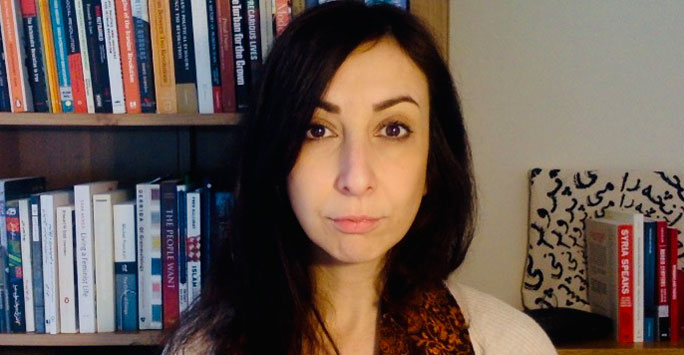 This month's researcher in focus is Dr Stella Morgana, British Academy Postdoctoral Fellow at the Department of Politics.
Listen to Stella explain her reserach in more detail in our Researcher in Focus podcast here.
Stella writes:
Research has the special power of combining knowledge production, human connection and the wonder of discovery.
Since I joined the University of Liverpool as a British Academy Postdoctoral Fellow at the Department of Politics in September 2022, it has been an inspiring process of constantly moving between these three dimensions for my new research project, which is titled "The gig economy of Iran: humans versus their means of production."
Labour and working classes in Iran
Navigating the realm of labour from a multi-disciplinary perspective, my research investigates the rise, perks, challenges and pitfalls of digital platforms in Iran. By looking at structural and discursive factors, it aims to tackle gig workers' agency, potential, as well as struggles and missed opportunities.
The working classes in Iran have been at the core of my research for my PhD and my MA – both in "Middle Eastern Studies" at Leiden University, where I researched the continuities, ruptures and (dis)connections between Iranian workers and state power discourses in post-revolutionary Iran.
Drawing from that labour of love, field and archive research, I am currently writing my first book, which explores precarity and marginalization within a framework of contending discourses, repression and social exclusion.
Exploring power relations and counter-hegemonic discourses in the Middle East
More broadly, my research interests include hegemonic and counter-hegemonic discourses, political and economic participation, as well as labour and inequalities in the Middle East.
At the University of Liverpool, I also teach seminars in "International Relations" and supervise dissertations with a specific focus on the Middle East and North Africa.

Before joining the University of Liverpool in 2022, I was lecturer in Political Science and Middle Eastern Studies at the University of Amsterdam, where I designed and taught courses on the politics of labour and inequality in the Middle East, climate change and environmental politics in the region, decolonial practices, and international relations. I also held research and teaching positions at Leiden University, and during my doctoral studies, I was visiting scholar at SOAS University of London and Tarbiat Modarres University in Tehran.
Before starting to trek the academic/research path, I worked as an editor, website manager, and also as a freelancer for almost ten years – from 2007 to 2016. In those years, following my BA in Islamic Studies, I completed two post-graduate diplomas: one in "Journalism and Foreign Affairs" from LUISS University of Rome – with a thesis on conscientious objection in Turkey – and one in "Reporting from Crisis Areas" from the University of Rome - Tor Vergata.
My multi-faceted background allowed me to sharpen my focus, and gave me the opportunity to appreciate, challenge and reflect on the processes of knowledge production along different lines and in very diverse contexts.
Beyond diversity, for an inclusive community
As an expert on the so called Middle East, a region where more than 60 languages and dialects are spoken and cultural heterogeneity is the norm, turning diversity into real inclusion at the university embodies my core values as a scholar, researcher and educator. I am firmly committed to creating an inclusive research, work and learning environment for all. This entails a space where all identities and perspectives are appreciated, recognized and acknowledged. As a deputy co-chair of the Research Staff Association (RSA) at the University of Liverpool, and member of the British Academy Early Career Research Network (BA ECRN), I am trying to share these views as widely as possible.
Education as an empowering tool
As I fiercely believe in knowledge and education as empowering tools, I think of my work as an instrument for knowledge advancement and an inspiration for those interested in the topics I study and research. When in class, I encourage students to make use of a diverse range of sources and be creative with multi-media materials, podcasts, documentaries, academic articles, books and other initiatives. Moreover, I try to empower students' individuality and self-confidence, while providing my guidance so that they know that the class is a community where we all learn from each other.
Find out more about Stella on her staff page.
---