Researcher in Focus Ruth Nugent
Posted on: 24 October 2019 by Nick Jones in 2018 Posts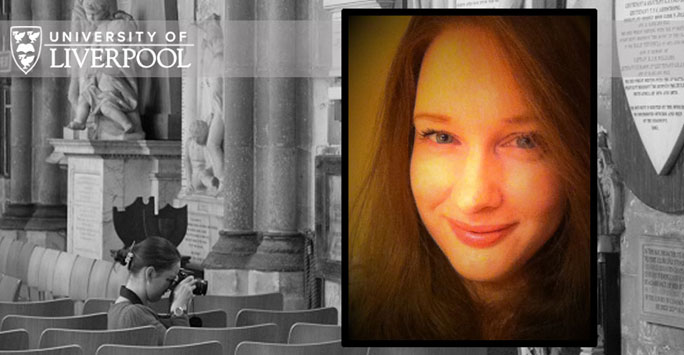 Meet this month's Researcher in Focus, Dr Ruth Nugent, an archaeologist specialising in Britain's mortuary cultures from the 5th century AD onwards, with a particular interest in the inherited dead. She has recently been awarded a prestigious UKRI Future Leaders Fellowship at the University of Liverpool.
Ruth joins the University of Liverpool as a UKRI Future Leader's Fellow in Historical Archaeology and Digital Humanities, having previously held postdoctoral positions at Lancaster University and the University of Chester. She has also lectured in both Archaeology and History at the University of Chester from 2011 to 2017 and as a guest lecturer at the University of Manchester.
Her research focuses on death and burial in Britain, especially England, from the 5th century AD through to the modern day. Her MPhil explored how the dead were physically treated during and after funerals in early medieval England, from the 5th to 7th centuries at a critical time when cremation was disappearing and Christianity was becoming increasingly visible.
Developing a deep-time perspective of handling human remains in Britain, her PhD examined burials inside five cathedrals from the 7th century through to the 21st century. This was part of the Leverhulme Trust/ECR funded research project The Past in its Place. By looking at numerous occasions when the cathedral dead have been disturbed, whether deliberately or accidentally, for veneration or for violation, her doctoral thesis captured a unique snapshot of displaying, hiding, stealing, reburying, destroying, investigating, and even gifting historic human remains as part of the history of cathedrals.
This has led to many research pathways focussing on the way people in the past perceived their own bodies; how tombs and monuments representing the dead are treated; and how bodies were choreographed by architectural and symbolic spaces. She is particularly interested in how the human senses are used to express emotional states, navigate the physical world, and access the invisible world. Her work on haptic culture explores the importance of touch as a well of 'knowing' and 'proving' things in past societies with low literacy levels.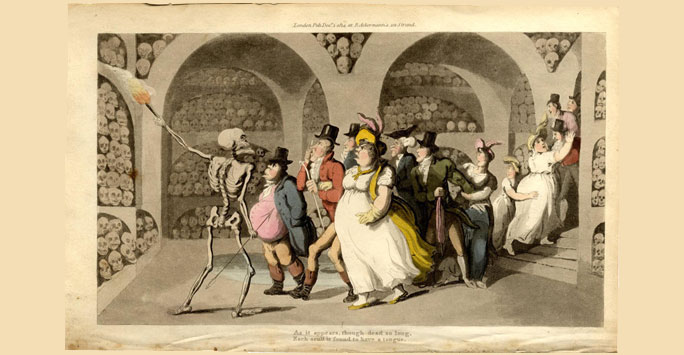 'The Vision of Skulls', by Thomas Rowlandson from his book The English Dance of Death (published 1814).
Her first postdoctoral position, funded by The Society of Antiquaries of London, investigated how we might improve methods for photographing graffiti on cathedral effigy tombs, as the undulating surfaces, poor lighting, and often restricted access to the tombs can hamper attempts to record and decipher historic graffiti on effigy bodies.
She later worked on the Paul Mellon Foundation project The Reception of English Saints' Shrines as Tangible Art: a digital barometer. Creating a large digital collection of historic images of major shrines in Britain from before, during, and after the Reformation (when shrines were destroyed), the project explored different relationships between the saint, shrine visitors, and the shrine itself over the centuries. These were depicted in manuscripts, pilgrimage badges, stained glass windows, watercolours, sketches, early photographs and postcards, giving a generous and varied range of media to work with and think about.
Ruth was also recently involved in the AHRC-funded network of Early Christian Churches and Landscapes (ECCLES). Bringing together early medievalists from a range of disciplines with a wide variety of church heritage groups, the network paves the way for future recording, analysis, and promotion of lost and overlooked early churches in Britain and Ireland.
It was through her doctoral and postdoctoral research that Ruth developed her application for a UKRI Future Leader's Fellowship. Entitled a Digital Library of Historic British Mortuary Science & Investigation, her programme of research provides the first survey of current and historic investigations and disturbances of the church dead in Britain since records began (around the 7th century AD). The aim is to provide church and burial policymakers, archaeologists and exhumation units, as well as other stakeholders and scholars, much-needed historic evidence to inform modern strategies and responses to exhuming the historic dead in church contexts.
The aim is for a ground-breaking history of pre-20th century burial, scientific history and archaeology in Britain to finally be traced, situating Britain's world-leading research in mortuary science in its historical and international context. Linguistic analysis of the library entries can reveal what has historically been considered 'respectful treatment' of the dead, contextualising and guiding how we 'respectfully' conduct and record such disturbances today. Technical methods, theories, and tools employed from Digital Humanities will permit a complex interrogation of the extensive library sources that would otherwise take a lifetime to complete, advancing the current state-of-the-art.
Find out more about Ruth on her staff page.
Read more about the UKRI Future Leaders Fellowships here.
---