From Prog Rock to the Zombie Apocalypse… Jeannette Strickland Reports from the 'Life Beyond the PhD' Conference
Posted on: 10 September 2018 by Nick Jones in 2018 Posts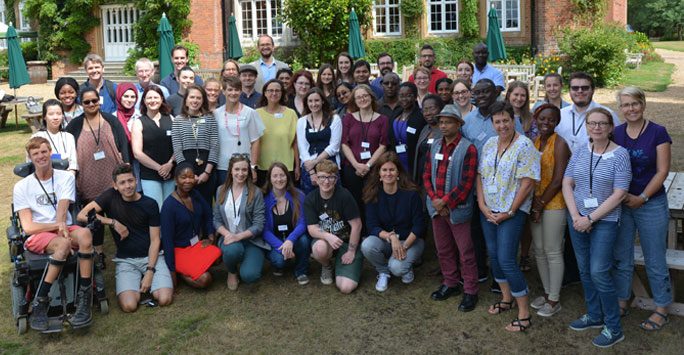 Jeannette Strickland, a postgraduate research student at the Department of History, recently attended the 'Life Beyond PhD' conference at Cumberland Lodge. Here she tells us how she got on and how she benefited from attending…
When the Liverpool Doctoral College offered a fully funded place for anyone who had completed a placement this year (I completed my placement with the help of the University of Liverpool's LiNK programme) at the week-long 'Life Beyond the PhD' conference at Cumberland Lodge, I never expected to be successful. Cumberland Lodge is an incredible 17th century building housing an educational charity, situated in the middle of Windsor Great Park. The aim of the conference, which is held annually, is to bring together students at different stages of their research from a range of disciplines. We numbered fifty-two, although Arts and Humanities students, like me, were in a minority. I was feeling a bit daunted before I got there, but there was also a good cross-section of ages so I wasn't the only middle-aged lady!
Key to the practical parts of the week was understanding how we could make our research accessible to non-specialists, in particular how to communicate in language that is free from jargon and specialist terminology. This included giving a three minute presentation on your own research to a small group and then listening to their feedback on your style and approach. I learned about a diverse and fascinating range of research topics in my group, including using markers to detect ovarian cancer, the development of UK games companies and the montane scrub in Cumbria.
Later in the week we worked on inter-disciplinary projects, using all the expertise within our groups, which is where the zombie apocalypse comes in, as we had to contain and deal with a zombie infestation in Leicester. But there were also workshops with lots of useful practical tips and presentations from a range of speakers, including the recently qualified Dr Bill Bruton, formerly the drummer with prog rock band Yes who spoke about his experience as a doctoral student.
Cumberland Lodge offers a safe environment in which to speak candidly about issues, ask questions and share experiences as Chatham House Rules apply. There are so many things to enjoy - walking or running in the park, spotting deer and other wildlife, even watching polo practice at the Guards' Club ground, and continuing the inter-disciplinary conversations in the bar late into the night.
The food and accommodation is excellent and you are surrounded by artwork courtesy of the Royal Collection. You can even sit in the Queen Mother's favourite chair that she used whenever she visited as patron of the foundation. It was an amazing experience, which pushed me way beyond my comfort zone, but I came home energised and inspired, plus I'd made some great new friends. I would recommend it to everyone.
Jeannette Strickland
Department of History
---