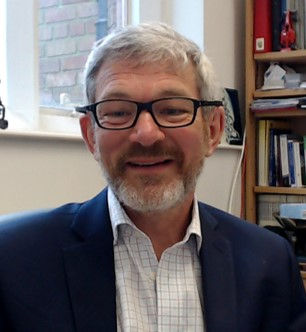 Professor
Eann
Patterson
B.Eng., Ph.D., C.Eng., FREng., FIMechE., FSEM., PFHEA.
Dean of the School of Engineering and AA Griffith Chair of Structural Materials & Mechanics
Mechanical, Materials & Aerospace Eng
Research
Research Overview
My research interests are in the acquisition of information-rich measurement data and its use to develop digital representations of complex systems in the aerospace, biological and energy sectors that have a high level of credibility.
Macro-scale structural validation
The imperative for a more sustainable society implies a reduction in material and energy consumption by devices, machines and structures, which conflicts with the desire for safety and reliability. Solid mechanics models, validated by experiment, are an essential tool for resolving this conflict and the development of effective validation methodologies for simple and hierarchical models together with their effect on the design process is a focus of work in my research group.
Meso-scale Experimental Mechanics
Optical techniques including DIC, photoelasticity and TSA, are capable of providing detailed strain fields in engineering components. They are being used to evaluate crack tip and wake strain fields and to guide the development of a new (CJP) model. The same techniques are being used to enhance understanding of adhesive and mechanical composite joints.
Nano-bio-mechanics
Recent work at the nano-scale has involved evaluating the interaction of nanoparticles with living cells in order to understand the mechanics of a range of associated biological processes. The experimental work has been performed at the Institute for Health and Consumer Protection of the European Commission DG Joint Research Center, Ispra, Italy.
Research Grants
SteADfASt – Strain-based Assessment of Defects for Aerospace Structures
ENGINEERING & PHYSICAL SCIENCES RESEARCH COUNCIL
January 2022 - December 2022
Smarter Testing
INNOVATE UK (UK)
January 2021 - December 2024
DIMES Development of Integrated Measurement System
EUROPEAN COMMISSION
January 2019 - September 2021
Matrix Optimization for Testing by Interaction of Virtual And Test Environments (MOTIVATE)
EUROPEAN COMMISSION
June 2017 - May 2020
MAINTAiN - Multi-scAle INTegrity assessment for Advanced high-temperature Nuclear systems
ENGINEERING & PHYSICAL SCIENCES RESEARCH COUNCIL
April 2018 - January 2022
Smarter Decisions based on Integrated Modelling & Testing of Structures
AIRBUS (UK)
October 2016 - March 2020
INfrared STRUctural monitoring of Cracks using Thermoelastic analysis In production enVironmEnts (INSTRUCTIVE).
EUROPEAN COMMISSION
January 2016 - December 2018
EPSRC Centre for Doctoral Training (CDT) in Nuclear Fission - Next Generation Nuclear - Equipment
ENGINEERING & PHYSICAL SCIENCES RESEARCH COUNCIL
November 2014 - March 2015
Validation of Computational Mechanics Models.
NATIONAL NUCLEAR LABORATORY LTD (UK)
November 2013 - October 2016
VAlidating Numerical Engineering Simulations: Standardising Actions (VANESSA).
EUROPEAN COMMISSION
February 2013 - July 2014
Risk quantified structural analysis - a new paradigm for engineering design.
ROYAL SOCIETY (CHARITABLE)
February 2011 - January 2016
Research Collaborations
Professor Wei-Chung Wang
External
: National Tsing Hua University
Several research projects at the proposal stage.
Joint research proposals and publications
Professor Maurice Whelan
External
: EC-JRC
Joint supervision of students and joint publications
Dr Erwin Hack
External
: EMPA
Joint research programmes and publications
Professor John Lambros
External
: University of Illinois at Urbana-Champaign
Joint research programme with USAF