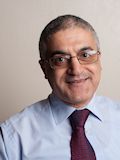 Prof
Ahmed
Elsheikh
PhD, CEng, MICE
Professor of Biomaterial Mechanics
Civil Engineering and Industrial Design
Research
Research Interest 1

Material characterisation of ocular tissue
Numerical simulation of ocular biomechanical performance
Development of medical devices to improve management of eye conditions

Research Grants

Development of New Mathematical Sciences Capabilities for Healthcare Technologies
Determination of Corneal Biomechanical Properties in vivo.
Impact Acceleration Account - University of Liverpool 2012
KEL 12/29 - Improved Management of Meibomian Gland Dsyfunction
The ostracod carapace window as a biomimetic basis for development of a novel eye shield.
Research into heat transfer modelling within the anteriorsegment/external eye.
Research Collaborations

Professor David Wong

External

: Hong Kong University

Professor Simon Harding

Internal

Clinical assessment of ophthalmology medical devices

Analysis of Ocular Coherence Tomography images

Professor John Mottershead

Internal

Uncertainty in ocular biomechanics

Peter Bierman

External

: Ophtimalia

Collaboration in development of medical devices

Dr Rachel Williams

Internal

Biomaterials in contact lenses

Professor Q Wang

External

: Wenzhou Medical College

Mr John Clamp

External

: UltraVision CLPL

Dr Pinakin Gunvant

External

: University of Louisville

Mr Adrian Beasley

External

: Keeler Ophthalmic Instruments

Professor Cynthia Roberts

External

: Ohio State University

Biophysics Research Group

External

: University of Cardiff

Professor Vasif Hasirci

External

: Middle Eastern University

Mr David Pye, Professor Charles McMonnies

External

: University of New South Wales, Sidney, Australia

Professor Paolo Rama

External

: St Raffael Hospital

Glaucoma Research Unit

External

: Moorfields Eye Hospital
---