Transitioning to Hybrid Active Learning
Posted on: 23 July 2020 by Dr Tunde Varga-Atkins in General
Please bear with us as we are busy behind the scenes working with the faculty APVCEs to develop further guidance and resources to support you with learning and teaching in 2020/21. This will include supporting two modules per faculty which can be used as examples of hybrid active learning.
In the meantime, we are highlighting some guides, resources and upcoming webinars.
Two new Spotlight guides
We have two new Spotlights, one written by Peter Kahn on Online Pedagogy from the Centre for Higher Education Studies and one by CIE's own Scott Farrow on Teaching Students to Work with Feedback and Rubrics.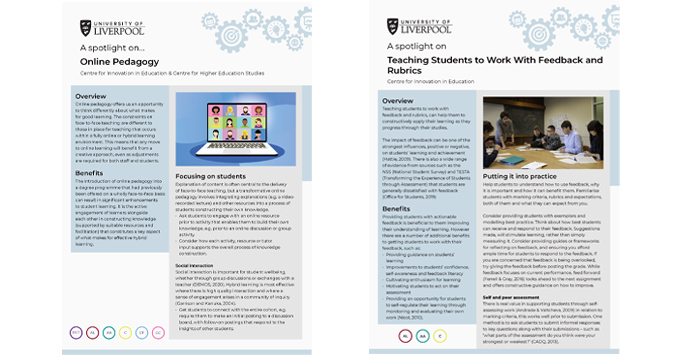 CIE is committed to supporting the University in the implementation of a hybrid approach to teaching and learning at the start of the academic year 20/21. We are currently focused on developing materials to support this change. As a result existing webinars and drop in sessions (other than Canvas Coffee) will be postponed until September 20. We encourage you to access our searchable resources page for support in the meantime.
DigiGuides
A number of CIE DigiGuides guides are available – grouped under headings below.
Canvas and Teams
Microsoft Teams & Canvas: A Story of Integration at the University of Liverpool (video)
Assessment
Guidance on Setting up Online Exams and Quizzes
How to support students in uploading scanned documents to VITAL
Producing multimedia content, e.g. lectures, resources
How to record in Microsoft PowerPoint, upload to Canvas, add captions and embed/share (video)
How to record, save, and delete videos in Microsoft Teams (video)
Hosting and adding captions in Microsoft Stream (video)
Hosting and adding captions on Canvas Studio (video)
Making asynchronous video recordings accessible (step by step)
Online group work
CIE DigiGuide on online group work
Creating groups in Canvas (step by step)
Creating groups in MSTeams (step by step)
Inclusive / accessible pedagogies and resources
Developing accessible presentations (video)
Active learning / classroom technologies
Polling and interaction tools for online and classroom teaching
Microsoft Teams
Setting a custom image background in Microsoft Teams video calls (video)
How to record, save, and delete videos in Microsoft Teams (video)
How to mute notifications in Microsoft Teams (video)
For further information, please use our Guides & Resources database page: search in the search box.
Please do contact us at cie@liverpool.ac.uk if we can help develop any guidance or if you cannot find a resource on our site.
---