SEDA Conference 2019
Posted on: 31 May 2019 by Ceridwen Coulby in Conference & Event Reports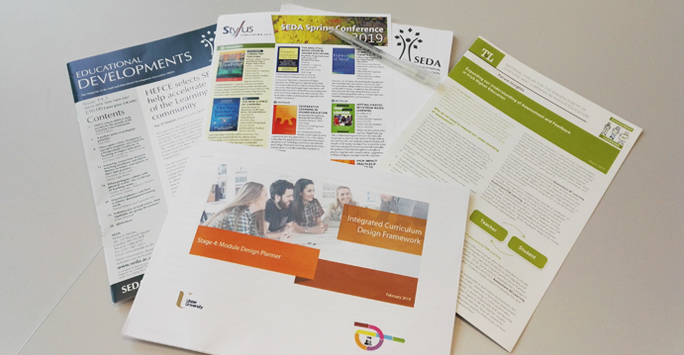 Ceridwen Coulby attended the Staff and Educational Development Association (SEDA) Spring Conference which took place from May 9th-10th 2019 in Belfast, Northern Ireland.

What is the event?
SEDA is the professional association for staff and educational developers in the UK, responsible for the promotion of innovation and good practice in higher education. The conference themes were innovation in, and evaluation of, effective methods for collaboration with students and collaboration in both physical and digital spaces to support students during their educational journey.
An overview of the days:
SEDA is a very interactive conference, so whilst each day started with a keynote talk, and finished with a plenary, in between were 3 or 4 active workshops.
The keynote speakers were Geraldine O'Neill, Associate Professor from University College Dublin who presented the outcomes of a project for the National Forum for the Enhancement of Teaching and Learning in Higher Education on enhancing students' experience of their programme assessment and feedback journey by developing consistently shared understanding of formative and summative assessment principles and practices and Dr Carina Buckley, Co-Chair of ALDinHE, Solent University and Dr David Baume who presented what they have learnt from a co-operative, collaborative departmental alignment between Learning Development and Academic Development functions.
Workshops were wide ranging but covered subjects such as operationalising inclusivity in curricula and classroom, developing online inter-professional student collaboration, student/ staff partnership assessment projects, support for the academic transition of post graduate students and the role of trust in international educational collaborative projects.
What did you get out of the conference?
I attended several excellent workshops that I found to be of particular benefit to the role of CIE. I have picked out three I felt were particularly noteworthy to include here.
Firstly I attended a workshop facilitated by Roisin Curran and Colette Murphy from Ulster University on the implementation of their Integrated Curriculum Design Framework for the University. This was helpful to us in CIE because as well as outlining the new process of designing curricula at Ulster Roisin talked about some of the challenges they encountered and the implementation process. As we approach a change to periodic review to include Curriculum 2021 principles, hallmarks and attributes I found these lessons invaluable.
Another workshop I found extremely insightful was run by Dr Thanda Mhlanga; Teaching Fellow at Royal Holloway, University of London on decolonisation of the University, within the context of widening participation. Thanda shared a personal and powerful account of what it is like to go through an education system where you cannot see yourself, and are effectively invisible. Using his research into this area he also contextualised the high drop-out rates of students from disadvantaged backgrounds and why those who complete their programmes underachieve. This highlighted to me that as well as designing inclusive curricula, we also need as higher education institutions to consider the very practical barriers to engaging with, and completing studies for students from widening participation groups; for example childcare is often a significant issue, causing many mature students to miss lectures and deadlines. Looking at providing childcare for students would transform their experience of higher education, enhancing engagement and student satisfaction.
Lastly I want to mention a workshop I went to hosted by Dawn Morley and Lisa Dibben from Solent University which outlined an initiative Lisa had started with fashion students called "The Living CV". She had observed that many students CVs on graduation were the same as they were on application, other than perhaps mention of a part-time job. By turning the learning outcomes at programme and module level into CV outputs she helped students to connect their university learning with future work. Students were then encouraged after each module and experience to add to their personal "living CV" hosted within the University VLE. This was such a fantastic idea that I immediately shared it with our Careers team here at Liverpool.
Final thoughts:
SEDA is always an excellent conference with a friendly, open and engaged audience. It is an easy environment in which to network and not cliquey in the way some organisational conferences can be. It is well worth attending if you have never done so, and a supportive environment in which to present work if you find the prospect daunting. I would definitely recommend it to colleagues.
Further Resources:
University of Ulster Integrated Curriculum Design Framework
National Forum for the Enhancement of Teaching and Learning in Higher Education
Biography of Dr Thanda Mhlanga
Dawn Morley & Lisa Dibben, Solent University "Living CV" workshop details
---