Student Profile: Siti Nur Syazana binti Shahruzzaman
Why did you choose to study your chosen course at the University of Liverpool?
The number one reason why I've chosen to further my studies in Liverpool is because of its architectural history. It is very impressive how the city is very modern but is still able to uphold its rich architectural heritage such as the Victorian & Georgian architecture. Apart from that, it is because of the affordable living cost relative to modern lifestyle that the city has to offer.
How has University been different from A-levels?
A major difference would definitely be in terms of the inputs and time management. Back in A-Level, most of the inputs are given by the teachers, but in University it depends on your own effort and initiatives to gain that extra information. In terms of time, you are absolutely free, no restriction, no curfews. But here's where the challenge comes, you need to really be cautious on how manage your time, so that you're able to experience the best of both world; academics and social.
What has surprised you most about Liverpool?
It would be how modern the city is! Everything that you could of is here in Liverpool. Another one would be the friendliness of the Liverpudlians. This is my first time living in the UK for a long period and what I can say is that the people of Liverpool have been nothing but helpful and engaging.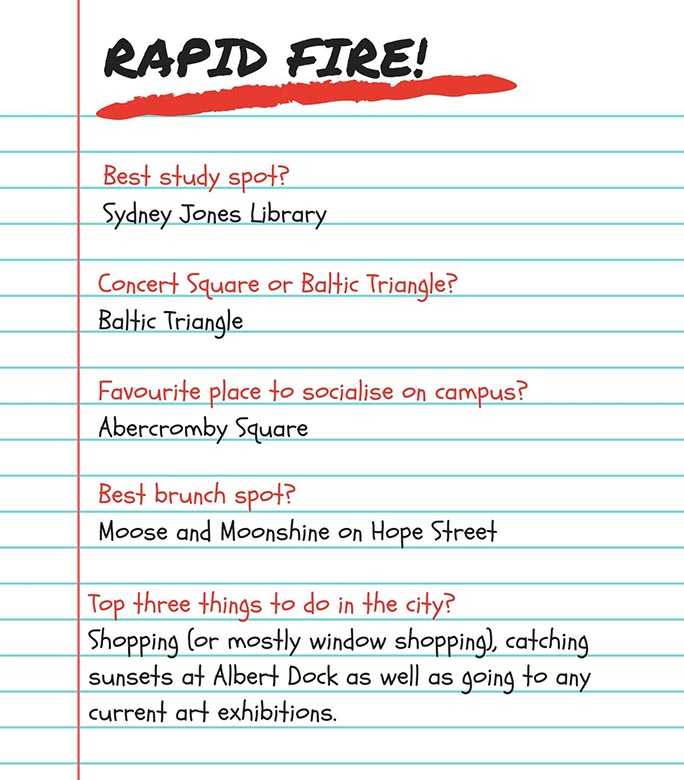 How has your learning been facilitated since coming to Liverpool?
The fact that the campus buildings are very near to each other has made my university life easier as I am able to just walk from one lecture to another. The University's computing system, Vital has made it very easy for me to get the latest updates about my modules as well as feedbacks from my tutor.
What extra-or co-curricular activities do you take part in, and how do these affect your student experience?
I've joined the School of Arts' society as well as few Malaysian societies. I'm really glad that I joined these societies as it has widened my circle of friends as well as become one of my ways to get rid of all the studio and studying stresses.
If you could go back, what advice would you have given yourself before going to University?
I absolutely enjoyed every second of my life being a student at the University of Liverpool. But there's one thing that I could tell myself before starting University, it would be; to not be worried so much and have more fun. The only thing that I regret is that I didn't manage to make as many friends as I would like with the home and foreign students and be able to learn more about their cultures and lifestyles. But other than that, Liverpool has been amazing!!!