Symposium: Addressing EDI in Architectural Education at the LSA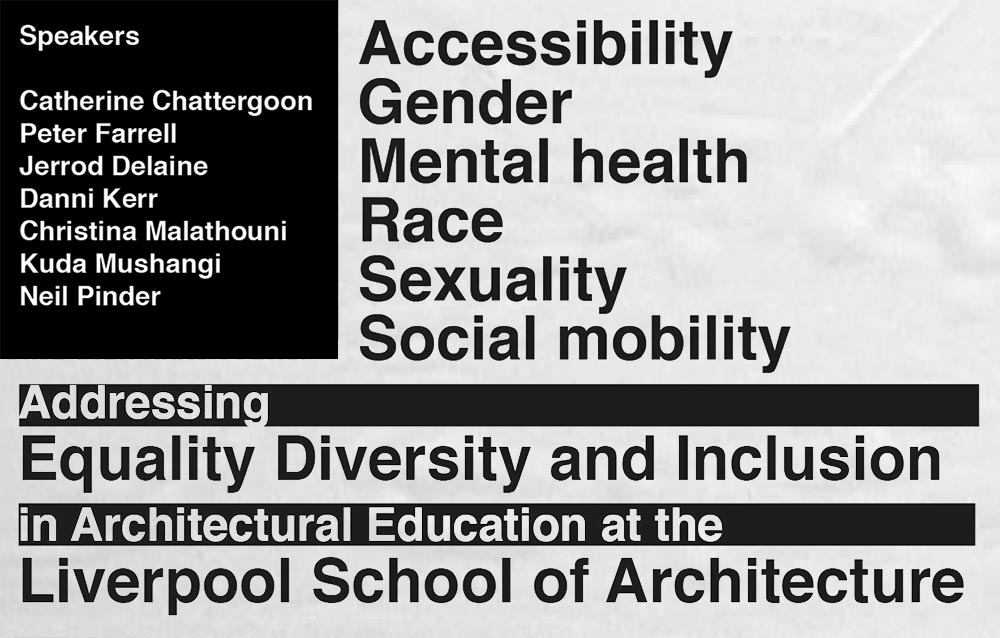 Date: Thursday 13th May 2021, 17:30 (online)
For queries contact lsaevent@liverpool.ac.uk
Click here to register with Zoom
We invite you to join us in this symposium to discuss how issues in gender, race, sexuality, social mobility, accessibility, and mental health affect architectural education. Acknowledging the intersectionality of these issues, we believe it will be productive to have a conversation amongst students, practising architects, educators, and others who are involved in architectural education to share their insights and experiences. This symposium aims to better articulate the challenges and strengths around EDI issues in the education offered at the LSA. We have invited speakers both within the school and beyond and hope to hear your voice in this discussion too!
This event is supported by the University of Liverpool's Beacon Fund.
Speakers
Jerrod Delaine, Pratt Institute, New York
Jerrod Delaine is a Professor at Pratt Institute. He is an experienced Real Estate Developer, with a skill set that includes Design, Construction, Finance, Affordable Housing, and Asset Management. Jerrod is currently the Director of Development at a Harlem based real estate development company, Carthage Real Estate Advisors. His current focus is utilising access to capital markets, improving communities through real estate finance and development.
Catherine Chattergoon, Pratt Institute, New York
Catherine Chattergoon is a second-year student in the Bachelor of Architecture program at Pratt Institute. Her interests include using architecture as a social practice for civic engagement and utilising design as a resource for communities. She believes in the power of student involvement and currently serves as the inaugural Student Advisor to the Dean to help facilitate conversation between the student body and administration. Catherine is a member of the Pratt NOMAS Chapter and the Mistresses of Pratt Archive team, advocating for the empowerment of underrepresented voices. She is an active participant in DEI initiatives and is committed to creating an equitable education.
Peter Farrell, Liverpool School of Architecture
Peter Farrall is a senior lecturer at the University of Liverpool where he is responsible for professional studies as well as being a studio tutor on the BA and MArch courses. Prior to his current position, he was a partner of a small multidisciplinary practice in Chester, specialising in the education sector. He has also worked for two large practices dealing with commercial and residential projects. He is past president of the Liverpool Architectural Society, served on National Council and Conduct committee of the RIBA, and acts as an examiner for the RIBA Part 3 in the UK and abroad. He delivers lectures for RIBA Part 3 and CPD programs.
In 1999 he suffered a spinal injury whist paragliding in Snowdonia resulting in partial severing of the spinal cord with paralysis of the right leg. After surgery and 6 months in hospital he spent some months in a wheelchair and now gets around using crutches. A big outdoor enthusiast, he has now got back into canoeing and cycling.
Danni Kerr, Sheffield School of Architecture
Danni Kerr is an architect, teacher and academic. She cares about what she does, how she does it and who she does it with. Her dedication is to architecture education and is currently completing a PhD thesis on 'Design for Time' at Sheffield School of Architecture. As a Role Model for the RIBA, Danni is actively engaged in the much-needed push for an inclusive profession.
Christina Malathouni, Liverpool School of Architecture
Christina Malathouni is an architect and architectural historian and holds an MSc and a PhD from The Bartlett, UCL. She also has extensive experience in the heritage sector, specialising in twentieth-century architectural heritage. She is currently writing a book on Public Mental Health Facilities in Post-War Britain, 1948-1973 (Routledge). Her interest in mental health and architecture spans across the full scope of potential correlations: the mental health of architecture students and architects, the impact of designed and non-designed spaces on our mental wellbeing, and specialised architecture for mental illness and the potential of specialist knowledge to inform all architectural production.
Kuda Mushangi, Hanley Halebrown Architects
Kuda Mushangi is an Artist and Architectural Assistant at Henley Halebrown Architects in London. He has been featured by Tate Modern/Tate Collective and was exhibited in March by The Holy Arts Art gallery Gallery in London. He graduated from the Liverpool School of Architecture in 2017 for his BA and MArch in 2020, winning two awards for his group thesis project. He is part of the Liverpool Young Architects society and a member of the RIBA EDI NW Committee. Kuda is actively involved in the Henley Halebrown Community, Diversity, and Ethical working group, where he is focusing on championing diversity within architecture and encouraging community engagement.
Neil Pinder, Graveney School, London
Neil Pinder is the heart and mind behind the "HomeGrown Plus" operation. He has taught in a number of inner-city schools for over 25 years and has worked with London Open House for much of that time. He is a trustee at 'Blueprint for All' (formerly the Stephen Lawrence Charitable Trust) for the past 15 years. He is currently Head of Product Design at Graveney School in south London, where he introduced architecture to the curriculum, winning various Open House competitions and being honoured as Open House "Teacher of the Year". His work with Celebrating Architecture, started to recognise the work of Graveney students, has received national recognition.