Dragon's Den
The Dragon's Den competition was introduced in the Physics Department in 2015 as an extension to the Practical Physics course for the 2nd year students. The team of 4 students who won the competition received substantial funding for summer work to further develop the project which they prototyped during the Practical Physics course.
‌
The first year the Dragon's Den winning team produced the LED table.
University News story - November 6th 2015.
---
In the second year (2016) there were two winning teams:
SUNNIE - a solar-powered, light-following robot.

ROBOBAR - an automated mocktail making machine.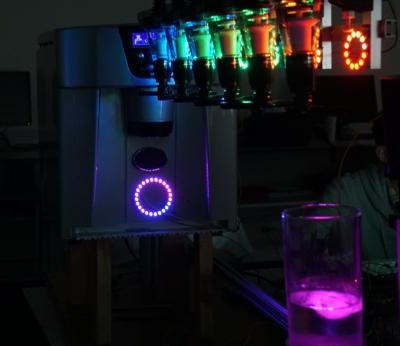 The 2016 SUNNIE and ROBOBAR projects involved students from electrical engineering and electronics department whose help with the technical implementation of the devices was very valuable.
The devices produced by students have been presented at the Physics Department Open Days. The LED table team also participated in the Liverpool Light Night 2016. The presentations always attracted attention of visitors.
---
To hear the students experiences of the Dragons Den Projects please follow the links below: