Treasure Island Pedagogies: Episode 18 - the one with the podcasts
Posted on: 18 March 2022 by Dr Tunde Varga-Atkins in General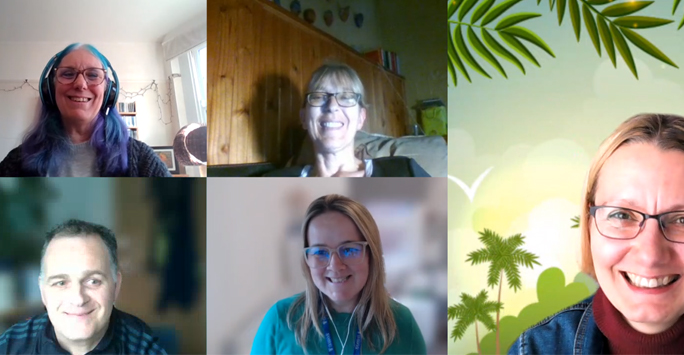 In Episode 18, in addition to lightbulb moments, treasure island pedagogies/props and luxury items, our discussion ranged from the importance of supporting students holistically, the value of blended learning, podcasts as versatile pedagogies, OERs, Self Organised Learning Environments (SOLE) and online engagement frameworks.
Speakers: Dr Alex Owen, Karen Ferreira-Meyers, Mary Jacob & Dr James Stanfield
Date: 14 March 2022
Treasure Island Pedagogies: Episode 18 podcast
(Treasure Island Pedagogies Episode 18 - podcast transcript)
Read or listen to find out our guests' lightbulb moments, teaching props, pedagogies and luxury items that they would take to their Treasure Islands for precious contact time with students.
Dr Alex Owen
University of Liverpool, England
Original discipline(s): Childhood Studies, Faculty of Education
Current role: Senior Academic Developer
Lightbulb moment: When I was teaching undergraduate students, there was one student who was highly engaged and highly articulate in seminars. However, she really struggled when it came to written assessments. As her personal tutor I worked hard with her and drew in a whole range of professional services colleagues to work with her too – from disabled students' support services to study support services. I have a clear memory of the student arriving in my office on result's day in floods of tears because she had achieved a first. She said that "I'd always thought I was stupid", but clearly this was not the case! There's so much value in getting to know our students and working holistically around a student together with professional services. Students' experience of Higher Education is so much more than just academic learning.
Teaching prop or pedagogy: Podcasts. I've been exploring Professional Dialogue recently. As Alexander says – professional dialogue 'harnesses the power of talk to engage [learners'] interest, stimulate thinking, advance understanding, expand ideas and evaluate arguments, empowering them for lifelong learning and democratic engagement. Being collaborative and supportive, it confers social and emotional benefits too,' (Alexander, 2000: 1). In my work as an academic developer I have seen the transformative effect of professional dialogue to promote equality of colleagues' voices to ensure personalised and authentic development and through the use of podcasts I can enable this. I use podcasts to support professional dialogue in a range of ways – I run the Advance HE accredited teaching recognition scheme at our university and they've been really useful to record colleagues discussing anonymised applications so that colleagues who are applying for teaching recognition understand the types of evidence panels are looking for in an application. I also lead my own podcast series called The Academy's Developing Practice podcast where we explore the practice of colleagues based in HE settings. We then use these podcasts to promote further professional dialogue in a range of ways, for example by embedding them in our online PGCAP or by using them as a stimulus for discussion in our synchronous CPD seminars.
Luxury item: I'd take my family. There's nothing I enjoy more than spending time with my family.
Karen Ferreira-Meyers
University of Eswatini, Eswatini
Original discipline(s): high school teacher and university lecturer of French language, cultures and literatures
Current role: Associate Professor and Coordinator Linguistics and Modern Languages and Literatures, Institute of Distance Education, University of Eswatini
Lightbulb moment: a recent one was during the pandemic with my BEd Primary and Secondary in French/language students that the online environment is so much more useful and flexible than a classroom setting often is. Students can listen back to recordings repeatedly, which is important in language learning. We can augment the teacher's and students' voice with other voices and resources. That said, there are still key issues with the digital infrastructure, internet connectivity and data costs here in the Global South which sometimes make it difficult for anyone to interact meaningfully online.
Teaching prop or pedagogy: open educational resources (OERs). In my context (Global South) we do not always have resources for education, or the resources are too costly, so OERs can really help with that. With regards to pedagogy, it would be connectivism in addition to being eclectic and 'borrowing' from different learning theories and pedagogies whenever they have valid approaches for a particular context.
Luxury item: beyond family and friends, we would need some nice snacks and drinks to make the island enjoyable.
Mary Jacob
Aberystwyth University, Wales
Original discipline(s): UG: English and Creative Writing, Chinese; PG: Chinese language and literature; currently Education
Current role: Lecturer in Learning and Teaching, Coordinator of PG Certificate in Teaching in HE, Learning and Teaching Enhancement Unit (LTEU), Aberystwyth University
Lightbulb moment: When the pandemic hit, I started using collaborative shared documents during synchronous Teams sessions such as seminars. Previously, I would assign articles and thought questions for students prior to the seminars – but when coming together not everyone would contribute, or contribute equally. During the pandemic, we moved online. I put a worksheet into the shared files area and gave them a few minutes at the beginning of the live Teams session to fill in their ideas. We then used the worksheet as a base for the discussion. It was amazing! They all contributed and I could tell they'd done the preparation task in advance. People who were previously quiet in seminar were writing and elaborating on each other's ideas. The contributions were much more balanced across the group and engagement was high. Part of the reason it worked, I think, is that they could all get their ideas into the document at once without having to break into the discussion verbally. This is a great way to be inclusive.
Teaching prop or pedagogy: It would be a framework: Redmond et al.'s (2018) online engagement framework (but it can be related to in-person f2f engagement as well). They highlighted five dimensions of engagement that we should take into consideration to help students learn: cognitive, behavioural, emotional, social and collaborative engagement.
Luxury item: John Digweed's techno music puts me in the right mindset to focus on a task or complex idea if working, or get up and dance if not!
James Stanfield
Newcastle University, England
Original discipline(s): international development and education
Current role: Lecturer in School of Education, Communication and Language Sciences
Lightbulb moment: from 2017 to the pandemic, I worked on a project introducing Self Organised Learning Environments into a number of schools and day-care centers in Ukraine, Moldova and Romania. We ran a two day teacher training workshop in Kyiv to help introduce the new approach and provide advice to local teachers on how they could use it in the classroom. However, we soon realised that this kind of student-centred pedagogy came into direct conflict with their existing traditional teacher led approach. Teachers therefore initially struggled with taking a step back and giving agency to students. Similarly, teachers struggled with the idea of owning the pedagogy and changing and adapting it themselves to suit their particular circumstances. Teachers were very reluctant to make even minor changes without first seeking our permission. It soon became clear that the authoritarian approach previously adopted by the former Soviet Union was still having a significant impact in the classroom. With the benefit of hindsight, we should have recognised this and adapted our two-day teacher training workshop to take this into account. The joy for us was to revisit Ukraine several months later and to see how they had introduced a new innovation to the pedagogy, which enabled students to choose their form of presentation. The teachers reported that their students had got bored of presenting the same way again and again, and so this innovation addressed that problem. This experience reinforced the importance of a) national cultures and the impact that they can have in the classroom, b) knowing your audience and changing and adapting your content and approach to suit and c) continuously experimenting as children will get bored if you just keep on doing the same thing again and again.
Teaching prop or pedagogy: when Sugata Mitra won the TED Prize in 2013, TED produced a pack of playing cards and each card included a big question such as Can anything be less than zero? Why do people slip when it's wet? How was music created? How did life begin? Who made the alphabet? Is life on earth sustainable? And: Why do dogs chase cats?. This prop therefore includes 52 big questions and because each big question often leads to several new big questions, it will provide an endless number of big questions for students to answer.
Luxury item: I would take the world's most multifunctional tool – the mobile phone (solar powered). This would provide access to a torch, music, a camera, an endless number of fascinating podcasts and 'how to' videos, Alexa, the Daily Wordle and the ability to record an audio diary. It would also help you to keep connected to friends, family and the outside world.
Any sparks? How might our joined-up Treasure Islands look like?
Had we been literally sitting round a fire, there would have been lots of sparks of connections between our lightbulb moments, teaching props and pedagogies, including inclusive teaching from various angles, whether making our teaching and learning inclusive to promote participation and achievement for all students, or discussing the experiences of students with respect to digital equality, or being mindful of the cultures in which we teach. Our joined-up island will be a self-organised space – if we do not have a skill or expertise or a luxury item that we require, we will work together to work it out, we will organise, regroup, research and create to achieve what we want. In our case this was creating music and singing – which we of course will complement with eating and dancing. We also decided to ensure that our island's climate will be perfect both for growing plants as well as for our enjoyment.
Links / resources
From Alex:
There is a great resource written Dr Kate Evans from the Centre for Innovation in Education, University of Liverpool which summarises much of my learning and some of the changes that I was able to implement within our curriculum when I was working with the student I mentioned: Evans, K. (2019) Inclusive Curriculum. Staff Guide. (accessed 15.03.22)
Much has been written on the value of Professional Dialogue. I like Alexander's paper as it details the emotional and social benefits, as well as the benefits for the enhancement of practice. Alexander, R. (2020) A Dialogic Teaching Companion. London: Routledge.
From Karen:
From Mary:
My luxury item: John Digweed Live in the Mix - Two hours of techno music each week. Great for focussing on detailed work or getting up to dance when work is done.
Weekly Resource Roundup - Roughly once a week, I round up useful educational resources and online events in the HE sector, post them on the Aberystwyth University LTEU blog, and tweet about it.
REDMOND, Petrea et al. (2018) An Online Engagement Framework for Higher Education. Online Learning, [S.l.], v. 22, n. 1, mar. 2018. ISSN 2472-5730. This framework is designed for online learning but equally applicable for in-person teaching, too.
From James:
Facilitated by Dr Tünde Varga-Atkins, Sound: Chris Loxham, Web design: Dennis Wong, @LivUniCIE
---