QAA Annual Conference 2019 – The UK Quality Summit – Successful Partnerships
Posted on: 14 May 2019 by Nick Greer in Conference & Event Reports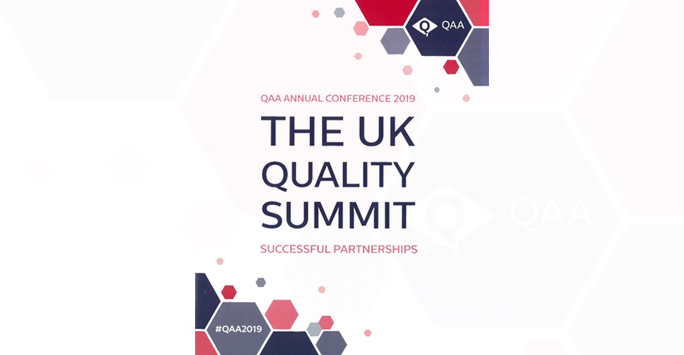 Nick Greer attended the QAA Annual Conference 2019, which this year took place at the Liverpool Arena and Conference Centre.
What is the event?
The Arena and Conference Centre welcomed delegates to the QAA Annual Conference 2019 on the 7th and 8th May, with the focus of this year's Quality Summit being the role of successful partnerships in delivering UK higher education.
An overview of the days:
Following a networking lunch, the conference launched with introductions from Professor Simon Gaskell, Chair of the QAA Board, and Professor Dame Janet Beer, who welcomed delegates to our city. Setting the context, and outlining some of the key challenges facing the sector, not least the current climate of political uncertainty, Dame Janet emphasised the positive impact of effective partnerships and, ending on a lighter note, made the first of many references to a certain football match taking place in the city that evening. [As a postscript, a 4-0 victory over Barcelona earned Liverpool a place in the Champions League final!]
Over the next day and half, the programme provided a series of plenary sessions focusing on the latest HE policies, interspersed with a wide range of breakout sessions covering a wide range of partnerships including students as partners, international partnerships, partnerships with other HE institutions and employers. Delegates represented a range of UK and overseas universities, colleges and other HE providers, with around half being in quality roles.
What did you get out of the conference?
Professor Sir Chris Husbands, VC at Sheffield Hallam University and Chair of the Teaching Excellence and Student Outcomes Framework (TEF), provided an overview of the lessons learnt from TEF so far, including the importance of context and focusing on the differences made (rather than the actual initiatives). Emphasis was placed upon the importance of initiatives being grounded in a coherent strategy, embedded in the institution and evaluated over time. Finallly, Sir Chris talked about the benefits of an "embedded culture of [student] engagement" which, based on partnership, focused on both pastoral and academic needs of students.
Other plenary sessions included:
An exploration of how higher education is working within local communities, with Dr John Cater (VC, Edge Hill University), Mark Power (Interim VC, Liverpool John Moores University) and Yana Williams (Principal and Chief Executive, Hugh Baird College). The presenters described how the three institutions were enjoying mutual benefits through engagement rather than competition, emphasising the importance placed on personal relationships and a collective identity – with another reference to the recurrent theme of football.
Sir Michael Barber, Chair of the Office for Students, who emphasised the necessity for higher education institutions to prepare themselves for the future ('Golden ages don't have to be in the past') and shared a number of observations from the last 18 months in the role including:

Great teaching combined with great research
A combination of theoretical and applied teaching (differentiating this from 'vocational' training)
Active engagement in communities and economies (which linked very effectively to the previously described plenary)
Brilliant communications - people need to know what you do
There were a number of points raised during Sir Michael's session that resonated with the Liverpool Hallmarks and a reference to Curriculum 2021 would not have seemed out of place.
Some of the breakout highlights included:
'Collaborative approaches to supporting the student experience', in which Anthony Turjansky and Claire Moscrop, Edge Hill University, shared their experience of developing a taught degrees framework based upon five lenses, with these being developed through a collaborative partnership between academics and professional services staff.
Jess Johnson, Ed White and Lillie-Mae Firmin, Reading University, sharing their experience of another collaborative exercise, with this enabling development of the Active Tutoring System that aimed to address issues of inconsistent student experience, poor student engagement with the previous system and a difference between student expectations / tutor expertise.
'Student-led partnerships', in which Sophie Banks and Hannah Fatkin, University of South Wales, and Emily McTaggart, Edinburgh Napier University, shared their experiences of two very different student partnership initiatives. Emily's presentation on ESTABLISH, a year-long student led digital and face-to-face transition programme for non-traditional students, was particularly inspiring.
Final thoughts:
Not that I needed any persuasion, but the conference highlighted the role of partnerships in achieving our potential. It was no great surprise that student partnerships emerged as a key conference theme, but I was especially captivated by the notion of tripartite partnership between higher education providers, communities and students.
---