Stone Age memories
Posted on: 7 April 2020 by Professor Larry Barham in 2020 posts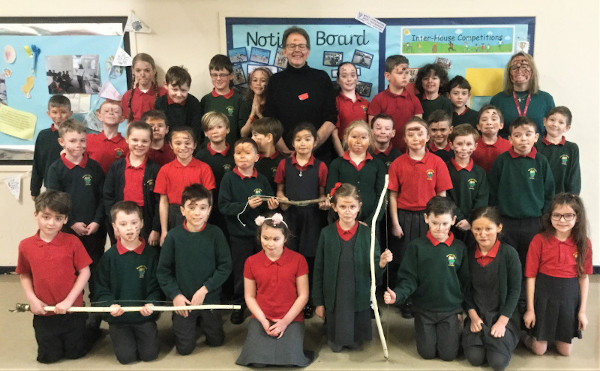 Professor Larry Barham visits Ormskirk West End Primary School to teach pupils about the Stone Age and the development of early tools.
---
This blog was written prior to the social restrictions imposed following the outbreak of COVID-19.
The nine-year-old me appeared briefly last week. My face painted, sitting on the ground, breaking rocks and trying to make fire. Not some ghostly apparition, but a remembered feeling that bubbled up unexpectedly when teaching a class of 35 school children. Their excitement, joy and curiosity reached deep inside, freeing that boy who dreamed of being a geologist or an astronaut.
Space travel lost its appeal after seeing the training involved. Wannabe astronauts faced exposure to extreme G-forces in an out-of-control merry-go-round. Not for me, then, as a kid (and adult) queasy on a fair-ground ride, seasick at the slightest rocking of a boat and carsick in the back seat of a car. Fossils, on the other hand offered the promise of unknown worlds without the need to accelerate beyond Earth's gravity.
And there I was a week ago, at Ormskirk West End Primary School, teaching the Key Stage 2 History class about the Stone Age. Out of my comfort zone, not sure what level to pitch a complex subject, I planned activities to punctuate the lecture – making stone tools, face painting with yellow and red ochre, and fire-making with bow drills.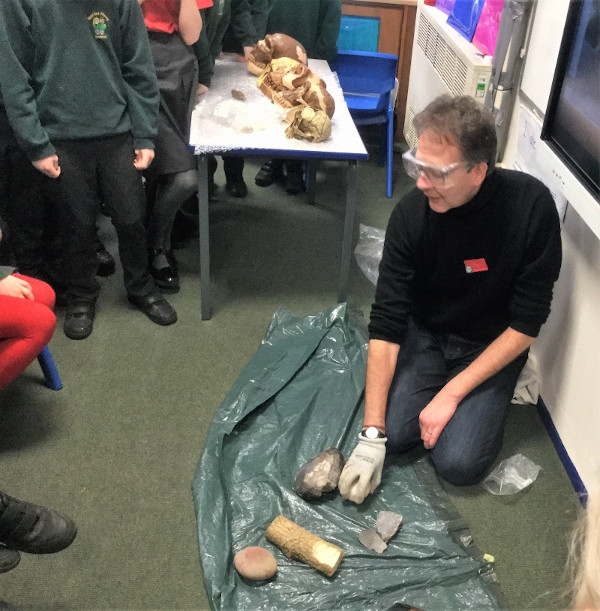 Flint knapping – my knees have just about recovered
There were things to handle, including casts of human fossils spanning seven million years of evolution and – as might be expected – a hafted handaxe. This was part of the Deep Roots project after all. But would the lecture be over their head? I decided to focus on the changing lives of children based on archaeological evidence.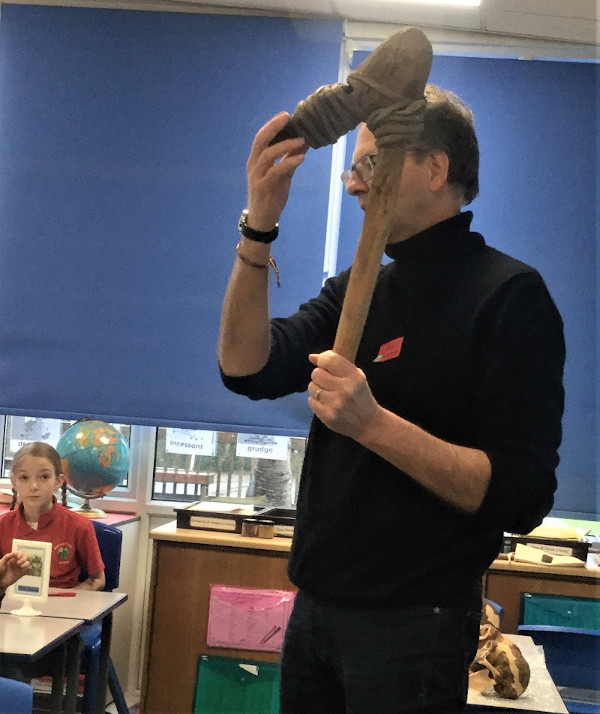 Yes, it's hafted.
My worries melted away within seconds of starting. They had been well prepared by their teacher, Sarah Currie, who made sure they had background knowledge in geology (for identifying the kinds of stone used for tools), geometry (useful for managing angles needed to detach flakes) and awareness of the concept of past ice ages. Off we went, carried by waves of enthusiasm for the activities and barely contained excitement for each new topic, hands shooting into the air to ask and answer questions.
Note the agreed (by some!) tribal markings on the white board
Near pandemonium broke out when it came time to paint their faces with communally agreed designs by each 'tribe' of hunter-gatherers. Sarah had her face plastered with yellow and red streaks and I didn't escape, ending up embellished with a long swish of yellow across the forehead.
At the end of the session we even managed to generate some smoke in the gym with a bow-drill – the morning flew past in a buzz of joy.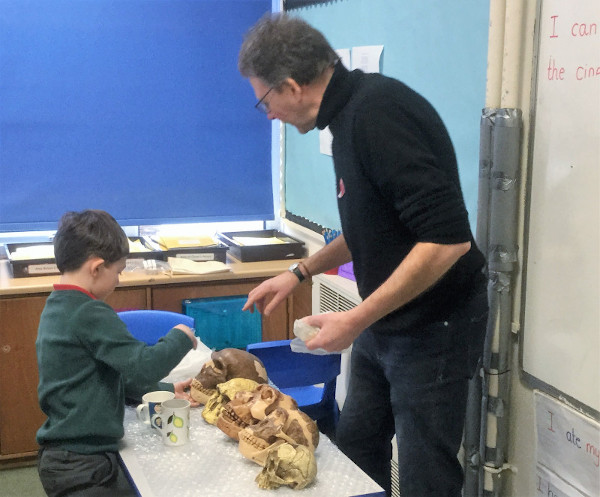 Ancestors on parade
The day-out had a serious purpose too, as part of the Deep Roots project 'impact' delivery. Impact in this context means reaching beyond a narrow academic audience and sharing our knowledge with the wider public. The Key Stage 2 History curriculum reaches a huge audience of children between the ages of 7-11, with Stone Age a part of the grand overview. What a wonderful opportunity to encourage a new generation to engage with our collective past.
I learned a lot in those few hours about what students understood about the Stone Age, what was beyond them at this stage (genetics), and what help teachers need to deliver this entrancing subject.
Entrancing, it seems, even to my nine year old classmates.
Yes, that's me with my eyes closed and marked for my tribe. Teacher Sarah Currie, on the right, though of a different tribe was very welcoming! Seriously, big thanks to her, she had prepared the children so well.
Discover more
Study in the Department of Archaeology, Classics and Egyptology at the University of Liverpool
Read Professor Barham's Deep Roots blog
---
We understand that this is a worrying and uncertain time for everyone, and the wellbeing of our students is our highest priority.
The University is here to offer you support and guidance as you continue with your studies. Please check your University email account daily so that you can continue to access advice and support from your module tutors regarding the shift to online teaching and alternative assessments.
The School will communicate with you regularly in response to students' key concerns. Information is also available on our Coronavirus advice and guidance pages.
However, if you are have a specific query that you are unable to find the answer to online, please contact either your Academic Advisor or the Student Support Centre at hlcenq@liverpool.ac.uk
Keywords: larry barham, archaeology, schools, deep roots, tools, research, liverpool, study, university, Equality, Diversity and Inclusion.
---