Follow the Archaeology Field School 2020 live-blog
Posted on: 7 October 2020 by Professor Harold Mytum and Dr Rob Philpott in 2020 posts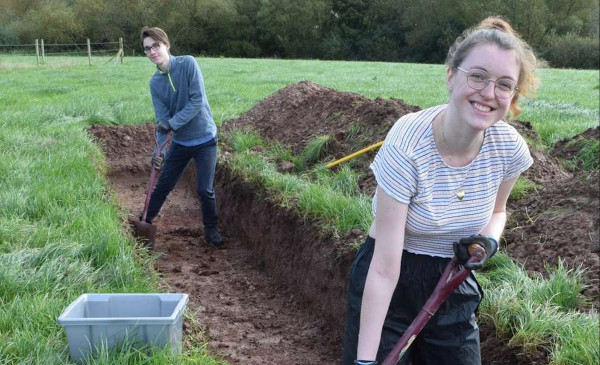 Sadly the issues around managing COVID-19 meant that we could not return to Norton Priory in June, and still could not do so as the new academic year started in October. However, Dr Rob Philpott and Professor Harold Mytum planned some alternative venues and a range of activities so that the students did not start their second year without getting at least a bit dirty and initiated into the mysteries of field archaeology.
Limited by social distancing but able to work in the open air and learn techniques as well as discovering new information about the past are the two key themes for this year, for an October season. We have started at a site on the Wirral - enclosed by a ditch that we are keen to investigate - to date the site and to discover what material culture was in use in the settlement. We used an earthmover to remove topsoil from some trenches - but the students have to discover whether there is any archaeology in the trenches, and what it might mean...
Scroll down in the section below to view this year's posts, and revisit the posts from the 2019 trip to Norton Priory.
---
---
Discover more
Learn more about the Archaeology Field School
Study in the Department of Archaeology, Classics and Egyptology at the University of Liverpool
---