What's happening at the Guild?
Posted on: 29 November 2022 in Issue 4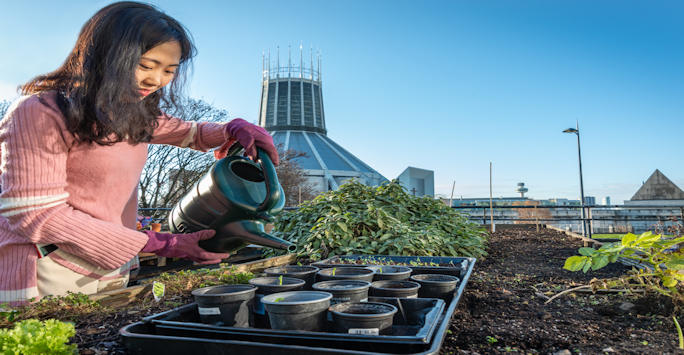 It's been a busy semester for the Guild as they continue to offer sustainable opportunities and host events for students across the University. From the re-launch of the Climate Action Network to the various outreach activities in the local community, here's a run through of what's taken place this semester and how your students can get involved going forward.
Climate Action Network
Re-launched this year, the Climate Action Network - a monthly student activist group, aimed at organising and developing student-focussed sustainability events and campaigns - met earlier this month to discuss the future of the group as well as the issues and topics to tackle throughout the year.
Check out the Guild website for more information on how to join
On-campus Swap Shop
Addressing some of the student pledges from Welcome Week, the Guild hosted a 'Swap Shop' as part of their wider Leave Liverpool Tidy campaign, to encourage mindful consumption and encourage re-using and recycling of unwanted clothes. Also present on the day, was a 'Fix it Station', staffed by volunteers who were on hand to mend any damaged clothes, but also to offer top-tips to students to make their clothes last longer.
Outreach in the Community
Working closely with the Widening Participation Team, the Guild have developed their 'Outreach to the Community' scheme, offering Guild societies the opportunity to volunteer in local schools and sixth-forms. With training and resources funded by the Guild, societies and individual volunteers can take part in the scheme to share their skills with the local community.
Green Impact Audit
The Guild are currently undertaking the Student Organisation for Sustainability (SOS) 'Green Impact' self-assessment audit to evaluate where they can improve on embedding sustainability into their policies, processes, events and student engagement. The results of the year-long audit will be published in June/July.
Find out more about the Green Impact audit.
More to come…
2023 looks like an equally busy year for the Guild. With a whole host of exciting plans in the pipeline, including Sustainability Week, new volunteer opportunities and outreach schemes, plus a new on-campus garden, tell your students to keep an eye on the Guild's website for all the latest information.