CRe-AM
University of Liverpool project leader: Dr. Panayiota Vassilopoulou.
Other members of the Cre-Am consortium:
University of Surrey, Black Cube Collective, National Center for Scientific Research "Demokritos", Ravensbourne, Institut Mines-¬‐Telecom, Fluxguide, Sigma Orionis, Lattanzio Learning SPA, Liverpool Hope University, imaginary SRL, Linkspace Management Services Gesellschaft MBH (European Learning Industry Group /ELIG)
Background
"With the creative industries thriving and generating, in the UK alone, £57bn per year and in Europe €626 bn in 2007, it is of paramount importance—not only for the creative sector, but also for the economy as a whole—that the creative communities are able to influence and shape the future of technology and its applications in the creative sector according to their present needs and desired visions. Therefore, tools, technologies and best practices for forecasting and planning such future(s), most notably future visions, scenarios and roadmaps, are essential to the enhancement of creativity through technology. In response to this need, the EU FP7-funded project CRe-AM bridges communities of technology providers and innovators with the creative industries" - (Smith, Baker, Vassilopoulou, Abbasi, Stergioulas & Payne, 2015
The project
CRe-AM is an EU-funded project (2013-2016) aiming to bridge communities of creators currently using ICT tools and technology providers and innovators. By engaging stakeholders in a fruitful dialogue, CRe-AM seeks to enable new ways of using technologies and tools, new products and services as well as new business models and policies. The objective is to give creators access to new forms of facilitation, enhancement and contextualization of the creative process and its outputs. The main target users are individual creators and professionals, small and medium sized enterprises, creative groups, communities and institutions.
Activities
As part of the CRe-AM initiative, we have organized two road-mapping workshops in association with FACT (Foundation for Art & Creative Technology) and The British Society of Aesthetics: Open Playground, focused on the future of gaming, and #TrendingStories an event investigating modern day storytelling and new media. We have also co-organized and supported workshops and events at Salford International Media Festival 2014, The NEM Summit, and the ElPub2015 conference.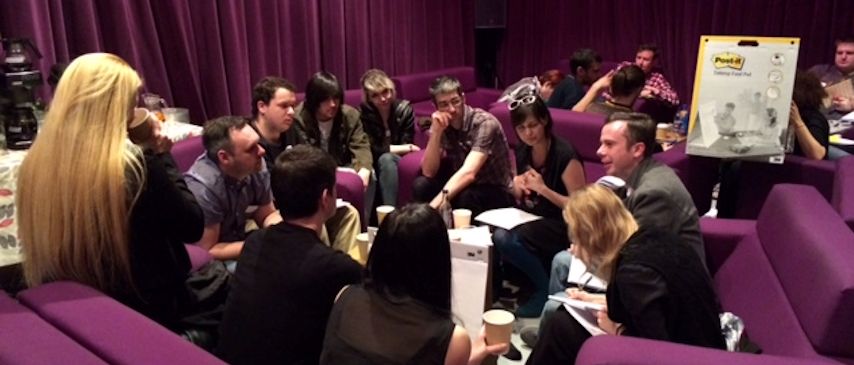 Stakeholders at the Open Playground CRe-AM roadmapping event at FACT.
Outcomes
We have led and assisted in the compilation of numerous papers and reports.
The main outcomes of the overall project will include recommendations for EU policy, planning, and decision making for the creative industries and convergent plans (roadmaps) for specific future initiatives.
Further beneficial outcomes of CRe‐AM will include:
• Bridging communities and supporting knowledge exchange between the creative and ICT sectors
• Raising awareness among the creative industries on related R&D results
• Foresight capability in the form of an Observatory for ICT- driven innovation in the creative industries
• An open web roadmapping platform to engage creators and empower them to identify emerging visions and concerns, and to build and maintain their own dynamic roadmaps for the future.
CRe-AM Website: http://www.cre-am.eu/
CRe-AM Community Roadmap Platform: http://communities.cre-am.eu/
CRe-AM Facebook: https://www.facebook.com/projectCReAM
CRe-AM Twitter: https://twitter.com/CReAMfp7