Brand New Facilities
The Department of Music has recently expanded into the Gordon Stephenson building, this expansion has allowed the department to gain top of the range facilities with brand new equipment. The list of new facilities includes:
SSL Studio
The new studio includes a large live room with a Steinway piano and two isolation booths. The control room is based around an SSL Duality Delta, Dynaudio M3 Monitors, Pro Tools HDX a wide selection of plugins and outboard equipment. It is also connected to our large rehearsal and performance teaching space The Music Hub directly above.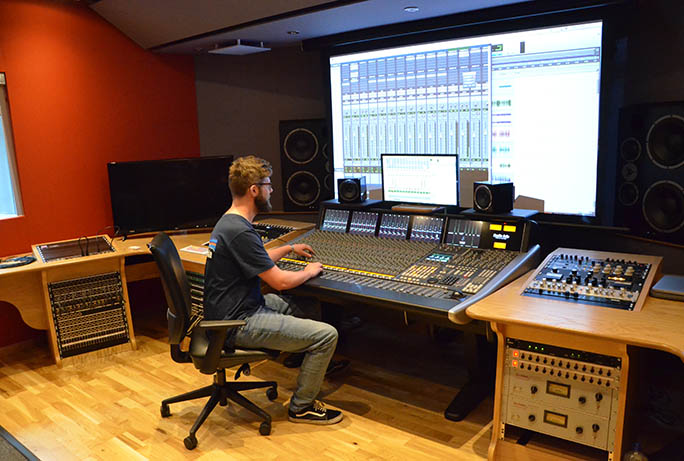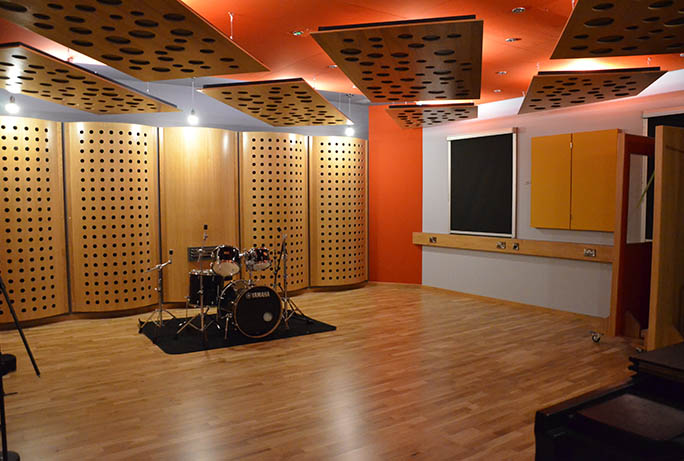 Electronic Music Research Studio
The EMR Studio is a fully sound proofed and treated studio for surround sound mixing, electronic music composition and sound design research. At the centre is a Mac Pro and Antelope Orion connected to over 20 Genelec monitor speakers.
9 Practice Rooms
Eight additional practice rooms have been equipped with brand new Yamaha upright and grand pianos.
A further practice room equipped with a Kawai grand piano and Harp provides a spacious rehearsal room for individual or group use.
Ensemble+ Project Facilities
This facility includes portable facilities for hi bandwidth video conferencing with the Royal Northern College of Music and other partner Universities. Interactive performance masterclasses, teaching and lectures can be held in collaboration the partner institutions.
The Music Hub
The Music Hub is a multipurpose rehearsal and performance teaching space. Featuring improved facilities for teaching, guest lectures and presentations, the hub is equipped with a full professional-level lighting and P.A. system for performance practice and technical training.
With flexible, adjustable acoustics it is the rehearsal centre for the department's vibrant extracurricular music making activities and music society groups.
The Hub benefits from the first Bose Showmatch system ever to be installed in an educational facility, supported by two Soundcraft Vi1 audio mixing consoles.
The space offers fully independent control of Front Of House (FOH) and Monitor systems, as well as direct feeds to our SSL studio below, providing us with extremely flexible and versatile patching capabilities.
The Soundcraft Ui16 recording setup is perfect for ambient takes of orchestral/choral/band performances in the space. This system is all controlled over smart devices, so anyone can operate it on their phone.
We have new microphones from Shure and Sennheiser along with state of the art BSS DI boxes and a brand new Yamaha piano.
The room is acoustically isolated and soundproofed to prevent interference from neighbouring facilities, whilst the adjustable wall panels change the acoustic nature of the room - dampened or reflective.
We have a stage lighting rig of 12 Martin Rush LED fixtures, which are both good for the environment, yet bright and colourful for a real gig experience.‌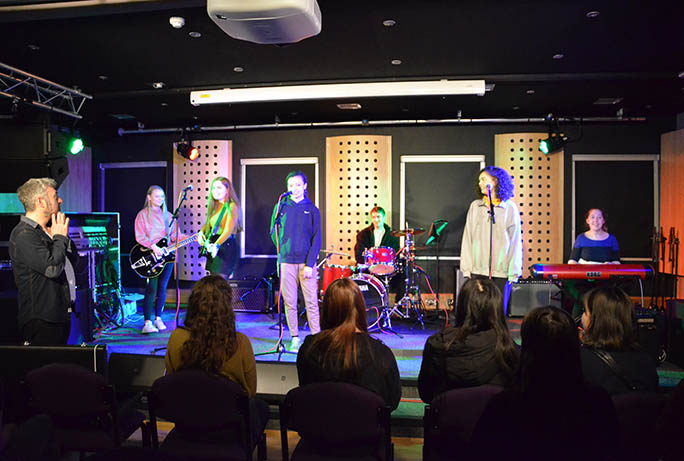 Practice and rehearsal spaces
These include small rooms for individual practice or tuition, larger spaces suitable for orchestra rehearsals and master-classes, and fully-equipped, sound-proofed rooms for bands to use.
iMac suites
Students can work in two recently upgraded computer rooms, each with 16 iMacs running Logic, Max/MSP/Jitter, Sibelius, Unity and Microsoft Office.
Recording / production studios
The department has three sound-proofed, acoustically treated studios with industry standard control surfaces, surround sound systems, outboard racks and a selection of software.
Games Research Lab
Our department has a dedicated space for students to research video game music and sound. This space features several platforms, including the Playstation 4 (with PSVR), Playstation 3, Xbox One, Xbox 360, Nintendo Wii, an Alienware Gaming PC, and two Mac Workstations, as well as a diverse library of games.
Equipment

Preamps and outboard

Pro Tools 12 HDX with Avid S6
Logic
Max/MSP/Jitter
Native Instruments complete

Focusrite
Warm Audio
Wes Audio
Neve
Maag
Drawmer
TLA
Lexicon

Plug-ins
Microphones

Neumann
AKG
Shure
Soundfield
Sennheiser
Teaching and seminar rooms
All our teaching rooms are designed for Music and are equipped with AV projectors, sound and pianos.
They range from a small chamber music room (for seminars with up to 10 students) to the newly refurbished Rendall rooms (for lectures to up to 80).
Music library
The University's main Sydney Jones Library provides excellent study and research facilities and has a large section dedicated to Music. This contains hundreds of books, scores and recordings, as well as listening rooms.
Additionally staff and students can draw on extensive Institute of Popular Music and related archives and collections. These greatly enrich the research and study opportunities available here and feature in our taught modules.
Venues
We have several venues both on and off campus that we use for different performances.
The Leggate theatre is a two-tier auditorium, and the venue for our professional Wednesday Lunchtime Concert Series, and much of the annual Open Circuit Festival of New Music. Most of the finalist classical recitals are also programmed here.
The Eleanor Rathbone theatre is where the orchestras and the student theatre society rehearse and host their termly concerts and shows.
The biggest space on campus, Mountford Hall, located in the student guild, is used for our biggest events such as the National Youth Orchestra "Inspire" week. It's also a professional venue for the 02 Academy, so there are gigs, concerts and shows throughout the year. The guild also has the basement venue, The Cellar which is used as a night-club performance space.
Our popular music students perform in city public events, using Liverpool's famous Zanzibar club along with acoustic sets at other venues such as Parr St. Studios. We want the students to get a real sense of public performance.
We are in close proximity to Liverpool's two cathedrals with many possibilities for organ and choral performances.