The research gave all service users a voice, including patients, families, carers, friends and bereaved families. The delicate nature of the subject matter was at the forefront of the research, and the study methodology enabled participants to share their stories on the areas that mattered to them, rather than be led by the researcher.
Through the gathering of data, seven distinct touchpoints within the hospice journey were identified:
Pre-arrival information
Arrival and admissions process
Facilities
Clinical and support
Rooms and shared spaces
The little extras
Discharge and aftercare support
---
The outcome
The research approach stressed multiple instances of excellence throughout the services provided by the Hospice. It also highlighted areas that could be improved. These included the need to produce a range of marketing publications about the service as the website was not accessible to everyone and identifying the desperate need for counselling for many of those involved. East Cheshire Hospice is taking these findings on board in their strategic planning.
---
What happened next
This was the beginning of the team's work with the Hospice community. Similar exercises are now underway with Oakhaven Hospice in Hampshire, Marie Curie Hospice in Liverpool, Wirral Hospice St John's, Bluebell Wood Children's Hospital in Sheffield and the Palliative and End-of-life Care Unit at The Royal Liverpool University Hospital. Alongside this the team are working on other related projects including a review of East Cheshire Hospices @Home service and Scoping End-of-life Care for Oakhaven Hospice.
East Cheshire Hospice commissioned the University of Liverpool Management School to research which areas, if any, of the service they provided could be improved. The Hospice wanted to ensure that its service levels met the needs of their service users at a critical moment in their lives.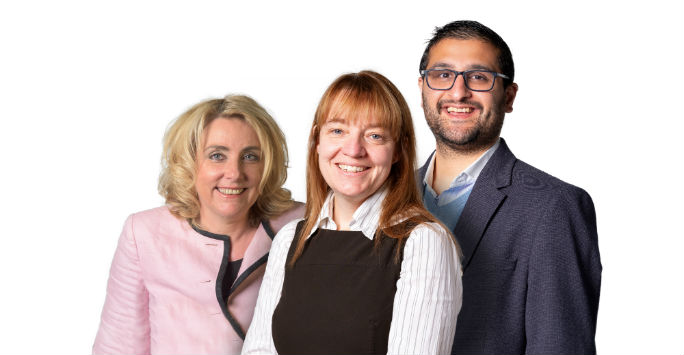 Dr Lynn Sudbury-Riley, Dr Philippa Hunter-Jones and Dr Ahmed Al-Abdin
Back to: Management School