Name a Seat Stories: The personal stories behind the plaques, part five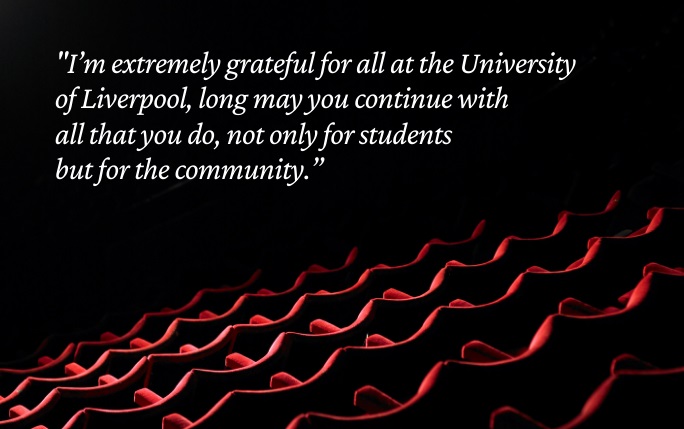 The Name a Seat campaign was launched to celebrate the introduction of the new Yoko Ono Lennon Centre on campus.
Alumni and suporters have come together from around the world to leave their personal mark on the University. Many supporters have shared what inspired them to name a seat and their special connection to the University. This is the fifth instalment of stories, here is the first, second, third and fourth instalment.
"My husband, Nicholas, studied Civil Engineering at Liverpool and loved it. We met in Liverpool and he introduced me to the University. He persuaded me to apply for Medical School and encouraged and supported me throughout my career. While there I realised how lucky I was to be studying medicine at Liverpool where women were actively supported and treated as equals. I was particularly fortunate to have excellent female role models. I was taught as a student by Avril Mansfield and then was able to anaesthetise for her when on the anaesthetic registrar rotation at the Southern Hospital. She was a brilliant, talented surgeon but always down to earth and "normal" treating all her colleagues at whatever level with equal respect. I'm sure the patients felt the same. That pattern of professional behaviour helped to shape my successful career." - Dr Jean Quinn (MB, ChB Medicine, 1970)
_______________________________________________________________
"I discovered the Lunchtime Concerts about three years ago. Each week the audience were warmly welcomed by students and staff, before the performances. I felt privileged to attend each Wednesday. We watched International musicians and students, the range of music was incredible. Classical Baroque Jazz, traditional Indian and Chinese and everything in between. My life has been enhanced for not only did I have the pleasure of the music I also learned about the instruments and sometimes the history of composers. In all a very happy hour. But when COVID-19 arrived it didn't stop the music Dr Helen Thomas and her team worked their magic to bring virtual concerts and solo performances to our screens. I'm extremely grateful for all at University of Liverpool, long may you continue with all that you do, not only for students but for the community." – Mrs Valerie Badger
_______________________________________________________________
"I joined the University Orchestra in 1989 when I took up my post in the Department of Classics; I remained with the Orchestra until 2019. I have also been member of the University Chamber Orchestra, and have been running string quartets made of staff and students since 2013. Some of the highlights: playing Sibelius 3, Shostakovich 15, and Bruckner 7 under Tony Shorrocks; the Chamber Orchestra trip to Normandy in 2013; and with Q Quartets and its predecessor, GlasQuartet, playing Sibelius, Jadin, Mozart, Pärt, Beethoven, Brunetti, and especially Shostakovich's 8th string quartet, Sean Doherty's Arctic Violin written for us in 2019; and taking the quartets of the 6th Earl of Kelly on tour to Edinburgh also in 2019 – the first time that most of them have been played since the 18th century." - Dr Frederick Jones ARBSA (University of Liverpool Lecturer of Archaeology, Classic Egyptology)
_______________________________________________________________
"As children, we knew about the University, as my grandmother lived nearby and we would often pass it. My mum used to talk about it. She was a great believer in education, having been denied the opportunity to attend grammar school even though she had passed the scholarship. Even though I went to a grammar school, I was a poor scholar and left at 16. My future husband persuaded me to go to night school. Later, I trained to be a teacher. Then, thanks to him, took a part time degree. I was delighted that my mum and husband could attend the degree ceremony. This is my thanks to both of them." - Dr Flo Clucas OBE (University of Liverpool Honorary Graduate)
The Tung Auditorium will be located at heart of the Yoko Ono Lennon Centre. We are inviting you to play a leading role in this project by naming a seat.
To find out how you can play your part, click here. If you would like to share your story please email: giving@liverpool.ac.uk
We've saved you a seat...now put your name on it.