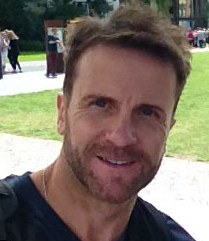 Mr
Stephen
Davies
MA(RCA) DipIC BA(Hons) PGCE FRSA FHEA
Lecturer in Industrial Design
Civil Engineering and Industrial Design
About
Personal Statement
With a longstanding commitment to design, innovation & creativity and to students studying in these areas in Higher Education, Stephen has practiced a career enabling him to help students achieve their goals & also allow his continued professional development as a Designer and Educationalist.

Gaining a 1st class BA(Hons) in Three-Dimensional Design with Applied Technology, including business & marketing studies, Stephen also achieved an MA(RCA) in Industrial Design Engineering from the Royal College of Art, joint course with Imperial College London. On this course he was awarded the James Dyson Scholarship. In addition, he has completed a PGCE (Post Compulsory Education) and is a Fellow of the Royal Society of Arts & a Fellow of the Higher Education Academy.

Balancing working in Higher Education with Industry experience, Stephen has worked for Dyson in both New Product Development (NPD) and New Product Innovation (NPI), helping to design a number of successfully launched products, creating patented work and presenting design research to James Dyson. Through his practice as a Design Consultant, work includes a fire safety product used in buildings including Tate Britain and an NHS Innovations nominated product that was a Highly Commended Finalist in the Medical Diagnostic & Laboratory Category.

Stephen has recent design industry experience, understanding of people-centred design/inclusive design and experience of self-employment and design business start-up. In addition, he has been credited with having had design work selected for London's Design Museum & in newspapers and magazines including the Independent, the Guardian, Living Etc and Elle Decoration. Work has also been featured on Channel 5 Breakfast News and a pilot programme for Channel 4, 'Gimme the Money'. Stephen has been a finalist in the James Dyson Product Innovation Awards & Living etc magazine Bright New Things Awards and has represented the UK in government sponsored design and trade exhibitions in Dubai & Kuala Lumpur.
---