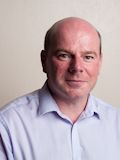 Professor
Mark
White
PhD, FRAeS, FHEA
Professor
Mechanical and Aerospace Engineering
Teaching
Pilot Studies
Lecturer and Module Co-ordinator of the Aerospace Engineering with Pilot Studies programme modules. The course has been designed to give those with an interest in pursuing a commercial pilot career with an insight into their career. Pilot studies graduates are now flying with British Airways, easyJet, Flybe, Thomas Cook, Virgin.
Flight Handling Qualities
The aim is to equip students with the skills and knowledge required to understand fundamental aircraft handling qualities and related ''whole aircraft'' problems in Industry. The module uses a Problem Based Learning approach to the acquisition and demonstration of new knowledge. The students undertake off-line analysis and work with test pilots in a flight simulator to assess the suitability of aircraft in a specific role.
Modules for 2023-24
FLIGHT DYNAMICS AND CONTROL
Module code: AERO317
Role: Teaching
FLIGHT HANDLING QUALITIES
Module code: AERO405
Role: Module Co-ordinator
FLIGHT HANDLING QUALITIES (15cr)
Module code: AERO401
Role: Module Co-ordinator
PILOT STUDIES 1
Module code: AERO131
Role: Module Co-ordinator
PILOT STUDIES 2
Module code: AERO231
Role: Module Co-ordinator
PILOT STUDIES 3
Module code: AERO232
Role: Teaching
Supervised Theses