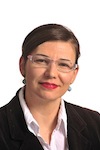 Dr
Ivona
Mitrovic
PhD, MSc, BSc EE
Reader
Electrical Engineering and Electronics
Professional Activities
Summary
• EPSRC eFutures Evaluation Focus Group Member, January – June 2017, London, UK - the purpose of identifying the impacts of the activities of eFutures in supporting electronics research in the UK.
• Member of the EPSRC Peer Review College, since October 2016.
• Local Organising Committee Member for the 3rd International Conference on Nanotechnology, Nanomaterials & Thin Films for Energy Applications, NANOENERGY'2016, held on 27-29 July 2016, University of Liverpool, UK. (http://www.nanoenergy.co.uk)
• European SINANO (Si-based nanostructures and nanodevices) Institute Member, General Assembly, 26 January 2016, Vienna University of Technology, Vienna, Austria.
• Invited Co-Chair for the 'III-V/High-k Interface' session at 'Dielectrics for Nanosystems 6: Materials Science, Processing, Reliability, and Manufacturing' symposium, 225th Electrochemical Society Meeting (ECS), 11-15 May 2014, Orlando, Florida, USA
• eFUTUREs Steering Group Member – in charge of organizing two Early Career Researcher Workshops: "Electronics Forum: The next steps for Early Career Researchers", on 25-26 Nov 2014, Nortumberland, UK and on 31 August - 1 September 2017, Clare College, Cambridge, UK.
• Awards Committee Member, IEEE PRIME 2015, 11th Conference on PhD Research in Microelectronics and Electronics, 29 June – 2 July 2015, University of Glasgow, UK.

Conference Roles
Invited talk, by Invitation (The Electrochemical Society, Florida, USA, 2014)
Invited talk, by Invitation (Joint Semiconductor Equipment and Materials Initiative (JEMI) UK technical meeting, 2011)
Invited talk, Diagnostics and Yield Symposium, Poland, by Invitation (Warsaw, Poland, 2009)
Invited talk, NANOSIL, France, by Invitation (Grenoble, France, 2009)
Invited talk, PULLNANO, France, by Invitation (Toulouse, France, 2008)
Examination Roles
University of Newcastle, PhD (2012)
Professional Body Memberships
The Electrochemical Society (Member, 2014 - 2017)
eFUTURES (Member, 2012 - present)
Institution of Engineering and Technology (Member, CEng (2014), 2004 - present)
Institute of Electrical & Electronics Engineers (Member, Senior Member (2014), 2001 - 2015)
Other Administrative or Committee Roles
Departmental Director for Postgraduate Research
Inter-department Liaison Officer with Mathematical Sciences and School of Engineering
Programme Director for Electrical Engineering and Electronics
Deputy Examination Officer
Assistance with Year 1 and Year 2 undergraduate Lab modules