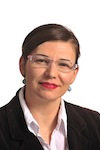 Professor
Ivona
Mitrovic
PhD, MSc, BSc EE
Professor and Head of Group
Electrical Engineering and Electronics
Professional Activities
Summary
• Chair of UKRI eFutures2.0 Electronics for Sustainable Societies conference on 14-16 September 2022, at the Museum of Liverpool.
• Chair of Sustainable Materials and Nanodevices online forum, 10 December 2021.
• External Examiner for the MSc programmes in Electronic and Electrical Engineering at Swansea University, since September 2022.
• Organising Committee member of the 241st Electrochemical Society (ECS) conference, Symposium D02 "Dielectrics for Nanosystems: Materials Science, Processing, Reliability, and Manufacturing", 29 May – 2 June 2022, Vancouver, Canada.
• Member of the External Evaluation Advisory Group of the UKRI Strength in Places Fund, since June 2021.
• Member of Strategic Advisory Board of the EPSRC funded Compound Semiconductor Future Manufacturing Hub, led by Cardiff University, since August 2020.
• Guest Editor of IEEE Access, special section "Emerging technologies foe energy internet", 2019-2020.
• Member of SINANO Institute
• Member of EPSRC eFutures Evaluation Focus Group, 2017, London.
• Member of the EPSRC Peer Review College, since October 2016; invited to eight EPSRC ICT panels from 2017-2022.
• Organising Committee Member for the 3rd International Conference on Nanotechnology, Nanomaterials & Thin Films for Energy Applications, NANOENERGY 2016, 27-29 July 2016, University of Liverpool, UK.
• Co-Chair of the "III-V/High-k Interface" session at 'Dielectrics for Nanosystems 6: Materials Science, Processing, Reliability, and Manufacturing' symposium at the 225th Electrochemical Society Meeting (ECS), 11-15 May 2014, Orlando, Florida, USA.
• Organising Committee Member of eFUTUREs Early Career Researcher Workshops: "Electronics Forum: The next steps for Early Career Researchers", on 25-26 Nov 2014, Nortumberland, UK and on 31 August - 1 September 2017, Clare College, Cambridge, UK.
• Awards Committee Member at the IEEE PRIME 2015, 11th Conference on PhD Research in Microelectronics and Electronics, 29 June – 2 July 2015, University of Glasgow, UK.
Conference Roles
Invited talk, by Invitation (The Electrochemical Society, Florida, USA, 2014)
Invited talk, by Invitation (Joint Semiconductor Equipment and Materials Initiative (JEMI) UK technical meeting, 2011)
Invited talk, Diagnostics and Yield Symposium, Poland, by Invitation (Warsaw, Poland, 2009)
Invited talk, NANOSIL, France, by Invitation (Grenoble, France, 2009)
Invited talk, PULLNANO, France, by Invitation (Toulouse, France, 2008)
Examination Roles
University of Newcastle, PhD (2012)
Professional Body Memberships
The Electrochemical Society (Member, 2014 - 2017)
eFUTURES (Member, 2012 - present)
Institution of Engineering and Technology (Member, CEng (2014), 2004 - present)
Institute of Electrical & Electronics Engineers (Member, Senior Member (2014), 2001 - 2015)
Other Administrative or Committee Roles
Departmental Director for Postgraduate Research
Inter-department Liaison Officer with Mathematical Sciences and School of Engineering
Programme Director for Electrical Engineering and Electronics
Deputy Examination Officer
Assistance with Year 1 and Year 2 undergraduate Lab modules