Supported by Liverpool University Press, The Academy has launched its new Open Access journal, Developing Academic Practice.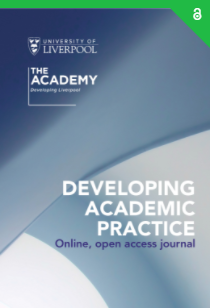 You can read our latest publications here: Developing Academic Practice Journal
Through this journal, colleagues have the opportunity to contribute articles in relation to hybrid active learning, practice and pedagogies. The journal will become a cornerstone of the University's thriving culture of educational excellence and a vehicle to enhance the work of colleagues across the institution.
Special Issue 2023 now available! Lessons learned from teaching through a pandemic
The past two years have seen us all adapt and change our teaching practices in unprecedented ways. In this special issue, we explore the ways in which teaching has been changed, adapted, or innovated across the institution. You can access our special issue on the Liverpool University Press website.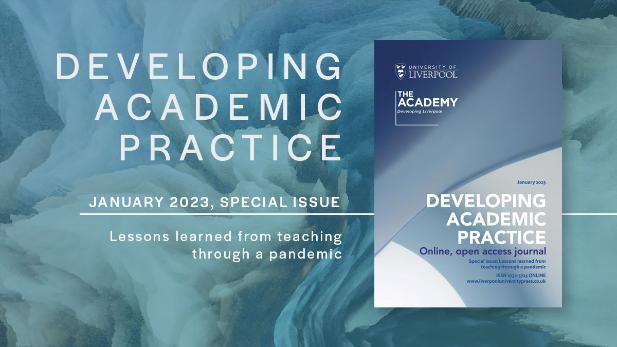 Invitation to contribute
The Developing Academic Practice Journal invites contributions for future publications in the areas of:
Developing academic practice
Developing academic leadership
Innovation in education.
Possible areas to be addressed include, but are not limited to:
Engaging students in the virtual classroom
Innovative assessment and feedback methods
Innovation in a COVID-19 world
Ideologies, dominant assumptions and grand narratives in scholarship and professional development
Engagement, impact and the evaluation of scholarship
Digital education/technology-enhanced learning
Values, ethics and critiques of education practice
Learning and teaching philosophies in education
Policy development in higher education and entrepreneurship
Inclusive education.
The Editors welcome submissions which can take one of the following formats:
Reflective articles: up to 1000 words, excluding references
Case studies: up to 2000 words, excluding references
Research papers: up to 5000 words excluding references.
Developing Academic Practice is a continuous publication. If you have work that you would like to be considered for the journal, please submit your paper & abstract via our manuscript processing platform (ScholarOne Manuscripts). To access ScholarOne Manuscripts you will need to create a user account. A guide and FAQs are also available.
DAP Special Issue on Equality, Diversity & Inclusion in Learning & Teaching
We are excited to invite submissions for a forthcoming 'Equality, Diversity and Inclusion in Learning and Teaching' special edition of the Journal of Developing Academic Practice, to be published in January 2024.
Focus of the Special Issue
Over the last decade, the move to decolonise university curricula, amplify marginalised voices, and destabilise longstanding narratives in higher education has transformed our understanding of what constitutes 'inclusive pedagogy'. This special issue is our opportunity to showcase the work undertaken so far to make progress towards creating a more inclusive and accessible educational environment for both staff and students. It is also a chance to highlight positive changes made in relation to specific learning interventions, case studies, student/staff partnerships and the empowerment of under-represented voices. The special issue will allow us to critique two key areas; 1) how we are supporting EDI and 2) where we should be doing more to support EDI in Higher Education.
Suggested Topics
We are delighted to invite contributions to a Special Issue of the Journal of Developing Academic Practice which seeks to foreground equality, diversity and inclusion issues in higher education. Themes may include, but are not limited to:
Inclusive practices and inclusive pedagogies
Equality, accessibility, and reasonable adjustments in higher education
Diversity in our community of practice
Under-represented and marginalised voices and perspectives in academia
Guidelines on submissions
The deadline for submissions is Friday 30 June 2023. Please submit your manuscript for review/consideration to ScholarOne. Once submitted, please send a confirmation email to theacademy@liverpool.ac.uk.
In addition to contributions such as research papers, case studies, and opinion pieces (read the Guidelines for submission). For the special issue, we also welcome shorter pieces in the form of 'brief communications'.
Brief communications offer a concise, theoretically informed argument on current debates in learning and teaching. Their focus might be to inspire interest, stimulate debate and propose new ideas. It may involve the demonstration of an ongoing study, novel practice, new learning teaching methods or re-analysis of a previously published article. The word limit is a maximum of 1000 words, excluding references.
As part of the submission, authors will be asked to review papers for the special issue. Please contact the Academy if you have any questions about the process, or find more information in our Guide for Reviewers.
Back to: Academic Development