Canvas Help for Staff: More help - Fewer Clicks
Posted on: 6 March 2023 by David Watson in General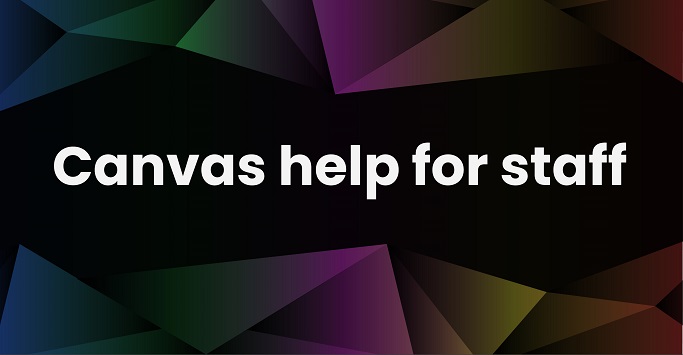 Canvas Help for Staff has been a supportive shoulder for many of you as we waved bye-bye to VITAL and welcomed our shiny new Virtual Learning Environment (VLE), Canvas, to the institution in 2021. Providing you with just-in-time guidance and information on all aspects of Canvas and it's integrations, CIE now launches a new and improved version of the course, complete with a more intuitive structure, refreshed interface, and more constructive up-to-date content.
The Centre for Innovation in Education (CIE) has been working hard over the past few months to redesign and redevelop Canvas Help for Staff – giving it a completely new structure which is easier and more intuitive to navigate. Sections are now clearly defined, and more importantly, populated with up-to-date and more accessible content and multimedia. Ten (10) sections support you through: Canvas essentials; building pages and content; Canvas Studio and multimedia; quizzes and gradebook; assessment, feedback and groupwork; communication; accessibility; Canvas integrations; instructional media; and finally, communities, workshops, and support.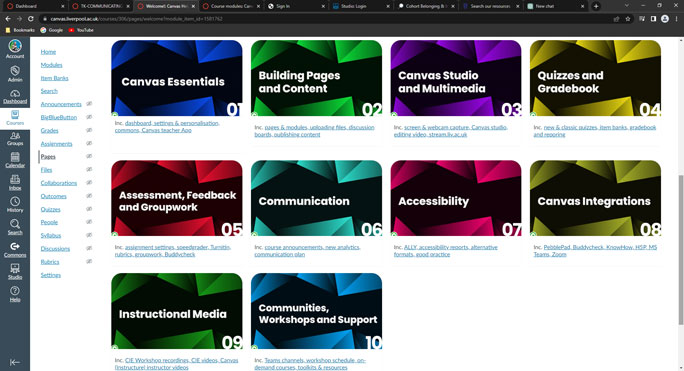 For those of you who are regular visitors to the course, you may have already noticed that our robot friend has already disappeared from your dashboard – replaced with a new inviting design. For those who are wondering what I am talking about, you will find Canvas Help for Staff in your Canvas dashboard – all staff at University of Liverpool, regardless of role, are enrolled onto this course as a student.
We envisage that this course will evolve naturally as new tools and integrations come and go within Canvas, but we have designed the new Canvas Help for Staff so that it, where appropriate, signposts to relevant content in ITS Knowledgebase, Instructure Community articles, and of course DigiGuides, Spotlight guides, Toolkits and Case Studies that have been produced by CIE, meaning that should you wish to take things in Canvas to another level you will have a clear pathway to find pedagogical support for your use of Canvas.
So check out the new Canvas Help for Staff – whether you are new to Canvas, new to the institution, or an experienced user who wants to take your course to another level, you will find everything you need here and hopefully much more.
---