Acquisition of Chinese: Bilingualism and Multilingualism - University of Cambridge - 1st-3rd July 2019
Posted on: 18 July 2019 by Anna Chen in Conference & Event Reports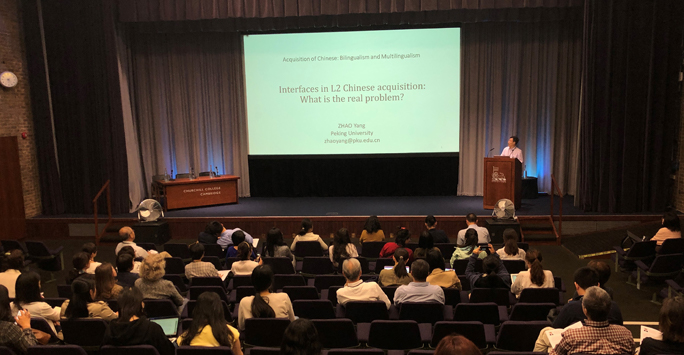 I attended this three-day residential conference at Cambridge in anticipation of hearing some excellent keynote addresses.
What is the event?
The conference was hosted by Churchill College, Cambridge University; AHRC-funded project 'Multilingualism: Empowering individuals, Transforming Societies', led by Cambridge. Chinese teaching experts and scholars from many countries gathered to report on the characteristics and commonalities of international Chinese teaching and share the latest research results and developments in teaching and learning Chinese.
An overview of the days:
The conference's processors were the keynote speeches at the start of the session. We then divided into four different panels and had discussion after each session at the first day. The first keynote speaker was Professor Virginia Yip from Hong Kong University. The themes for the different panels included "Language Mode and Cross-linguistic Influence: Subject Realization in Advanced Chinese English Late Bilinguals"; "Examining the efficacy of Chinese as a Second/foreign Language Programs in Australian Universities".
The second day and the third half day focussed on all the relative themes about how to help the second language learners study Chinese and Writing in a Non-alphabetic language via Keyboard: and Empirical Study on online Revision Behaviours in Chinese L1 and L2.
What did you get out of the conference?
For a Chinese language learner, pedagogical intervention such as mapping practice may be necessary to help them move from analytical to holistic processing, so increasing their sight vocabulary size.
The theoretical and empirical implications for future research in Mandarin SLA, to understand better the interconnecting linguistic, cognitive, pedagogic and sociocultural factors affecting L2 Mandarin development during Study Abroad.
Final thoughts:
An inspiring conference that has given me many new ideas for my work. The implications and suggestions for early bilingual education are valuable information for teaching and learning.
---