The Challenge
In the UK, one in every 1,000 children is born with a severe or profound hearing loss. Currently there are around 50,000 children with hearing loss in the UK. Of these, just under 10,000 children across England, Wales and Northern Ireland are severely or profoundly deaf. In adulthood, many more people lose their hearing. Coupled with age-related hearing loss around 11 million people, or 1 in 6, have some degree of hearing loss, ranging from mild hearing loss to profound deafness. Around 900,000 adults are severely or profoundly deaf.
A common misconception within the hearing community is that deaf people cannot understand or perceive music and that it is impossible for them to play musical instruments or take part in musical activities. In fact, deaf people enjoy the tactile sensations which music generates, both within their own bodies and by touching vibrating surfaces.
When playing with other musicians, it is important that all the performers keep in time with each other using a variety of cues; the most obvious are auditory cues from listening to each other's performances. Visual cues, such as a nod or raised eyebrow, from other performers and from conductors, where present, are also important. Some deaf musicians still have some hearing so some sound may still be perceptible. However auditory cues are simply not available to profoundly deaf musicians, and visual cues will not always provide sufficient information for interactive rehearsal and performance to be enjoyable and effective. However, there are some successful deaf professional musicians such as Dame Evelyn Glennie who use the vibrotactile sense when they perform, and this led to a research project on the vibrotactile presentation of music to facilitate interactive performance between musicians with and without a hearing loss.
Research Action
The idea for research on interactive performance for deaf musicians came from Prof. Hopkins who was inspired by a talk given by Dame Evelyn Glennie in which she described how the vibration she felt from the stage when playing percussion instruments varied in different venues. As this passive form of vibrotactile feedback was primarily related to solo activity, the project aim was to investigate methods of delivering repeatable and controllable vibrotactile feedback that would facilitate interactive group performance for deaf musicians. This could compensate for the lack of auditory cues and avoid reliance on visual cues. The research in the ARU established the general range of applicability of vibrotactile feedback for musical performance in terms of the potential range of notes that can be perceived, the available dynamic range and the perception of relative pitch.
The research was carried out with AHRC funding and was an interdisciplinary project led by Prof. Hopkins (PI) with Dr Seiffert and Saul Maté-Cid a PGRA in the Acoustics Research Unit (ARU) along with Prof. Jane Ginsborg (CI) and Robert Fulford (PhD student) from the Royal Northern College of Music.
Working in partnerships
Building on the findings from the research, Natalie Barker, a music teacher, working in the ARU has established the "Musical Vibrations" project to bring vibrotactile technology into schools, music hubs, studios and music venues where it can create a real-life impact. To do this we've built a simple-to-use vibrotactile system which is available on a free loan basis for organisations that are working with deaf people.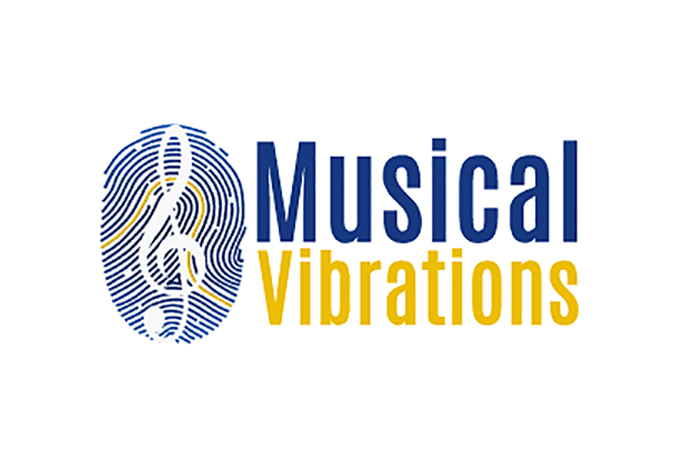 Outputs and outcomes
We are currently arranging to loan the vibrotactile equipment to schools for deaf children and deaf resource bases in mainstream schools. The aim is for this to lead to the development of new educational resources such as lesson plans. Find out more.
Through Musical Vibrations we made contact with SignKid, a sign-song rapper based in London where there is a large Deaf signsong and Deaf rave culture. SignKid visited the ARU to experience performing using only vibrotactile feedback; the first time that a Deaf musician has engaged with the equipment for both performance and production. We have also loaned him the vibrotactile equipment to use in his home studio to extend the reach of the equipment into music production.
Deaf people already visit and enjoy live music events; especially when efforts are made to ensure that they are as accessible as possible. Using the vibrotactile equipment at a live music event could further enhance the musical experience of a d/Deaf person. In 2018 the Musical Vibrations equipment was installed at a music festival in Scotland run by SoundSense Events Ltd for which they were awarded The 2019 Tech Innovation Award from Attitude is Everything for proof of concept work carried out at Shuffledown Festival, Musical Vibrations and the Acoustic Research Unit.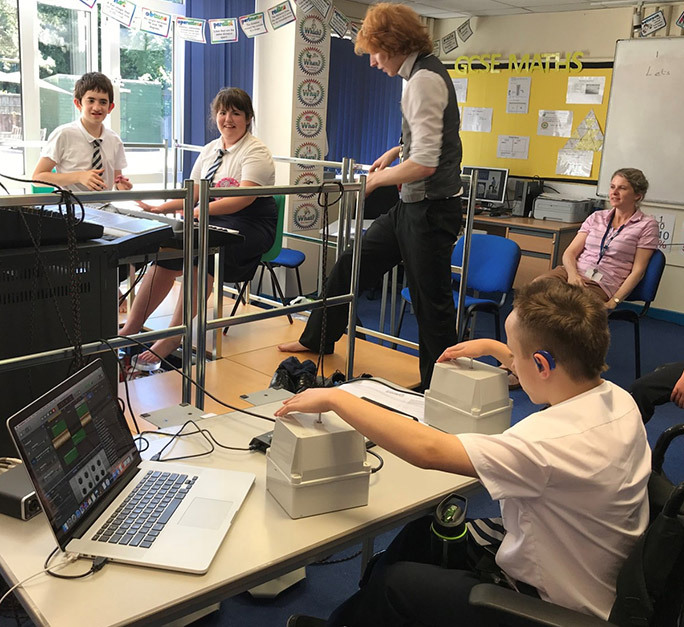 I just want to keep playing with it!

SignKid (London-based writer, producer and signsong rapper who is d/Deaf)
Back to: School of the Arts