He was a social reformer concerned with the future; not only the political and social future that we as individuals and nations were heading towards, but also humanity's evolutionary future. It was this anxiety about where we might be going, and whether in getting there we could continue to be human, which made him turn to fiction.
Born in Wallasey in 1886, Stapledon was the grandson of a sea captain who had set up a shipping agency in Port Said, Egypt. After Oxford, he worked for a short time in the Port Said office before returning to Liverpool, where his growing social awareness made him join a social work programme operating out of the University. The outbreak of the First World War in 1914 caused Stapledon to examine his pacifist feelings. In 1915 he joined the Ambulance Unit of the Society of Friends (Quakers), carrying wounded and dying men and driving ambulances under fire. After the War, he was awarded the Croix de Guerre by the French government.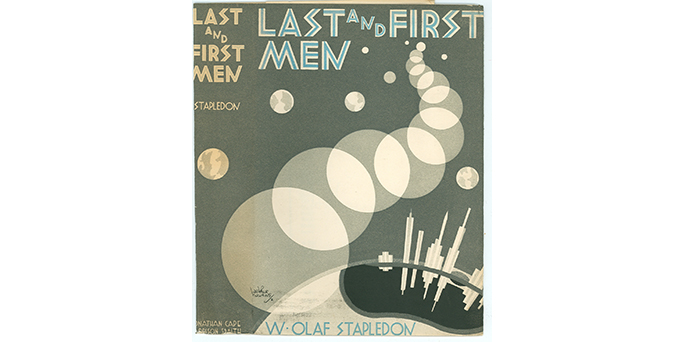 Last and First Men (1930)
It was his first novel, Last and First Men, published in 1930, which brought Stapledon to the attention of both science fiction readers and the literary establishment. He had completed a PhD in Philosophy at the University of Liverpool, and taught in the Department for a time, whilst continuing his social and educational work. Yet his interest in the future–whether, in this time of radical and unsettling period of warfare and revolution, there was a future–made him want to explore these anxieties in fiction.
Stapledon's further novels, which include Odd John (1935), Star Maker (1937) and Sirius (1944), also drew the attention of readers of the comparatively young genre of science fiction, attracted by its imaginative sweep and epic quality. A teenage Arthur C. Clarke discovered Last and First Men in his local library shortly after it was published, and it became a major influence on his own novels. Others, such as Brian Aldiss and Nobel Prize winner Doris Lessing list Last and First Men as one of the influences on their own work. His visionary impulses can be seen in later Liverpool sf writers such as Stephen Baxter and Matthew de Abaitua.
- Andy Sawyer
Back to: School of the Arts