Evaluating West Derby's changing landscape
Posted on: 4 November 2020 by Professor Harold Mytum in 2021 posts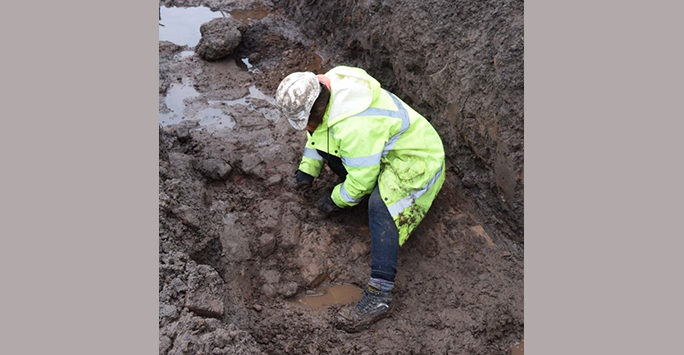 Professor Harold Mytum discusses a recent excavation in West Derby, Merseyside, on the site of a Stone Bridge Farm that is recorded from the 18th century.
---
Whilst the University continues most activities on-line, the construction industry continues in covid-compliant ways. This means that commercial archaeology is still in full swing, and the Department undertakes selective developer-funded projects that have the possibility of recovering data that is academically valuable or can support community engagement.
Harold Mytum and Rob Philpott have designed an evaluation excavation at a development site in West Derby, Merseyside, on the site of a Stone Bridge Farm that is recorded from the 18th century. This was demolished when the adjacent East Lancashire Road (A580) was constructed, and the change from farmland to housing was completed with the construction of post-war prefabs set on concrete rafts to house those bombed out of their homes during the Second World War. These were in their turn replaced with tower blocks, but once again demolition has taken place and low-rise housing will replace them. Despite all these changes, the planning requirements required evaluation to see if some parts of the farm survived. Amazingly, partly because of a 0.7m dump across the site and that the tower blocks were not sited directly over the farm, its foundations are still preserved.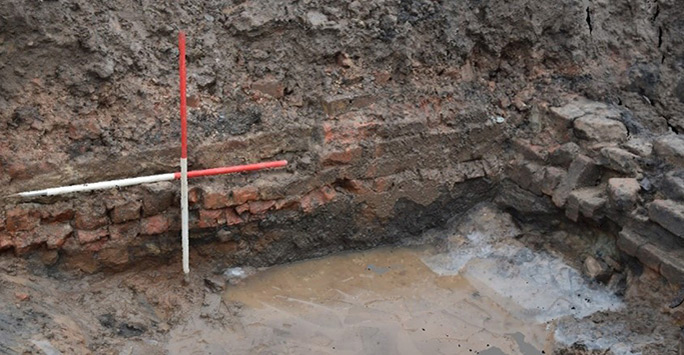 Brick wall foundations of an outbuilding at the farm.
Even in a wet and cold January, Rob and Carolanne King with Kate Sarbutt have confronted flooded trenches to carried out an evaluation with several machine-cut trenches of a form – and water levels – that some students will recognise from this year's field training at Greasby. Here, though, rather than ditches and postholes there are wall foundations and some of the cobbled surfaces of the farm. No earlier occupation was identified, and Harold suggests "this farm was established as part of agricultural improvement in the 18th century that restructured the landscape. The archaeology and cartographic evidence suggest that its plan remained largely unchanged until it was demolished." Fortunately, the plans for the current development will leave some of the walling and surfaces intact beneath the next generation of housing on the site. Perhaps when these once more come to the end of their lives, archaeologists can investigate more of Stone Bridge Farm!
Discover more
Study in the Department of Archaeology, Classics and Egyptology at the University of Liverpool
---