Barking Up the Right Tree - Further Updates from Deep Roots
Posted on: 9 February 2021 by Professor Larry Barham in 2021 posts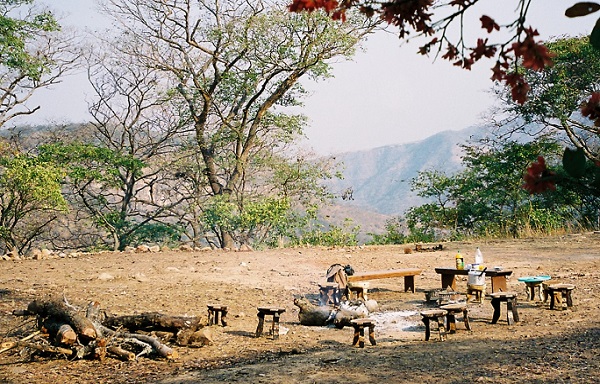 Professor Larry Barham provides a further update on the 'Deep Roots' project.
---
As we wait for the roll-out of COVID-19 vaccines and the return to something like normal life, planning is underway for getting back to Zambia. The final season of fieldwork on the Deep Roots project has been penciled in for August, assuming, of course, that international travel resumes. More on those plans later as they develop. And training has already started for a spin-off project scheduled to start this June. Training? Yes, it's definitely needed as this is a new departure for me and out of my archaeological comfort zone.
During the 2019 season at Kalambo Falls we were working with colleagues from Moto Moto Museum in Mbala. The museum is about 35 km from the Falls, just off the tarmac before the dirt road begins that takes travellers north to Tanzania or northwest to the Falls. If you ever have the good fortune to come this way, set aside time to explore the Museum. There's archaeology, ethnography, history, contemporary art – and a great little gift shop.
Museum gift shops are always on my radar and in Zambia they often have traditional locally made crafts. At home we have an ever growing collection of these gift shop finds made of natural materials: wood, clay, roots and grass. And some decorative treasures.
A three-legged wooden stool from the Moto Moto Museum functions as an occasional table at home and an evocative reminder of a brief season of excavation at Kalambo in August 2006. That stool was part of a set of eight which the team used around the fire. The 2006 season led – eventually – to two publications which paved the way for the Deep Roots project.
We arrived at the Moto Moto Museum in 2019 not just to visit en route to Kalambo, but to greet the Director, Perrice Nkombwe and her team who would be joining us on the excavation. Perrice and I had met previously at the Livingstone Museum, where she was Keeper for Ethnography and Art. She helped in the run-up to the 2019 field season with logistical planning and on our arrival gave us a tour of the museum when I was drawn to a display in the ethnography gallery on traditional bark cloth-making.
I was vaguely aware of the use of bark as a fibre for making clothes, bags and nets from historical and ethnographic sources. Livingstone, on his travels in northern Zambia (mid-1860s), observed specialised camps of bark cloth makers and commented on their impact on the vegetation. He also grumbled that the cloth was of such fine quality that he struggled to trade his commercially made calico.
I knew that hunter-gatherers of the rainforests in central Africa traditionally made and decorated their bark clothing, and recall a discussion with a chief and his advisors in northern Zambia on the whereabouts of an elderly maker of bark cloth, somewhere along the edge of the Muchinga escarpment. There was no time then to follow up on this information.
The display in the ethnography gallery set me thinking about a suggestion made in 1950 by archaeologist Desmond Clark about tools for bark-cloth making. He speculated that a distinctive blunt-edged stone axe head found in Later Stone Age sites in northern Zambia might have been used for stripping bark from trees, without tearing the bark.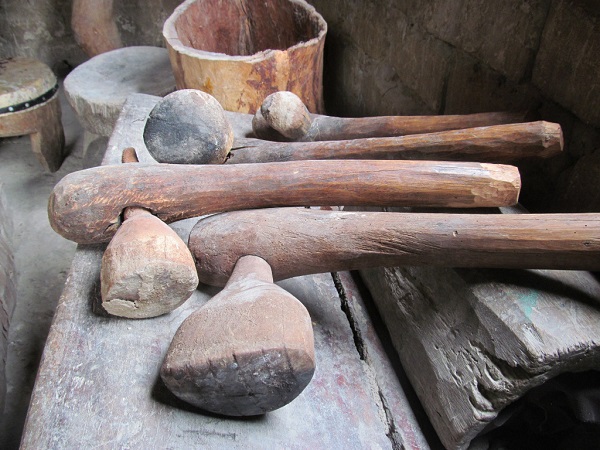 John Mukopa's wooden tools for processing bark into cloth. (Photograph: Copyright Moto Moto Museum)
Read more about the unexpected discoveries in the Moto Moto Museum gift shop in the full blog post.
Discover more
Study in the Department of Archaeology, Classics and Egyptology at the University of Liverpool
Find out more about the Deep Roots project
---