Free online Egyptology lectures and podcasts to keep you busy
Posted on: 23 April 2020 by Megan Clark in 2020 posts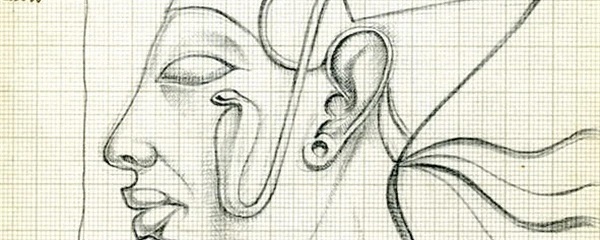 For those of you with an interest in ancient Egypt, Egyptology PhD student Megan Clark has put together a list of free online Egyptology lectures and podcasts to check out.
---

Lockdown is a hard time for everyone, with global uncertainty and changed circumstances. Scholars are working hard to keep academia and research going, and the community are banding together to keep things moving forward.
One good thing to come out of current events is that a lot of well-known organisations have created or opened up their archive of free online lectures, conferences and podcasts which you can stream for FREE!
Below I have included a few you may be interested in, taking place this week or this month. Happy listening!
Egypt Exploration Society Online Lectures
An archaeological sketch of an ancient Egyptian wall carving.
The EES have used lockdown to organise and present a series of online lectures which you can register to view on Zoom. They have recently extended their video quotas so more people than ever can register to sit on one of their fascinating and wide-ranging lectures.
This week's talks include a look at the 'People of Amarna', 'The City of the Sharp-nosed Fish' which is looking at Graeco-Roman Branch discoveries in Oxyrhynchus, and 'Night, night! Sleeping tight on an ancient Egyptian headrest?'
You can view all of their upcoming talks and register on their website.
University of Oxford Podcasts
A selection of free podcasts from the University of Oxford.
The University of Oxford have online, free podcasts which are accessible for anyone and everyone. These include talks on everything from sunken cities to stela, poetry to pottery covering many subjects in our department.
A great feature of this online catalogue of podcasts is that you can search by speaker, which means that you can find talks from notable scholars in your field, including Richard Parkinson, Ian Hodder and Colin Renfrew to name a few.
You can find all of the University of Oxford podcasts on their website. For subject specific content please select the following links: Archaeology, Classics, Egyptology, Anthropology and Ancient History.
ARCE 2020 Virtual Annual Meeting
You can register now to attend the ARCE 2020 Virtual Annual Meeting, with talks on Language, Artefacts and more.

The American Research Center in Egypt were due to have their annual meeting earlier this month in Toronto. However, due to restrictions on meetings and travelling globally, they decided to move online and have a virtual conference online.
The first set of talks were on April 17th and 18th, and the next set are taking place on April 24th and 25th with a wide range of talks and presenters from across the globe. Themes for the meeting talks include: Language and Literature, Art and Artefacts, Conservation and Site Management, and Borders and Foreign Relations.
You can view this weekend's virtual meeting talks and register to attend on their website.
Swansea Egypt Centre: Wonderful Things 2020 Conference
You can catch Swansea's Egypt Centre conference talks online from the end of April until June.
Swansea's Egypt Centre have also moved their conference, due to take place in May, online for everyone to get involved with. Instead of a two-day conference, there will be two talks per week from April 30th to June 30th.
Talks are all centred around The Egypt Centre collections, with researchers discussing these wonderful pieces and how they are discussing and analysing them in their own research. Topics include an overview of The Egypt Centre, the life cycle of objects, a faience musical flute, paddle dolls and female figurines, funerary models, and riot and smuggling in ancient Egypt.
You can view all of their upcoming talks and register for these on their website.
This is just a selection of what is on offer at the moment. If you would like to find out about VR experiences, more talks and podcasts you can follow the SACE Liverpool Facebook page to see regular updates on new virtual events and resources online.
Discover more
Study in the Department of Archaeology, Classics and Egyptology at the University of Liverpool.
---
We understand that this is a worrying and uncertain time for everyone, and the wellbeing of our students is our highest priority.
The University is here to offer you support and guidance as you continue with your studies. Please check your University email account daily so that you can continue to access advice and support from your module tutors regarding the shift to online teaching and alternative assessments.
The School will communicate with you regularly in response to students' key concerns. Information is also available on our Coronavirus advice and guidance pages.
However, if you are have a specific query that you are unable to find the answer to online, please contact either your Academic Advisor or the Student Support Centre at hlcenq@liverpool.ac.uk
---