Barking Up the Right Tree - Updates from Deep Roots
Posted on: 16 June 2020 by Professor Larry Barham in 2020 posts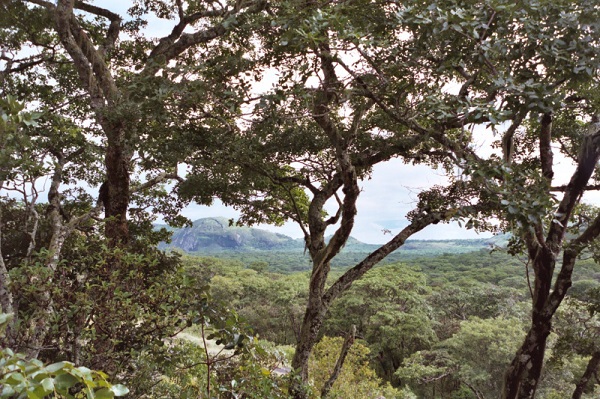 Professor Larry Barham provides a fantastic update from the 'Deep Roots' project, and the award of Endangered Material Knowledge Programme funding for research into the archaeological use of bark. Professor Barham and his team's four year project investigates the deep roots of increasingly complex human behaviour in Africa, with excavations at key sites in Zambia.

---
The strangely sunny spring here in north-west England has come to a damp, grey end as I write. But while the weather may be overcast outside, here at Deep Roots central a ray of research sunshine has burst through the Covid-19 gloom to brighten up our fieldwork-on-hold summer. But before I divulge the reason, I need to give you the background (you can read in more detail over on the Deep Roots blog).
During the 2019 season at Kalambo Falls we were working with colleagues from Moto Moto Museum in Mbala. The museum is about 35 km from the Falls, just off the tarmac before the dirt road begins that takes travellers north to Tanzania or northwest to the Falls. If you ever have the good fortune to come this way, set aside time to explore the Museum. There's archaeology, ethnography, history, contemporary art – and a great little gift shop.
We arrived at the Moto Moto Museum in 2019 not just to visit en route to Kalambo, but to greet the Director, Perrice Nkombwe and her team who would be joining us on the excavation. She helped in the run-up to the 2019 field season with logistical planning and on our arrival gave us a tour of the museum when I was drawn to a display in the ethnography gallery on traditional bark cloth-making.
I was vaguely aware of the use of bark as a fibre for making clothes, bags and nets from historical and ethnographic sources. Livingstone, on his travels in northern Zambia (mid-1860s), observed specialised camps of bark cloth makers and commented on their impact on the vegetation. I knew that hunter-gatherers of the rainforests in central Africa traditionally made and decorated their bark clothing, and recall a discussion with a chief and his advisors in northern Zambia on the whereabouts of an elderly maker of bark cloth, somewhere along the edge of the Muchinga escarpment.
The display in the ethnography gallery set me thinking about a suggestion made in 1950 by archaeologist Desmond Clark about tools for bark-cloth making. He speculated that a distinctive blunt-edged stone axe head found in Later Stone Age sites in northern Zambia might have been used for stripping bark from trees, without tearing the bark.
The forests of this region today are part of the Zambezian floral domain, which is the largest in Africa stretching from Angola in the west to Tanzania and Mozambique in the east. Known as miombo woodland in Zambia and surrounding countries, this thornless deciduous forest is characterised by leguminous trees with a bark which protects them from dry season fires.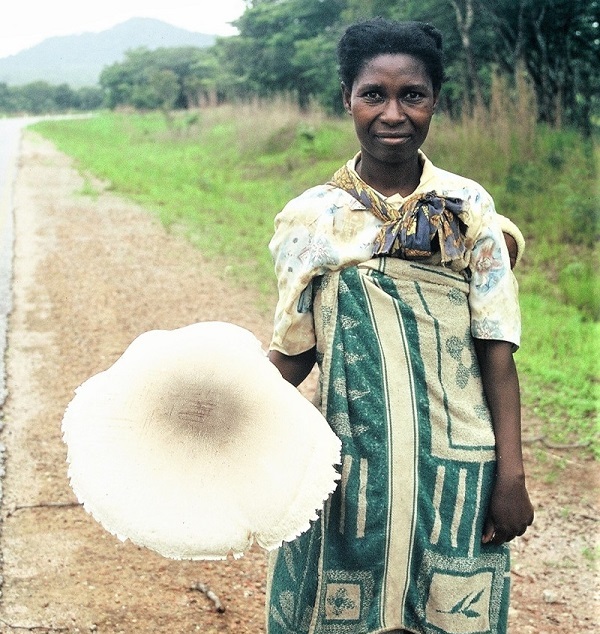 This woman was selling mushrooms by the side of the Great North Road with her little baby on her back
In the ethnography gallery there were old photos of bark cloth making and some of the tools on display, including a blunt-edge iron axe. Aha! Present and past merge in a moment of recognition. On leaving the museum I popped into the gift shop for a quick scan – wooden stools (check, have those), clays pots (ditto), wooden cooking spoons (yep, in our kitchen), wooden mortar and pestle (don't ask), chitenge printed cotton cloth (we use this for our artefact bags), a Zambian flag (nice but there's a small one already on my office desk), and what's that on the top shelf? There, stacked on the shelf was a row of brownish-red truncated pyramids of a coarse material I've not seen before. I took one down – it was stiff, made of a coarse fibre. What was it? You guessed: bark cloth.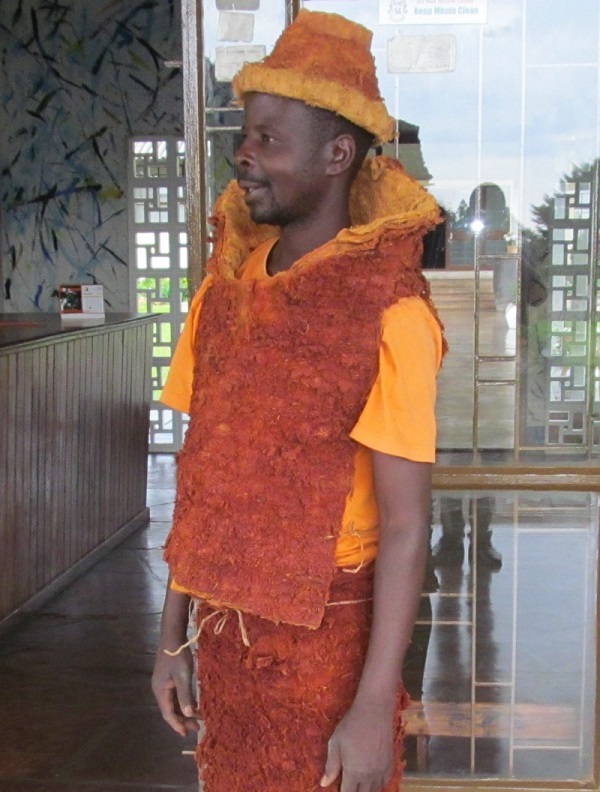 Mr Simon Chileshi modelling coarse bark cloth, including the famous hat, outside the Moto Moto Museum. Picture Copyright Moto Moto Museum.
I learned even more as Perrice and I worked to very tight schedule early this January to meet a grant deadline. It was a longshot, but we applied to the Endangered Material Knowledge Programme funded in part by the British Museum and a charity, Arcadia. Just three makers of bark-cloth carry on this ancient tradition in northern Zambia, which barely survives against the gales of globalisation. Commercial fabrics, nylon netting and plastic buckets have pretty much brought an end to this time-consuming and once communal activity. The fine cloth can take some months to make and it survives thanks to its ceremonial role in the coronation of Bemba chiefs. The coarse cloth takes less effort to make but has limited practical value – and I can't say the hat is a thing of beauty (in the eye of this humble beholder).
The application was successful, and all being well, I will be back in Mbala in June 2021, joining the Moto Moto team led by Perrice who will record all aspects of the bark-cloth-making processes, coarse and fine, from the choice of trees to the marketing of the final product. A digital archive will be created and objects collected for the Moto Moto Museum.
My interest is primarily in the tools used and what traces might be left on the blunt axes and any other tools involved. Can we test Clark's hypothesis and perhaps find other tools, from even earlier periods that might have done the job? Bark as well as wood must have been part of the material knowledge of Middle and Early Stone Age communities. There are ethnographic specimens of the tools to study in Zambia and in the British Museum and archaeological collections of those enigmatic Later Stone Age axe heads. There's also potential for a student project or two along the way.
Discover more
Study in the Department of Archaeology, Classics and Egyptology at the University of Liverpool
Read Professor Barham's Deep Roots blog
---
We understand that this is a worrying and uncertain time for everyone, and the wellbeing of our students is our highest priority.
The University is here to offer you support and guidance as you continue with your studies. Please check your University email account daily so that you can continue to access advice and support from your module tutors regarding the shift to online teaching and alternative assessments.
The School will communicate with you regularly in response to students' key concerns. Information is also available on our Coronavirus advice and guidance pages.
However, if you are have a specific query that you are unable to find the answer to online, please contact either your Academic Advisor or the Student Support Centre at hlcenq@liverpool.ac.uk
---